This advertising cover for Grace Bros, Merchants & Importers, Broadway Glebe, Sydney: The Model Store, was addressed to Germany with two red 1d 'Shield ' stamps of N.S.W., cancelled by Sydney roller postmark Jan 1910, as well as a greenish-blue ½d QV head stamp postmarked by a Sydney c.d.s. (Figure 1).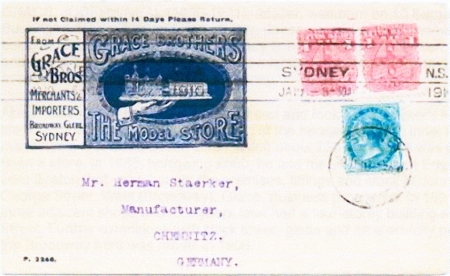 Joseph Neal Grace retailer, was born on 10 September 1859 at Winslow, Buckinghamshire, England, son of John Grace, schoolmaster, and his wife Sarah, née Neal. After being indentured to a small retail drapery firm at Notting Hill, London, and working for Crisp & Co. Ltd, and Jones & Higgins Ltd in London, he migrated to Australia in about 1880 and became a retail assistant with Farmer & Co. Ltd in Sydney.
About 1883 Grace bought a horse and cart and took out a hawker's licence to sell drapery and other stock. Exposure to the keen bargaining of the housewife in the inner industrial suburbs of Sydney made him a first-class trader. Soon taking about £30 a week he was advised by a warehouseman to open a store. In 1885, borrowing £500, he and his brother Albert Edward (born ca. 1863 – died 1938), who had arrived from Boston that year, bought the premises, fittings and stock of John Kingsbury, draper, at 5-7 George Street, West (Broadway), Glebe. Business prospered: in 1891-92 the brothers took over three adjacent shops and four years later had a four-storey building erected at the rear in Grose Street. Further extensions with clock tower, globe and an electricity power house were built in 1904; the Broadway front was rebuilt in 1906. The Broadway store about 1910, is seen in Figure 2
Grace knew the importance of service and a good window display and it was not long before the slogan 'Be sure and get it at Grace Bros' was deeply embedded in the minds of faithful shoppers. The slogan was parodied by his staff, 'Be sure you'll get it at Grace Brothers—the sack at 21!';—the firm relied heavily on junior sales assistants. The removal, storage and shipping division emerged out of the firm's retail furniture business to become the largest of its type in Australia. In 1917 the partnership was incorporated as a private company, Grace Bros Ltd, with all the shares owned by members of the family, Joseph Grace became governing director.
Quiet and unobtrusive socially, Grace was, however, active in employer and business organizations. He was president of the Retail Traders' Association of New South Wales, and member of the Employers' Federation of New South Wales and Sydney Chamber of Commerce. In 1926 he opposed the introduction of the Workers' Compensation Act. Work was Grace's joy in life; he took great pleasure in displaying the slogan 'There's no fun like work' given him by Gordon Selfridge of London. He claimed that 'Work is quite as interesting as golf or billiards, or any other game … I will slip out of business as quietly as I came into it, and fill in my days in my garden or with an occasional game of golf'.
Grace died suddenly at his residence, Yasmar, Parramatta Road, Haberfield, on 5 July 1931. He was survived by his wife Sarah Selina, née Smith, whom he had married at St Aiden's Chapel, Ballarat, Victoria, on 20 December 1911. His estate was valued for probate at £636,156. His Heritage home Yasmar at 185 Parramatta Road, Haberfield had been built in 1856, and it went through several owners before Joseph Grace and his wife lived there from the early 1900's. The home was taken over by the Army in World War 2, and the photo shows it in 1996 (Figure 3).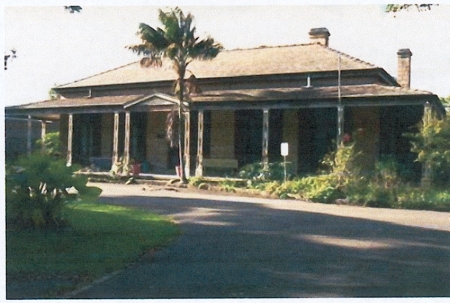 Under the chairmanship (1931-38) of Albert Edward Grace the firm expanded to the suburbs. One of Australia's largest retail businesses, Grace Bros Pty Ltd became a public company on 7 October 1960. In 1979 the firm took over J. B. Young Ltd, giving it a chain of over 130 stores. An example of one of the modern-day stores is seen in Figure 4.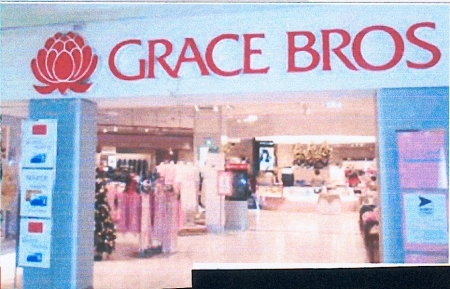 The chain was taken over by Myers of Melbourne, but the stores in regional N.S.W. and A.C.T. retained the Grace Bros name for 119 years, until February 2004 when they were changed to Myers in brand name.

The information on Joseph Grace was derived from the Australian Dictionary of Biography.