The illustrated cover was sent from the Singer Sewing Machine Co., General Management for Australia,119-123 York Street Sydney, and it had the characteristic large 'S' with a woman using a sewing machine entwined in the middle of the letter. There is further printed information that the company has "Duplicate Parts Always on Hand. Agencies All Over the World". It is addressed to The Singer Man'f'g Co., Factory No, Bridgeport Conn., U.S.A. The green ½d and blue 2d N.S.W. stamps are postmarked with a roller SYDNEY, N.S.W. JA 16 1912 cancel. The reverse was not seen (Figure 1).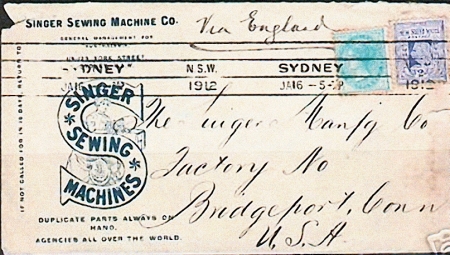 Isaac Merritt Singer was born in New York State (given as Pittstown and Schaghiticoke) on October 27, 1911, the last-born child of Adam Singer and Ruth Benson. Isaac was married for the first time to in 1830 to Catharine Maria Haley and they moved to New York City about 1831. Isaac had worked in his older brother's machine shop before marriage and later in George Pomeroy's machine shop. In 1836 he left New York as an agent for a company of players touring through Baltimore and later had a career as an actor forming a troupe known as the "Merritt Players". A flamboyant painting of Isaac in 1869 is shown in Figure 2.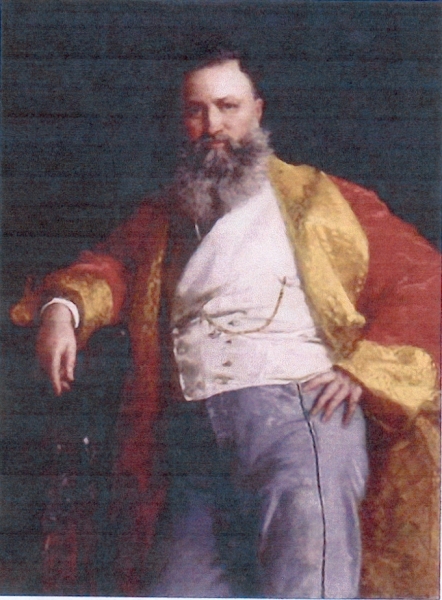 At the age of 38 with 2 wives and 8 children he moved back to New York City, and in 1851 he formed I.M. Singer & Company with New York lawyer Edward C. Clark, following Singer's first lockstitch sewing machine patent. Within two years Singer is the leading manufacturer and marketer of sewing machines in the United States. In 1853, I. M. Singer & Co. sets-up corporate offices and a manufacturing facility in New York City. The Company is renamed Singer Manufacturing Company, and the first Singer sewing machines, manufactured in New York, sell for $100 each. A picture of an 1851 Singer model is seen in Figure 3.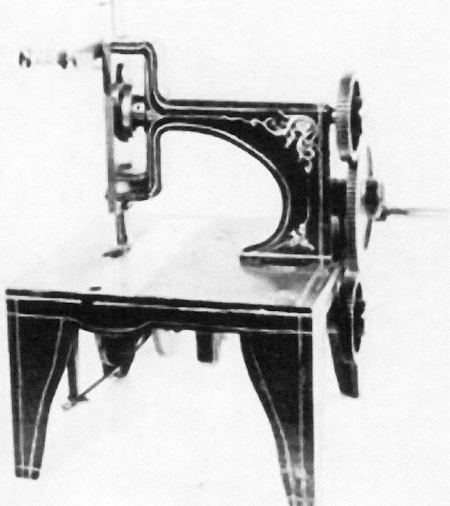 In1855, Singer becomes the world's largest sewing company, and begins overseas expansion, starting in Paris, making Singer the world's first international company. A Singer sewing machine was awarded a first prize at the World's Fair in Paris. In 1857, the first Singer showroom and headquarters are located at 458 Broadway, New York City. By 1863, the company was incorporated as the Singer Manufacturing Company, holding 22 patents and with capital assets of $550,000. Some 20,000 home sewing machines were being sold annually.
By 1860, Isaac had fathered and recognized eighteen children (sixteen of them remaining alive at the time), by four women. Singer opens its first factory outside of the United States, in Glasgow, Scotland. In 1863, I. M. Singer & Co. was dissolved by mutual consent, with the business continued as "The Singer Manufacturing Company," enabling the reorganization of financial and management responsibilities. Singer no longer actively participated in the firm's day-to-day management, but served as a member of the Board of Trustees (even though he now lived in Europe) and was a major stockholder. On July 23, 1875 Singer died in Torquay, England at age of 63, with multiple litigants suing for a share of his fortune

By 1890 the Singer company claimed to produce 80% of the worldwide market share in sewing machines, and by 1903 its annual sales reach 1.35 million machines worldwide. In 1907, it opens the factory in Bridgeport, Conn. to which the cover is addressed in 1912. In 1908, the Singer Building at 149 Broadway in New York City opens, and at the time of its completion it was the first skyscraper and the tallest building in the world, standing at 47 stories, 612 feet tall. It was headquarters for the Executive Office for 54 years. In 1913, sales reach 3 million worldwide, and the company introduced the "Portable Electric," an electric powered model.

In 2001, Singer celebrated its 150th Anniversary. Singer launched the world's most advanced home sewing and embroidery machine. "The machine offers state of the art features such as a fully automated re-threading system, wind-in-place bobbin winding system, and the next generation of Professional Sew-Ware™, making it the most powerful and user-friendly system on the market."