These two fan mail covers to Miss Katherine Hepburn in the mid 1930s predate the interesting Australian connection in the title of this paper by two decades. The first cover is addressed to her at Radio Pictures Studio, 780 Gower Street, Hollywood, California and the blue 3d Aboriginal stamp is cancelled VICTORIA ESTATE/ 14 OC 34/ QUEENSLAND (Figure 1).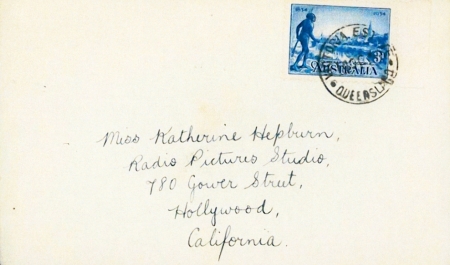 The second cover is addressed to her at R.K.O. Studios, Hollywood, California, United States, North America and the blue 3d KGV Jubillee stamp is cancelled WOOLOONGABBA/ 1130A 21 OC 35/ QUEENSLAND (Figure 2).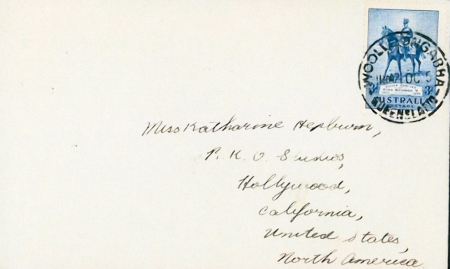 Star of stage and screen, and international icon, actress Katharine Houghton Hepburn was born on May 12, 1907 in Hartford, Connecticut to Dr. Thomas N. Hepburn, a distinguished urologist and surgeon, and Katharine (Kit) Martha Houghton, an advocate of women's suffrage and birth control. Hepburn's parents devoted themselves to working for social causes in which they believed, as well as to raising their family. Hepburn was the second of six children. Known as "Kath" and "Kathy" as a child, Hepburn, was reputedly a determined tomboy. She was admitted to Bryn Mawr College, in 1925 and she performed in The Truth About Blayds by A.A. Milne, as well as in her senior year (1928) she played Pandora in The Woman in the Moone by John Lyly.
Around the time of her 1928 graduation, Hepburn was hired by Edwin H. Knopf for his stock company in Baltimore, where she played small parts in The Czarina and The Cradle Snatchers. Hepburn began studying with acting teacher Frances Robinson-Duff. Later that summer, Knopf's company produced The Big Pond by George Middleton and A.E. Thomas in Great Neck, N.Y. and she was fired after only one performance. She made her Broadway debut as a hostess under the name "Katherine Burns" in Night Hostess by Philip Dunning, which opened at the Martin Beck Theatre on September 12, 1928. On December 12th, Hepburn married Ludlow Ogden Smith, from whom she was divorced in 1934.
Between 1929 and 1931, Hepburn toured and performed in several plays such as Death Takes a Holiday by Alberto Casella, Art and Mrs. Bottle by Benn Levy (1930), and The Animal Kingdom by Philip Barry (1931). She performed in summer stock in Stockbridge, Mass. in 1930 as well as in Ivoryton, Conn. in 1931. Hepburn's success as Antiope in The Warrior's Husband by Julian F. Thompson, which opened Mar. 11, 1932 at the Morosco Theatre won her a screen test in Hollywood, leading her to her first role in A Bill of Divorcement and movie stardom. The film was directed by George Cukor, who became one of Hepburn's closest friends.
After winning her first (of four) Academy Awards for Morning Glory (1933), Hepburn returned to the stage in the Jed Harris production of The Lake at the Martin Beck Theatre. The play was lambasted by the critics and Hepburn did not return to the stage until she toured in Helen Jerome's adaptation of Jane Eyre by Charlotte Bronte in 1936-1937. In 1939, The Philadelphia Story triumphantly reunited Hepburn with both Philip Barry and the Theatre Guild, and Shirley Booth, Joseph Cotten, and Van Heflin co-starred. Hepburn next returned to the stage in another Philip Barry play, Without Love, which opened on Nov. 10, 1942 at the St. James Theatre and it co-starred Elliot Nugent. The 1942 film Woman of the Year also marked the beginning of Hepburn's professional (and personal) partnership with Spencer Tracy.

Hepburn took on the challenge of playing Rosalind in Shakespeare's As You Like It, which opened at the Cort Theatre on Jan. 26, 1950. After playing to sold out houses, Hepburn took the play on tour and kept a record (sometimes humorous) of her travels throughout the U.S. After filming The African Queen, she toured England in The Millionairess by George Bernard Shaw, opening at London's New Theatre on June 27, 1952, and then at Broadway's Shubert Theatre on Oct. 17 of that same year. Robert Helpmann was also in the cast and they began a close friendship that lasted until their deaths. A picture of Sir Robert Helpmann, (1909-1986), a ballet dancer in a non-Shakespearean role, is seen in Figure 3.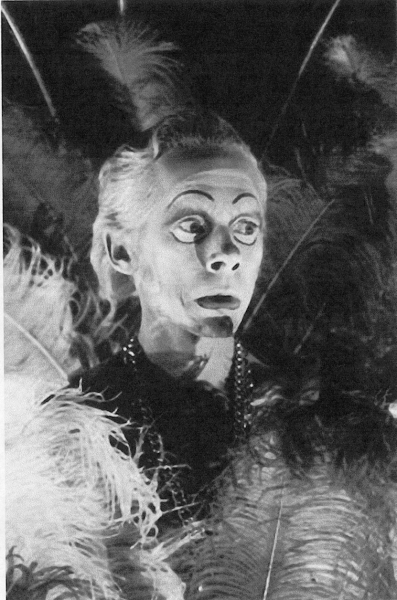 This brings us to the association of Hepburn, Shakespeare and (the later Sir) Robert Helpmann. The multi-talented Australian Helpmann was a ballet dancer, director and choreographer for ballet, as well as a dramatic actor, with great successes in England. They toured Australia from mid-May until mid-November 1955 with the Old Vic Company in three Shakespearean plays. Hepburn played Portia in The Merchant of Venice, Katherine in The Taming of the Shrew, and Isabella in Measure for Measure. Another website also states that during the Australian tour she played Beatrice in Much Ado About Nothing. A poor quality newspaper picture of Katherine Hepburn was taken at the Hotel Australia in Sydney and is seen in Figure 4.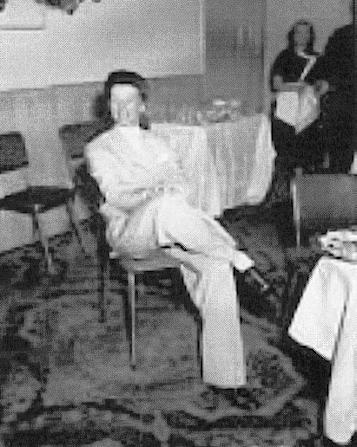 Much later, and as a part of an estate sale in June 2004, Southeby's Auctions sold a Hepburn portrait for $33,000 (some 40x the estimate), entitled Breakfast in Bed and a Self-Portrait in Brisbane, Australia. Hundreds, if not many thousands of photos of Hepburn exist on the web, and I like the wistful look of Katherine in Figure 5.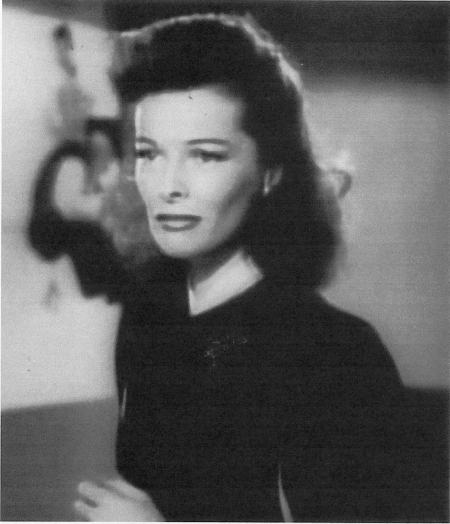 For two summers (1957 and 1960), Hepburn performed at the fledgling American Shakespeare Festival Theatre in Stratford, Connecticut. In 1957, she appeared with Morris Carnovsky in The Merchant of Venice and with Alfred Drake in Much Ado About Nothing, the latter production touring after the summer season. She performed in Twelfth Night and in Antony and Cleopatra with Robert Ryan as Antony (1960).
Despite her initial reluctance, Hepburn made her musical debut as Coco Chanel in Coco, the musical by Alan Jay Lerner and André Previn in 1969, at the age of sixty-two. She also toured with the show after its Broadway run. Hepburn would repeat this process for her last two Broadway productions—A Matter of Gravity by Enid Bagnold (1976) and The West Side Waltz by Ernest Thompson (1981), and also doing pre-Broadway tours for these two shows. Her work in Coco and The West Side Waltz earned her two Tony nominations.
In her later years, Hepburn continued to perform in films and on television, but she returned to the stage once more to introduce celebrity cast members at an Irish Repertory Theatre benefit performance of Yeats: A Celebration! at the Booth Theatre, June 6, 1994. Katharine Hepburn died at her home in Old Saybrook, Connecticut on June 29, 2003 at the age of ninety-six.