The newspaper wrapper that prompted this research is postmarked PAID AT SYDNEY/-14 MY 43/ N.S.W. and is addressed to Lewis Sebring, Tribune Herald Newspaper, USA Army Hdqrs., (General Douglas MacArthur), AUSTRALIA. This was sent by "Reveille", Official Organ, R.S.L (N.S.W. Branch), Anzac Memorial, Hyde Park, SYDNEY. "Reveille" is the journal published for the Returned Soldiers' League in Australia. Unfortunately the red postmark is very faint, and even with a red filter it is not possible to date it as 1943 with absolute certainty (Figure 1).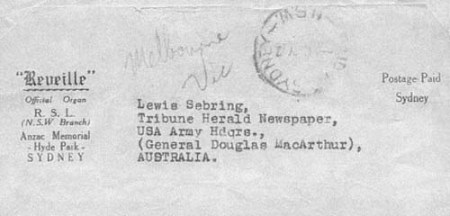 A second Sebring item was found later, sent by Lewis B. Sebring, Consulting Engineer of Schenectady, N.Y. with an indistinct postmark date on the 6c U.S. Air Mail stamp, but with a definite Melbourne reception or forwarding date of 26 AUG 1942. Postage was underpaid and there is a tax marking of 3d plus a partially obscured Australian Postage Due stamp. The recipient, Lewis B. Sebring Jr. had left the original address in Melbourne, which is obscured by a label reading "Re-addressed from The Australia (Hotel), Melbourne" with a new address of "C H Q Press, USA P.O 500, Australia".
The envelope has a red "3 Opened by Censor" label and a purple stamped "PASSED BY/ CENSOR/ V43….". This was a father to son letter and the auction house description of the lot as being a 'return to sender' was incorrect. The meaning of the abbreviation C H Q is uncertain, but the possibilities of 'Command or Corps or Company Head Quarters', are likely (Figure 2).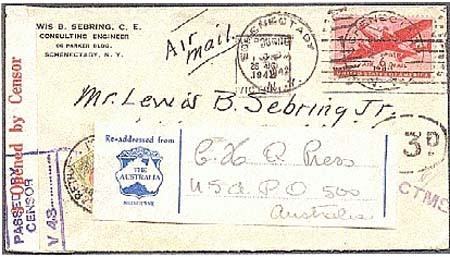 Lewis Beck Sebring Jr. (journalist, war correspondent, lecturer and historian) was born 20 January 1901 in NY State and died in Winter Park, Orange County, Florida on 13 January 1978. He married Alice Petty late in life (1950) and there were no children; he was the son of Lewis B. and Agnes Sebring, both born in New York, and who lived in Schenectady NY at the time of the 1930 census. Lewis Sr. was a civil engineer at the turn of the 20th century who oversaw the development of the old Erie Canal. Lewis jr. at that time was living alone in Jamaica, Queens County NY, lodging at a local YMCA, a newspaper reporter by occupation.
Sebring had army training at Fort McClellan, Alabama (1940-41) and in Australian military operations in Australia, primarily training and recreation (1942-43). He covered military operations in New Guinea and New Britain (1942-44), and was with General Douglas MacArthur in Australia and New Guinea (1943-44). The photo showing him being greeted by MacArthur in the latter's office in Brisbane occurred in the spring of 1943 (Figure 3).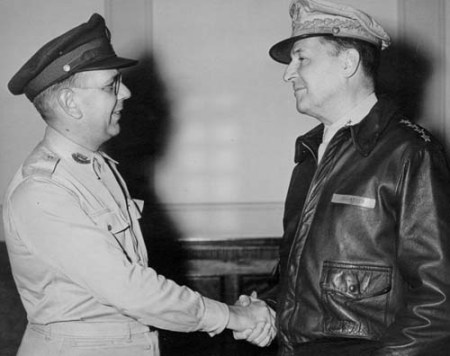 He was a journalist and war correspondent for the New York Herald-Tribune, who reported on combat in the Southwest Pacific Area theatre during WW II. Copies of some of his earlier writings for the Herald-Tribune, his later columns in the Schenectady, N.Y. Union-Star, as well as three drafts of his unpublished book on MacArthur reside at the Wisconsin Historical Society, Madison USA.
His book "MacArthur's Circus" was rejected by two publishers because of fears that the book might be libelous. World War II produced a host of prominent war correspondents, including Martin Agronsky, Raymond Clapper and Drew Pearson with whom Sebring corresponded. Sebring's experience in the Pacific theatre during WW II is particularly interesting because his assignment permitted a close examination of General MacArthur's controversial relations with the press.
MacArthur fought in Southeast Asia against Japan where he lost the battle for the Philippines, whence he flew to Darwin, onward to Terowie Railway station, South Australia by train (where his immortalized words on 20 March 1942 were: "I came out of Bataan and I shall return"), thence to Adelaide and on to Brisbane, Queensland.
On 20 July 1942, MacArthur moved his Headquarters to the AMP building in Brisbane at the corner of Queen and Edward Streets a few doors away from the GPO. A communications center was established in the building's basement. His Central Bureau Intelligence had headquaters in a huge building at 21 Henry Street, high on a hill in Brisbane's suburb of Ascot, not far from the new American airfield at Eagle Farm.
MacArthur became Supreme Commander of the Allied Forces in the Southwest Pacific and his combined forces (mainly U.S., Australian and Dutch) eventually overran the Japanese forces in 1943 and 1944. They took back the Philippines in October 1944 and in September 1945, MacArthur received the formal Japanese surrender which ended WW II in the Pacific. MacArthur served as the Supreme Commander of the Allied Powers (SCAP) with the responsibility of overseeing the reconstruction of Japan. He handed over power to the newly formed Japanese government in 1949, but he remained in Japan until June 1950.
When Sebring and his wife, Alice retired to Florida, he stated his interests were photography, travel, local history, genealogy and also philately. The publication, "Reveille" is still going strong with the annual volume being No. 70, in 2004.
Acknowledgements: The copy of the photo of General Douglas MacArthur and Lewis Sebring was provided by James Zobel, Archivist, The MacArthur Memorial, Norfolk, Virginia. Rodney Katz, Reference Librarian at the Library of Congress, Washington DC provided initial help, and Dee Anna Grimsrud, Reference Archivist – Visual Materials, Wisconsin Historical Society, Madison WI was an enthusiastic provider of valuable information on Lewis Sebring's career and his family.
This paper has been published in the N.S.W. Philatelist, February 2005, Volume 27 (whole number 101), pages 1-3.