Reverend A.H. Voyce first came to my attention when I acquired a cover of the Australian War Memorial, Canberra 5½djoined pair which were issued on February 10, 1958. This cover was not a first day cover, but it was postmarked with a special postmark: R.S.L. NATIONAL HEADQUARTERS/ 14TH B.E.S.L./ CONFERENCE/ 17-21 FEB 1958/ 20 FEB 58/ CANBERRA AUST. It was addressed to 'Rev. A.H. Voyce/ Methodist Mission, Kihili, Buin, Bougainville, Terr. of Papua & New Guinea'. The meaning for R.S.L. is familiar to Australians as Returned & Services League, but I was not familiar with the other acronym (B.E.S.L.) which denotes the conference of the British Empire Service League. The name and address of the sender is printed on the reverse, but is not relevant to this discussion (Figure 1).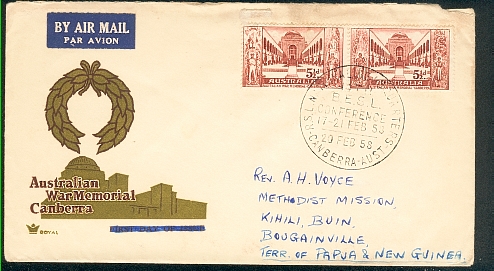 Voyce (known as Harry) was born in Hobart, Tasmania in 1899 and the family moved to Manawatu, New Zealand in 1907. He was a student at the Trinity Methodist Theological College ("Dunholme") from 1923 to 1925 and in 1926 he married Beryl Haliday. He became a Methodist Missionary in Siwai, South Bougainville from 1926 to 1936 and then in Buin, South Bougainville from 1937 to 1952. The area of Papua New Guinea, with Bougainville Island (large green arrow) and Buin (small blue arrow), shows where Harry served (Figure 2).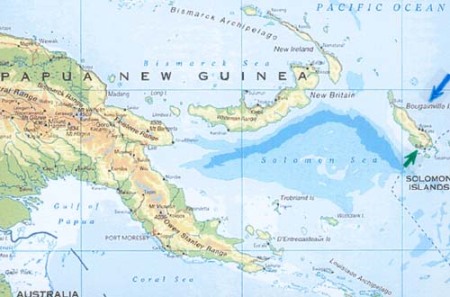 He acted as Chaplain with the NZ Army in Papua New Guinea during WWII in 1943-44. In 1953-1957, he was in Kihili, Buin Circuit, Bougainville and in 1958 he retired to Takapuna, NZ. He had a fruitful retirement of 26 years after 33 years of Missionary work in the Solomon Islands, Bougainville area in PNG, and he died on the 28th December 1984 in his 86th year, survived by his wife. An early photo of Harry Voyce at the age of 26 is shown in Figure 3.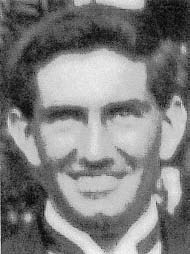 Harry had a remarkable missionary career in Papua New Guinea when he and his wife were appointed to Siwai, an inland area in the south of Bougainville Island, where Methodist witness had begun almost ten years before with a handful of Solomon Island teachers. Those adventurous years in Siwai were very demanding (rough country, difficult transport with a long trek from the sea with supplies, and the somewhat pugnacious but likeable natives, as well as religious tensions), but Harry and his wife thrived under these exacting conditions. Seeking a base near to the coast, the Mission was able to get land at the beach in Buin Bay in 1936. By this time he had made a name for himself as a pioneer, medical man giving injections and as a teacher, as well as a keen gardener, converting a wilderness into a botanical garden. This base was known as Kihili, the name mentioned in the address in Buin on 2 of the covers.
The Voyce's went on leave in late 1941 to New Zealand, and in their absence the war descended on the Solomons, with Kihili becoming a Japanese air base and years of his work was swept away. The Armed Forces found Harry an invaluable resource for information about Bougainville, because of his photographic memory of the area. He obtained an appointment as a Chaplain with the 3rd Division of the NZ Army, and in this capacity he was able to return as the tide of war began to turn. During wartime in the Solomons, he officiated at a 1943 Christmas Service in the jungle (Figure 4).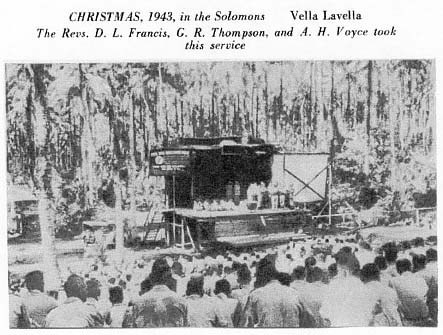 When Harry returned to Kihili, he found it devastated, for the fine garden and plantation was 300 acres of bomb craters linked by mud. With a great struggle, Kihili was re-established and the Siwai-Buin church strengthened. At the end of 1958, after 33 years of service, Harry Voyce retired from his missionary service in PNG, going back to NZ as a supernumerary in the church.
Harry's lesser known pursuits whilst in PNG included an interest in shells (conchologist); he was also interested in insects, particularly wasps (hymenopterist); and, he was an avid collector of Bougainville artifacts prior to WWII. His collection is now housed in the Auckland War Memorial Museum (stone adzes numbering about 6,000 specimens), plus a collection of large numbers of arrows and spears are housed in the Otago University Museum. Harry published a book on these collections, which were the source materials for the PNG 1976 National Heritage Bougainville Artifacts stamps..
Harry was very influential in New Zealand philatelic societies over more than 20 years, with many publications of philatelic articles in 'The Mail Coach'. He held several positions in philatelic societies, including the presidency of the Postal History Society of NZ. He was instrumental in bringing the "Tattersalls" accumulation of the 1d red Universal Postage covers back to NZ, and he developed a world-wide collection of postcards. His major philatelic publications included "New Zealand Registration Markings", "Bougainville Police Runner Mails", and "Yandina Postal Agency, British Solomon Islands".
Little did I suspect that the original cover with the commemorative postmark on it, would lead me on a voyage of discovery of a remarkable man, Harry Voyce.
The wonderful assistance of Helen Laurenson of New Zealand is gratefully acknowledged, for this paper could not have been completed without her helpful research.
Addenda: Another cover was simply addressed to Rev. AH Voyce, Buin and the red two pence-halfpenny KGVI Australian stamp was postmarked KIETA/ 15 FE 50/ PAPUA-NEW GUINEA and in addition there was a large red oval mark DISTRICT (OFFICE) OF KIETA/ 15 FEB 1950 (Figures 5 & 5A).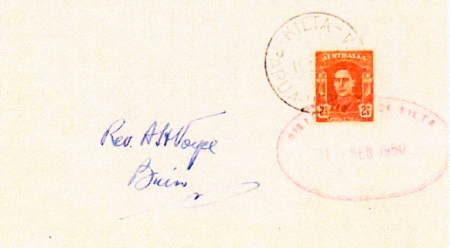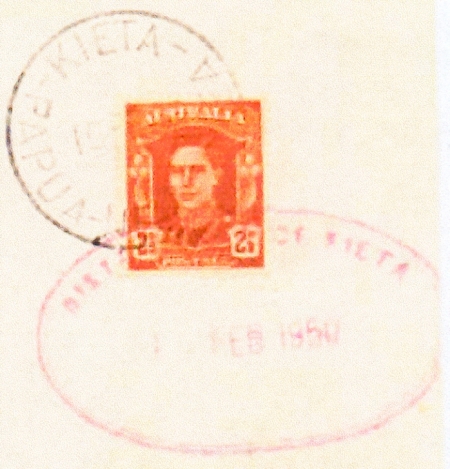 Yet another cover was found for Rev. A.H. Voyce and this had 6 single copies of the orange half-penny KGV Head stamps, cancelled with 4 copies of the SWANSEA/ 15 OC 39/ N.S.W cancel and it was addressed to Voyce at Suivai, Kieta, New Guinea (Figure 6).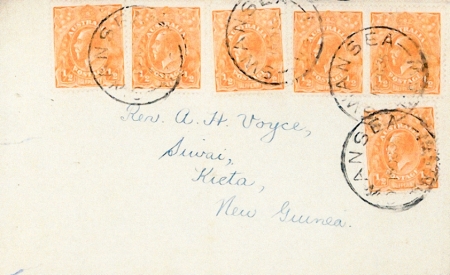 Addendum (October 2010): I received an email which read as follows: I, Charles Lawlor, was an honoured guest of Harry Voyce at 17 Prospect Terrace, Guilford, North Shore, Auchkland, New Zealand in 1965, when he invited me to give a display at the Postal History of New Zealand. Only for Harry Voyce, I would not have become a leading collector of Western Australian Postal history gaining World Large Silver Awards at Korea and Darling Harbour(Sydney).I owe a great deal of thanks to Harry and his good wife for looking after me while I was in New Zealand in 1965. Now I am giving a display of French Cameroun Postal History 1946 – 1959 in Mandurah Western Australia 19 to 21 November 2010.Charles Lawlor. Addendum (December 2011): Two more Voyce covers sent to the Methodist Mission.