The illustrated postcard shows a flying 'Bleriot' monoplane over a bushland scene as well the faces of two men, Wizard Stone, Aviator and P.V. Ryan, Organizer and Manager. The message reads 'Goulburn , May 22nd 1914 hope "Wizard" Stone succeeds in delivering this card. It is addressed to Sydney and is postmarked on arrival by train (Figure 1).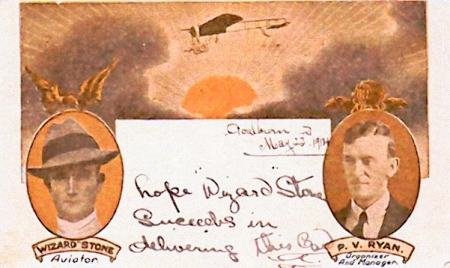 Arthur "Wizard" Stone was born in America in 1874 and came to Australia in 1912 with an American-built Bleriot monoplane and his mechanic was Bert Hinkler, a young Australian aviation enthusiast who later became a famous solo long-distance flyer. At Rockhampton, Queensland on 4 June 1912 he prepared to take off from Callaghan Park Racecource in his Bleriot monoplane to race against S. Taylor's car, driven around the course whilst he flew above. Although "Wizard" was leading, the race ended when Stone crashed in a nearby cricket ground (Figure 2).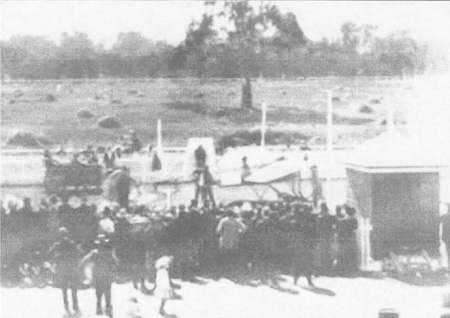 Stone had arranged with the Postmaster General to fly the first inter-capital air mail between Melbourne and Sydney in June 1914, but he had crashed his plane and suffered considerable damage to his body on June 1, and the cards of the same design, as above, were never flown. This postcard is described as: '2. Melbourne-Sydney proposed flight card' in Neville Eustis' The Australian Air Mail Catalogue, 4th Edition 1984. On 29 June 1912 , William Ewart Hart, an Australian dentist and aviator won Australia's first air race when he defeated the American A. B. Stone (who lost his way) over a 20-mile (32 km) course from Botany to Parramatta Park..
The June 1st accident to the American aviator gave Maurice Guillaux the chance to make the historic flight on 16 July 1914 from Melbourne-Harden N.S.W., in five 'legs' of flight, and 2 days later from Harden to Sydney, in three 'legs' of flight, with a total distance of 582 miles and a total flight time of 9 hours and 33 minutes. The total mail weighed about 40 lbs and consisted of ca. 2,500 items. Guillaux also had the honour of carrying Australia's first air freight, a quantity of Lipton tea and some O.T. Lemon Squash, both for Sydney. Guillaux died as a result of a crash at Villacoublay in France on 22 may 1917.
In the early years of New Zealand aviation, crowds flocked to see displays by touring aviators, who often offered joyrides for the daring. Arthur 'Wizard' Stone was one of these and he flew his Bleriot monoplane in front of 11,000 paying spectators at the Auckland Domain on 19 April1913. Another 30,000 are said to have watched from outside the grounds. The aircraft made a forced landing after 400 yards; the plane and the pilot were attacked by members of the disgruntled crowd who felt that they had not got their money's worth (Figure 3).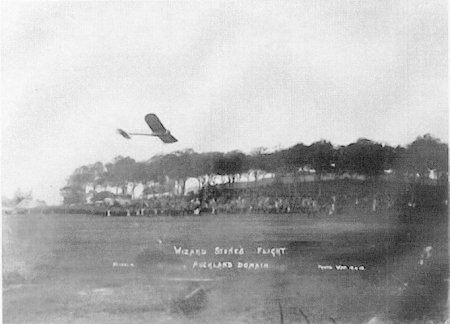 'Wizard' Stone was also a motor cycle wall-of-death rider and also did some of this in Australia; and, in New Zealand he had tried to set a new land speed record. In the U.S., Stone was a test pilot for the Queen Aircraft Company, builders of another Bleriot plane.