I need help with this cover as I don't have access to the book which may give me more information about this interesting postmark and registration label. The blue Australian 3d KGVI head stamp is postmarked RAILHEAD P.O/ -1 AU 40/ R.M.1. The blue registration label R/50 has a typed Trav P. O/ A I F / 780, and the other significant postal marking is a red boxed PASSED BY CENSOR/ [crown] No. 606, with 2 manuscripts 'XXX' and 'No 24′, both of dubious importance. The cover is addressed to a post office box, at the Sydney suburb of Chatswood, N.S.W. The reverse was not seen (Figure 1 ).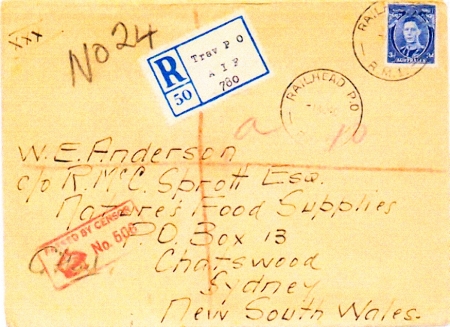 The vendor describes the cover as follows: Australia. 1940 (Aug), military in Palestine. Railhead PO RM1 postmark (Proud records this for only about 4 months) and typewritten Trav PO AIF R-label on registered cover to Australia. US$180. The book referred to is Proud Bailey's Australian Military Postal Services 1914-50. Actually it gives the dates of use as 3.6.40 until 15.10.40.
The meagre information I found on the internet was as follows: The 6 Australian Infantry Division was formed in Australia in October 1939 and was sited in Melbourne until January 1940. It set sail on 11 January 1940 and was at the Suez Canal Egypt, followed by Qastina Palestine, then Gaza Palestine and from 12 August 1940 until 01 September 1940 at Deir Suneid Palestine. You will note that this cover is dated 01 August 1940 an earlier date than that in the above book, and I suspect that it originated from the Deir Suneid region in Palestine. The Division was again reformed in Palestine during June-July 1941.
The reason for linking it to this cover to the Deir Suneid region in Palestine is because of another cover which was offered by the Yorkshire Cover firm in their Auction #76, held on August 27 2005 and unfortunately a picture of the cover was not shown, but the description was as follows: (Lot) 1059, 1941 July airmail censored cover Railhead PO RW1 Deir Suneid to Australia at 9d rate. This strongly suggests that this postmark was used for a second time period when the 6 Australian Infantry Division was again re-formed in Palestine.
The village of Deir Suneid (shown with a red arrow) situated in the Gaza strip is shown in a map of Palestine produced in August 1948, and the village is approximately 7 miles NNE of Gaza City (Figure 2).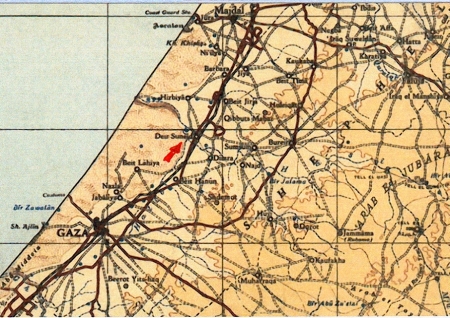 I am completely out of my depth with this cover and I present this information in the hope that readers can put me right.
Addendum: A second similar, but different cover, has come to light. It is an AIR MAIL LETTER CARD which has a blue 3d KGVI head stamp postmarked with a partially visible RAILHEAD P.O./ date obscured/ R.M.1and it has a purple PASSED CENSOR/ [crown]/ No. 3165 all within a triangle as well as a mss. signature. The addressee in Grafton N.S.W. has not been identified. The knowledgeable seller describes it as "PALESTINE 1941 on a blank country type air mail letter card with RAILHEAD P.O. R.W.1. cancel dated 14 AU 41. This canceller was in use at Deir Suneid Stationery Office in the Australian Lines of Communication." On questioning him about the R.W.1 and asking whether this should have been R. M. 1., his answer was as follows:
"There were two RAILHEAD postmarkers, RM1 was lost in the Greek campaign. Therefore at the time of the air mail letter cards the only canceller was RW1. Looking at the cancel more closely, I am unsure as to the exact date, and I will amend the listing. It is not 14 August (written on the face of the 'AMLC') [in pencil]. as there is a clear 17. It has to be after 15 July 1941 when the 'AMLCS' were introduced. It could be that the date is later in 1941, but I think that the correct date is 17 Aug" (Figures 3 & 4).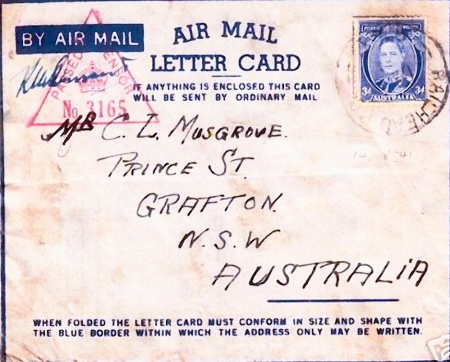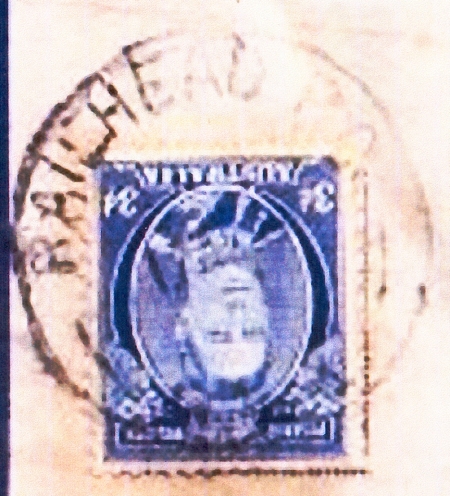 An enlargement of the RAILHEAD P.O. postmark in the first cover is shown in Figure 5.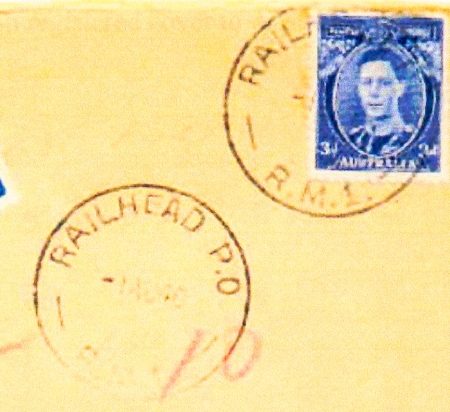 And, a drawing of the same postmark is shown in Figure 5A.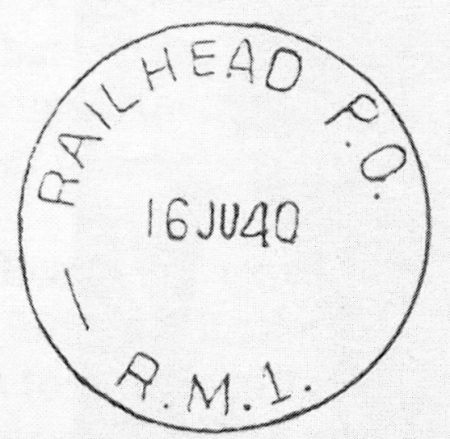 I acknowledge the assistance of Russell Stern, Sydney in the description of the second cover.