This envelope was addressed to Lady Rodwell, C/o The Forum Club, Grosvenor St., London, W.1, England and was readdressed to 82 Avenue Rd, Regents Park, NW 3. The sender was The Melbourne Little TheatrE. There was a manuscript 'ALL AIR ROUTE' and the 1/ 6d 'Hermes' air mail stamp was postmarked SHIP MAIL ROOM/ 1-P 8 DE 34/ MELBOURNE as well as by a LONDON arrival postmark. The reverse was not seen (Figure 1).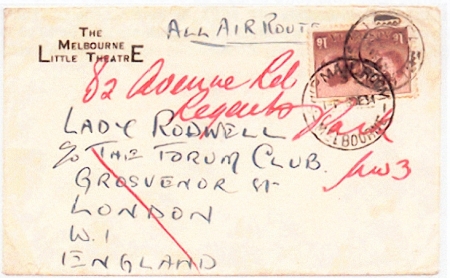 The sender of the cover was easier to research than was Lady Rodwell! In 1929 the St. Martins Chapel was sold privately and for several years was used as a studio and arts centre until, in 1934, The Melbourne Little Theatre purchased the disused chapel and shifted their base to it. The Little Melbourne Theatre was founded in 1931 by Brett Randall and Hal Percy and their first performance of The Fanatics by Miles Malleson on December 2, 1931 was in Central Hall, Melbourne. It shifted into the Fawkner Park Kiosk and continued to perform there for 3 years. The nature of the association of Lady Rodwell with the Theatre was not discovered, whether as a benefactor or less likely as a performer.
The first clue as to the identity of Lady Rodwell came in a somewhat strange way, at several sites stating that many individuals had been born at the Lady Rodwell Maternity Hospital, Bulawayo, Southern Rhodesia. I was informed by Mrs V. Bell the Director Mr. Genge at the Bulawayo Reference Library that was sending me information by mail, but it never arrived. However Mrs. Bell provided me with a 'skeleton' precis that "Lady Rodwell's full name was Lady Clarissa Rodwell and (she) was the wife of Cecil Hunter Rodwell, born 1874-1953. He was the Governor of the then Southern Rhodesia 1928-1933. The hospital had been named (after her) in 1932. This information was sufficient to discover information about Sir Cecil Hunter-Rodwell CMG (1909) KCMG (1919) GCMG (1934) of Woodlands, Holbrook, Suffolk, England in Burk's Landed Gentry.
He was the Imperial Secretary and Accountant to the High Commissioner for South Africa (1904-18), Governor and Commander in Chief of Fiji and High Commissioner & Consul-General for the West Pacific (1918-24), Governor and Commander in Chief of British Guiana (1925-28), and of Southern Rhodesia (1928-34). He was a director of a gold mining and other companies from 1935, Controller of Diamonds,& Minister of Supply (1942-45). He served in the South African War with the Suffolk Yeoman, where he received the Queen's Medal with 2 clasps. He assumed the additional surname of Hunter in 1932, and his descendants are known by the hyphenated name. He had been educated at Eton and King's College, graduating with a B.A. On the 24 November 1908, he married Ethel Clarissa Randall, and she died in 1960.
A map of the now Zimbabwe with Bulawayo (red arrow),the second largest city to Harare, is seen in Figure 2.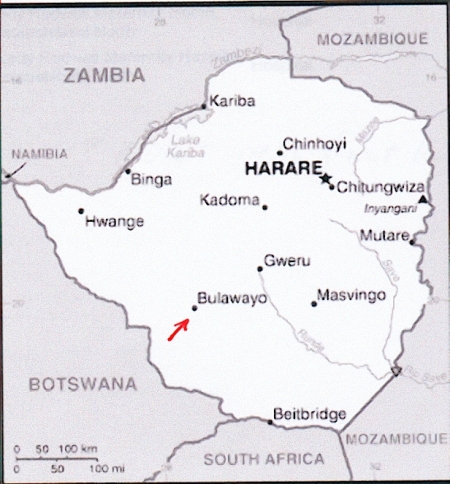 Addendum (September 2010): Some 5 years after this paper was written, I have found how
Lady Rodwell was associated with the Little Melbourne Theatre, for I came across an obituary of her father Herbert Randall in The Sydney Morning Herald dated 3 February 1942, page 7. He was a well-known English actor and manager, who was probably the oldest surviving 'Savoyard'. He died at the age of 83 at his home in Barkly Street, St. Kilda, Melbourne. He was known professionally as Herbert Ralland, and was at one time manager for George Edwards of Daly's Theatre, London. Mr. Randall was survived by one son Mr. Brett Randall (who is mentioned above in the second para as being co-founder of the Little Melbourne Theatre in 1931), and by two daughters, Lady Ethel Clarice Rodwell of Holbrook, Suffolk England and Mrs. Ian Wilson Johnstone. It is reasonable to surmise that brother Brett was writing to sister Ethel. The cutting from the S.M.H. is seen in Figure 3.