wo covers were sent to the Rev. J. Egan Moulton at Tupou College (both spelt incorrectly as Tubou), in the capital city of Nuku'Alofa, Tonga. The first had a pair of the red 1d N.S.W. 'Shield' stamps cancelled with the barred numeral obliterator of '1204′ and in addition the origin was confirmed by a cds of ENMORE/ NO 17/ 1897/ N.S.W (Type 1D (i) 1896-1906). In addition there was a blue crayon tax manuscript of 'T5′ (Figure 1).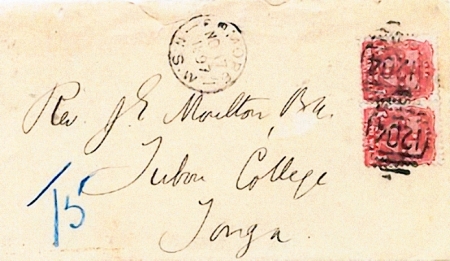 The flap on the reverse showed a transit postmark of another Sydney suburb, a duplex NEWTOWN/ NO 17/ 4 15 PM/ 97/ N.S.W with the numeral '182′ (Type D2 (ii) 1885-1910), an indistinct Tongan reception postmark, as well as a printed black 'Belt & Buckle' NEWINGTON COLLEGE STANMORE/ FOUNDED/1863/ SYDNEY (Figure 2).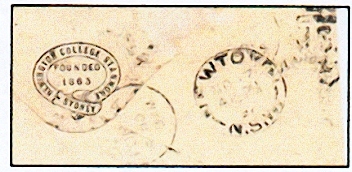 The second cover was similarly addressed and had a single 1d N.S.W. 'Shield' stamp as well as a pair of the 2d blue QV stamps which were canceled by the duplex SYDNEY/ MR 30/ 4-PM/ 98/ 41 with the barred N.S.W obliterator (Figure 3).
James Egan Moulton (1841-1909), Wesleyan Methodist missionary, was born on 4 January 1841 at North Shields, Northumberland, England, son of Rev. James Egan Moulton and his wife Catherine, née Fiddian. A member of a well-known Wesleyan Methodist family, he was educated at Kingswood School, Bath, but asthma prevented him from entering a university. He worked as a clerk in a shipping office before acceptance into the Wesleyan ministry in 1863. He sailed in the Merrie England and arrived at Sydney on 31 May 1863, and he became headmaster of Newington College, Sydney until 1865.
In 1865 Moulton was appointed to Tonga and he left Sydney in May. The following year he established a college, to which King George Tupou gave his name and patronage. Under Moulton Tupou College succeeded and had a profound influence on young Tongans training for the ministry and government positions. On 2 June 1877 he left Tonga for Sydney on his way to London where he worked on bible translations to the Tongan language. He visited Sydney and Fiji in May-June of 1880 before returning to Tonga.
A dispute between Moulton and another missionary, Shirley Waldemar Baker, led to controversy and had serious political, social and religious consequences. A deputation from the NSW and Queensland Conference found that members of the Wesleyan Church were cruelly persecuted, and many of its members were transported to Fiji. In a period of crisis, Moulton's loyalty and fortitude won for him the respect and admiration of those from whom he differed. Assured that his work would continue under Rev. George Brown, Moulton left Tonga on 11 August 1888 for
Suva and thence for Sydney. In 1893 he was appointed president of the NSW Wesleyan Conference and in March of that year he succeeded Rev. Dr. William Kelnyack as president of Newington College. He became utterly involved in the life and affairs of the College and improved its finances, and he raised the subject of suitable arms and insignia with the College council. He retained his interest in Tongan affairs, and by 1902 he completed his translation of the Bible. His scholarship and sure knowledge of the Tongan language enabled him to give the Islanders the finest literary expression of their own language.
His hymns were reputed to have an almost greater influence than his Bible, and he introduced Tongan choirs to the great composers. I could find no record of him living in Tonga again other than a photo taken in 1900, and the two letters addressed to him in Tonga which were 4 months apart, from November 1897 until March 1898. He died at Lindfield, NSW on 9 May 1909 and was buried in Gore Hill cemetery. He was survived by his wife Emma, née Knight, whom he married on 23 December 1864, and by 3 sons and 3 daughters. His estate was valued for probate at £1216. A portrait of Moulton with tutors of Tupou College in 1900 (taken from a photo in the College chapel) shows him seated in the middle of the front row (Figure 4).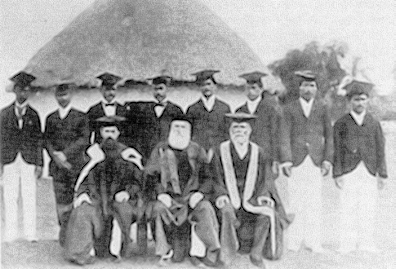 Part of this paper is an abridged version of that found in the on-line version of the Australian Dictionary of Biography.
Addendum: This paper was published in the NSW Philatelist February 2007, Volume 29, pages 7-11, with an addition by David Benson of Sydney, which is summarised here:
Tonga issued a set of stamps overprinted for the centenary of the College SG 162-173 (Figure 5).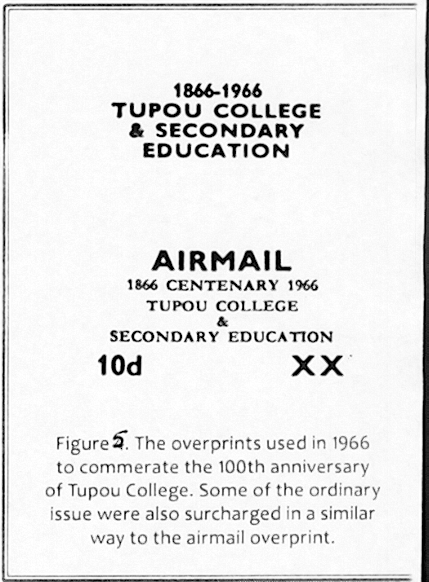 Another cover was added and the reverse shows the College logo (Figure 6).