This dull rose-red 1d Victorian embossed envelope has an additional 1d stamp added and both are postmarked with the barred numeral '461′ of Hochkirch and there is also an unframed HOCHKIRCH/ JU 8/ 03/ VICTORIA postmark, with the year slug inverted and reversed. It is addressed to Mr. Teppper, Entomologist, Public Museum, Adelaide, S. Australia. The sender is identified by the purple hand-stamp as Louis Kurtze, Hochkirch, Victoria. The '4′ of '461′ is very worn, so that the B.N. appears as '161′. The '461′ is a second B.N. for the original post office was '337′ for the time period 15.2.1861 to 1.1.1863, whereas the '461′ was used at the P.O. re-opening on 21.1.1864 (Figure 1).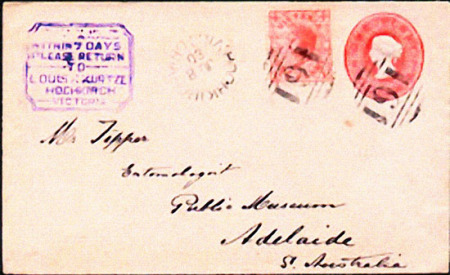 Johann Tepper was born on 19 April 1841 at Posen Prussia, one of 8 children of Joh Christof Tepper, baker and later farmer, and his wife Wilhelina (née Protsch). The family migrated for religious reasons, reaching Port Adelaide in the Gellert in December 1847. Schooled at Hoffnungsthal, Otto left at 14 to farm in nearby Lyndoch valley and spent four years as a shearer in the Mount Bryan district. He was described as a storeman when he was naturalized on 5 April 1865 at Tanunda. After completing examinations to become a public school teacher, Tepper was appointed to New Mecklenburg (Gomersal) in the Barossa Valley in December 1867. On 22 April that year at Redbank he had married Jane Brock, and hey were divorced in 1874. He taught at Two Wells (1869), Monarto (1872-73), Nuriootpa (1873-78), Ardrossan (1878-81) and Clarendon (1881- 83), all in South Australia. Between 1873 and 1883 he wrote a series of natural history papers about Nuriootpa, 'Notable Native Plants about Ardrossan' and 'Die flora von Clarendon', the latter for a German scientific magazine, Botanisches Centralblatt.
In March 1883 Tepper was appointed natural history collector at the South Australian Museum; in 1888 he was promoted to entomologist, numismatist and librarian there. Many of his entomological papers were later to appear in the Garden and Field and also in the Transactions of the Royal Society of South Australia, which society he joined in 1878; he was an honorary fellow from 1912, and was sometime chairman of its field naturalists' section. In 1879 he became a fellow of the Linnean Society of London and a life member of the Society of Science Letters and Art (London), receiving their medal in 1898.
A capable artist, Tepper sketched South Australian countryside scenes and the orchids of the colony. He was an associate, later committee-man of the Society for the Protection of Birds formed in 1894, and a member of the South Australian Gardeners' Society for over 30 years. Short with a full beard he was described as a very kindly man with a trusting nature. Tepper was a very heavy pipe smoker. He was an ardent collector of books, papers, stamps and coins, and was a contributor to magazines, journals and newspapers. He retired from the museum in 1911, and he died on 16 February 1923 at Norwood, South Australia (Figure 2).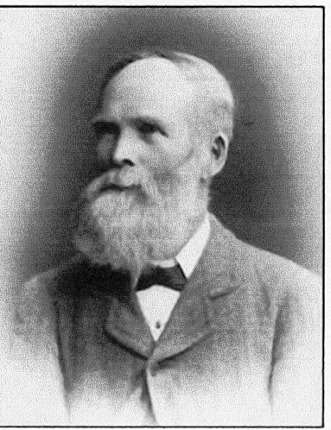 His son and two daughters survived him, and several plants, fungi and insects have been named after him, including Helichrysum tepperi. His estate was probated at £2165.
This paper was largely derived from the on-line Australian Dictionary of Biography.