There is confusion in the research literature about A.J. Nettlefold who has been described in The Cyclopedia of Tasmania (1901) as having started in business "barely 3 years ago with very little capital but brains, he has become during that time to be a credit to the colony of Tasmania. His first business effort was at No. 60 Liverpool Street, Hobart where he opened a tailoring business in half of the shop previously occupied by a Mr. S. Lawrence. This was followed by the speedy addition of the mercery department, and the 2 businesses grew at such a rapid rate that it was soon evident that more room would be required, and so the next move was the purchase of the old-established tobacconist, fancy goods and hair-dressing establishment of Messrs. Francis Bros. This was purchased with the view of moving the tailoring and mercery therein , but he found this business to be such a good one, and so capable of expansion that he decided to retain it and obtain other premises for the tailoring department. This was accomplished by securing the premises on the other side of the original shop, which is now occupied by the bicycle department.
Three covers have been found addressed to A.J. Nettlefold at Liverpool Street, Hobart unrelated to the business ventures mentioned above, and not mentioned in the Cyclopedia of Tasmania (1901), but obviously carried on as a side business to his other successful businesses, and at least partially at a Liverpool Street address, as well as other addresses, in the first decade of the 20th century.
The earliest cover was found addressed to Mr. Thos Nettlefold, crossed out and readdressed to Tattersall, Liverpool St.,Hobart. The 2d Tasmanian pictorial was postmarked Tunnack dated October 13, 1904, and was seen on p. 132 in David McNamee's Catalogue and Handbook of Tattersall's Covers (2006).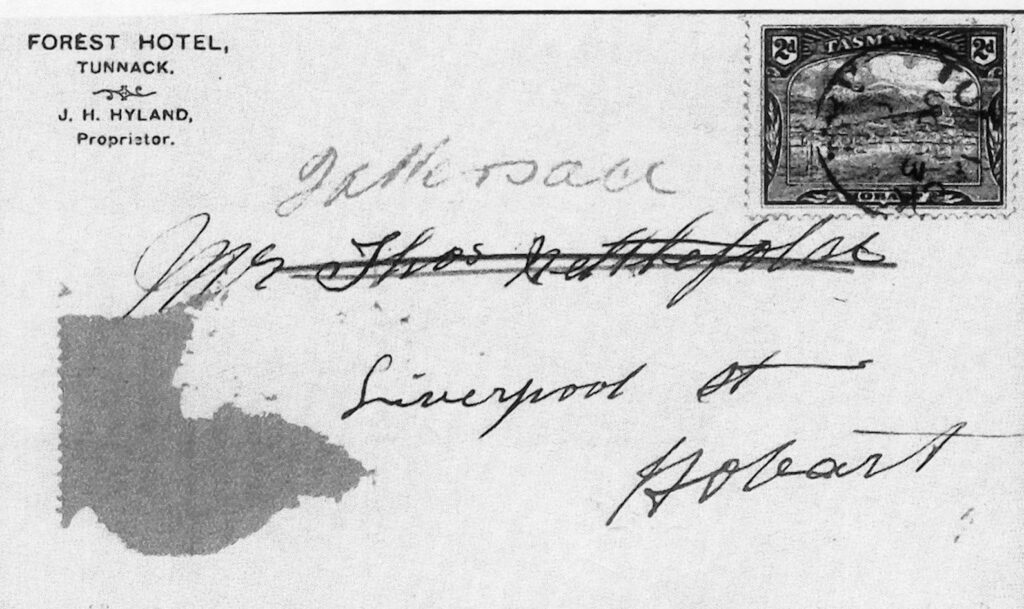 McNamee provides additional information as follows: Alfred J. Nettlefold ran tailor and tobacco shops at 58 and 62 Liverpool Street, Hobart and another tailor and outfitter's shop in the western mining town of Queenstown. Men coming into town from the countryside or mines frequented these type of shops, and Tattersall's Sweeps manager, D.H. Harvey, cultivated friendships with shop owners like Nettlefold, especially with those with branch operations in other towns. These shopkeepers and hotel owners travelled between their businesses and created opportunities to spread the (Tattersal's) network further. The Commonwealth Postmaster-General proscribed the Nettlefold brothers in 1910. McNamee continues with a list of other addresses used (involving Nettlefold) and describes a cinderella "stamp" in perforated pinkish paper known with A.J.Nettlefold's business name on it, with both Hobart and Queenstown on it, (but see later).
The next cover has a blue 'Four Corners' stamp of Queensland and there is a duplex cancel of EWAN/ 7-30A 10 OC 06/QUEENSLAND with the barred numeral '325′ as obliterator. The purple Tattersall label partially obscures the addressee (A.) J. Nettlefold Esqr., Liverpool Street, Hobart, Tasmania (Figure 2).
The O.H.M.S. cover is addressed to A.J. Nettlefold (crossed out and Tattersall is substituted), Hobart, Tasmania, it being sent from Sydney (illegible) on 18.JU.07 -NOON. The sender was the Commonwealth of Australia, Postmaster-General's Department, State of New South Wales, MONEY ORDER OFFICE, G.P.O. SYDNEY (Figure 3).
The Cyclopedia of Tasmania states that Nettlefold's Supply Stores now extended from 58 to 62 Liverpool Street, Hobart and the storefront was shown as well as the interior of the Nettlefold's Cycle Shop, respectively, as Figures 4 & 5.
Nettlefold appointed a reputable firm of English buyers to superintend his English and foreign buying arrangements, and he secured the sole agency for the Colony for the celebrated 'BBB' (smoking) pipes and 'La Armada' cigars. He then bought out George Smith (the well-known hat and cap manufacturer), and Smith stayed on to manage this section of the firm. Nettlefold's then started umbrella manufacturing. He improved the hair dressing department with a complete set of hot and cold baths and plunge, shower, etc., also a separate room for ladies hairdressing. A.J. Nettlefold's Hairdressing Saloon is shown as well as a bonafide photo of Mr. A.J. Nettlefold, seen, respectively, in Figures 6 & 7.
I stress that this figure of Nettlefold is the correct man who had the association with the Tattersall's covers, whereas another person's photo has been shown at another stamp site, suggesting that it may be a photo of the present Nettlefold. The name Nettlefold was common in Tasmania and the Australian Dictionary of Biography has biographies on Leonard, Isaac Robert, and Thomas Sydney Richard Nettlefold, but there is no proof that they were related to A.J. Nettlefold, nor had any association with the Nettlefold's stores.
The cinderella 'stamp' mentioned by McNamee , which advertises both the Hobart and Queenstown Tailor and Outfitter stores, is seen in Figure 8.
The second edition of The Cyclopedia of Tasmania (1931) has a shorter article on Nettlefold's Sport's Depot, 82 Liverpool Street, Hobart which was originally part of the commodious premises established in 1896 by A.J. Nettlefold. The business continued to grow rapidly and in 1909 it was bought by Mr. W.T. Nettlefold, A.J.'s brother who carried it on until 1931 when the brother's nephew took over with the introduction of sporting goods, tennis rackets, cricket bats and balls, footballs, tennis and running shoes, racket stringing and bat binding, with a recent addition of a radio department. A picture of the brother, W.T. Nettlefold is seen in Figure 9.