The town of Wild Horse Plains, South Australia was unknown to me, but I had previously known of Wild Horse Plains, Montana and then I found several examples of the township in South Australia on the same day. There were 2 examples found on the red KGV head stamp, one on the red 1½ penny, and another on the KGV 1 penny, which was a superb 'socked on the nose' example dated incorrectly early dated15 JL 12/ STH AUSTR. This predated the first issue of the stamp on 7 August 1914 (Figure 1).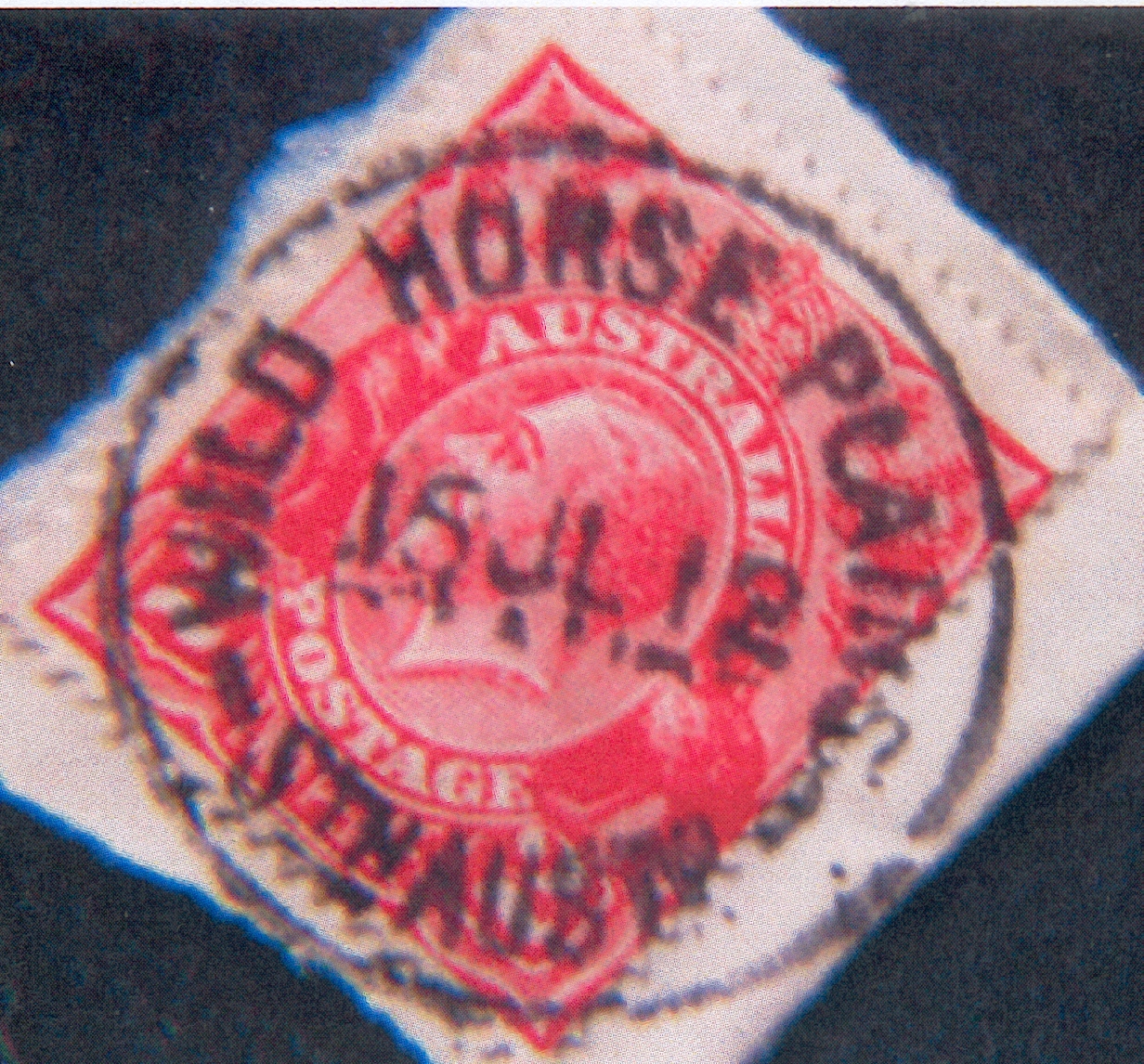 Stamps of South Australia have been seen postmarked with a squared circle postmark of two distinct configurations: Type 1from 1885-98 with a diameter of 23.5 mm and a Type 2 in 1900 with a diameter of 26 mm.
The Wild Horse Plains post office has been documented by Martin Walker in The Post, Telegraph and Telephone Offices of South Australia and the Northern Territory in which he lists details of the opening date in 1878, the closing date in 1979 and the names of 5 Postmasters from 1882 until 1902, as well as a picture of the Wild Horse Plains post office in Figures 2 & 3).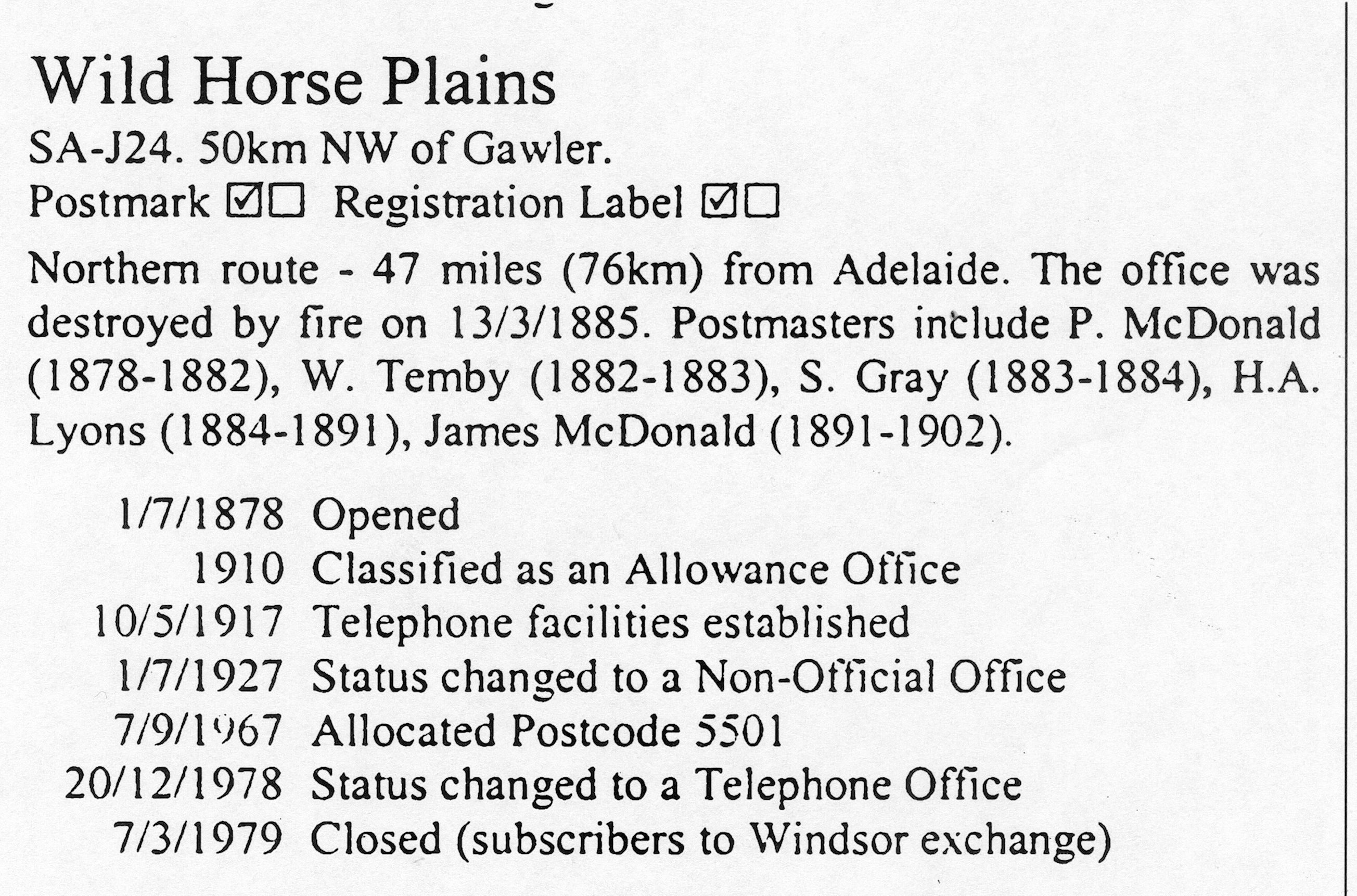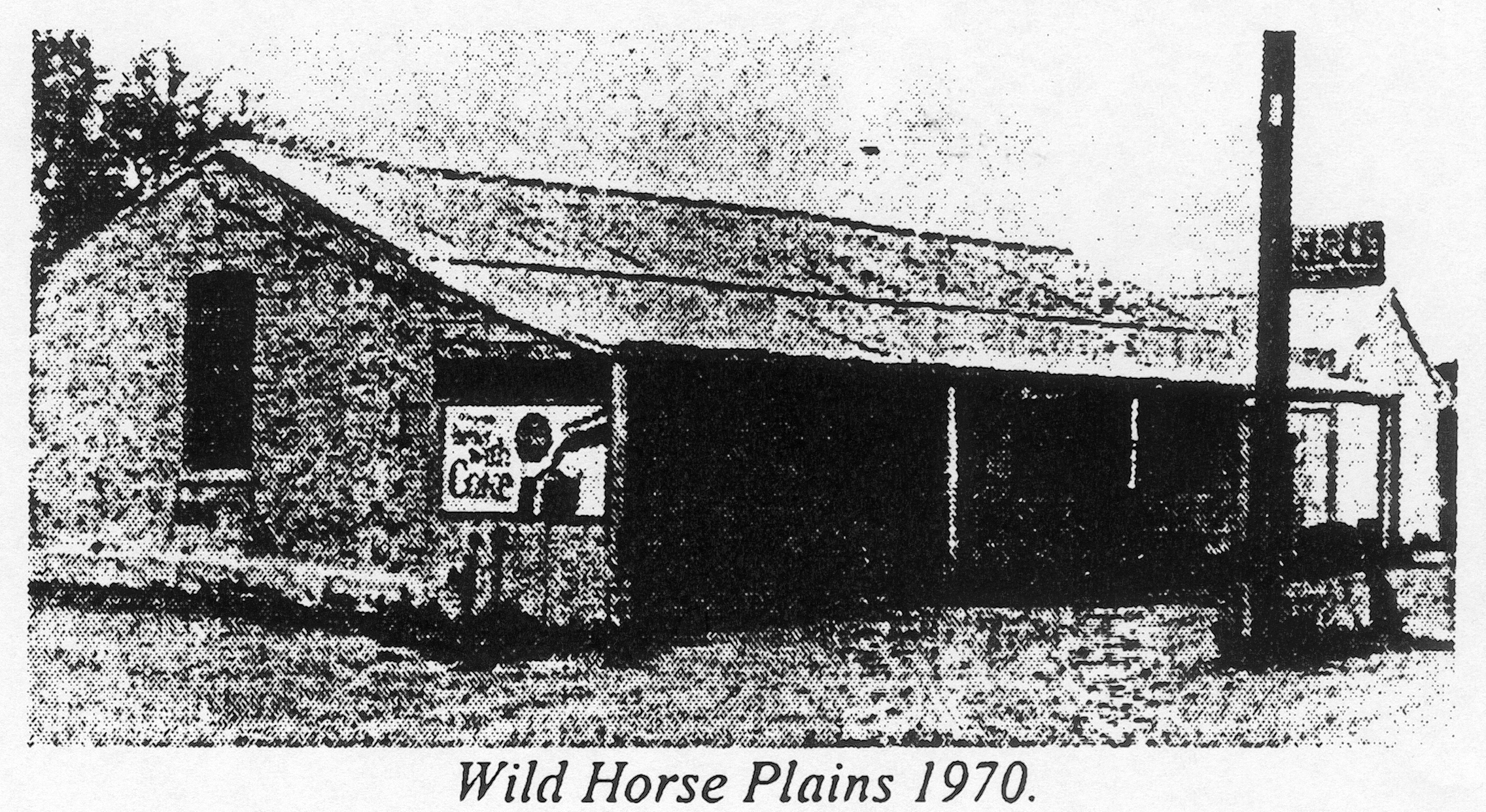 The Register
(Adelaide) 14 January 1904, page 8 was headed 'A Glimpse Of The Adelaide Plains No. 3, By a Travelling Correspondent.: Wild Horse Plains– "The distance from Long Plains Township (described in previous notes) to Wild Horse is six miles in a westerly direction on to the main Port Wakefield road. There is a smack of Americanism about the name applied to this settlement; but probably yet no one seems to know why it is so called, wild horses at some early period…There is little evidence of wildness about the district nowadays. An occasional wallaby or hare is the only representative of unrestrained life extant".
"Most of the settlers, by reason of their perseverance and industry have succeeded fairly well in their efforts to improve the country occupied, and thereby secure financial recompense for many years of hard labour and disappointment. Originally the land was condemned as next to useless owing to its shallow depth in most parts, and to heavy sand in other. Fortunately the right stamp of men came along, and their energy and dogged perseverance enabled them to hold on to their selections. For a long period, however many discouraging seasons prevailed; in fact, only a hand-to-mouth existence fell to the lot of many selectors until fertilizing came into vogue. Then an improvement. Then an improvement was effected, and there was every justification for expressing the opinion that this district, in common with others in the same line of country, will continue to increase in productiveness in favorable weather conditions. The district has a fair rainfall".
"The township is of limited proportions, 47 miles north of Adelaide, in the county of Gawler, and in the district of Dublin. J. Hill & Co. are the mail contractors and run a daily service. The principal place of business is owned by Mr. J. McDonald who conducts an extensive storekeeping establishment with a branch at Lorne. He is also the owner of the ketch Lass of Gawler, which trades between Ports Lorne and Adelaide, principally engaged in conveyancing mallee seed and wheat. Mr. McDonald is an old resident and speaks hopefully of brighter seasons ahead. Mr. H.A. Lyons may be classed among the pioneers of the district as his connection dates back over 22 years. Originally engaged in storekeeping, he suffered severely from bad seasons, and eventually turned his attention to cultivation combined with firewood shipping and stock dealing".
"The landowners adjacent to the township include Lyons and McDonald as well as A. Jones, W.S. Chapman, C.R. Baker, Williams Brothers, H.C. Vick, J. Vick, A. Griffiths, H. Baker, J. Best and A.Wood. The principal sources of income are agriculture and sheep breeding".
A map of Route 1A north of Adelaide shows the position of WILD HORSE PLAINS at the red arrow (Figure 4).