The cover is addressed to Captain R.G.F. Candage, 17 Merchants Exchange, Boston Mass., United States America and it has a manuscript '22/4/70′ at lower left as well as 'Ans Jul 1 70′ at the left edge of the cover. There is an unframed MT BLACKWOOD/ AP 22/ 70/ VICTORIA postmark and both stamps, a brown lilac 'TWO PENNY' and a blue Laureate 'SIX PENCE' were cancelled with the barred numeral '64′. There were two red circular cancels, a LONDON/ B/ PAID/ A/ (—–), as well as a red unknown cancel, and the reverse was not seen (Figure 1).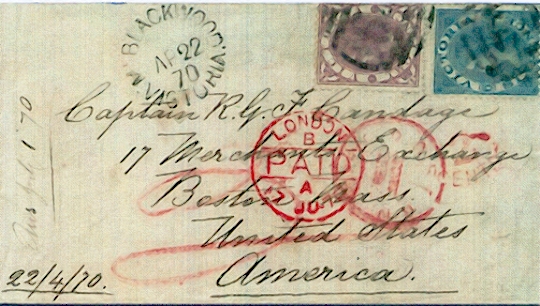 Rufus George Frederick Candage of Brookline, Mass. was born at Blue Hill Maine on July 28, 1826, a son of of Samuel Roundy Candage (died 23 December 1852) and his wife, the widow Phebe Ware (Parker) Candage (died 3 October 1850), Rufus being the seventh child and the sixth son in the family who survived to an adult life. Another 5 of Rufus' siblings (two brothers and 3 sisters) did not survive to adult life. His boyhood was spent on his father's farm where his educational opportunities were limited to a few months schooling in the summer and winter, and he had 2 terms at the Blue Hill Academy. Rufus' father had been a sailor in his younger days, and his older brothers took a life on the ocean, so that it was natural for him to follow in their footsteps. Rufus went to sea at the age of sixteen on coastal vessels before sailing in ocean clippers. He rose to second and first officer and by 1859 he was the brig Equator's master and he sailed in her from Boston to Valparaiso, Chile, his first long voyage in command of a ship. Later he sailed to California, China, India, Australia, South America, West Indies and Europe. The family name in England was originally Cavendish and later Candage. Upon the death of his first wife, Mary Elizabeth (Elizabeth Augusta?) Corey (d. 18 November 1871 and with whom he had no children), he went ashore in 1867, remarried Ella Maria White on 22 May 1873 and raised his six children. In retirement, his first job was as a surveyor of shipping at Boston. During his sailing lifetime of 23 years he doubled Cape horn 13 times, sailed around the world 3 times, in all journeying more than 300,000 miles.
In retirement, he settled in Brookline, Mass, which continued to be his legal residence even after his removal to Gleasondale in 1909. His first job on land was as a surveyor of shipping at Boston, Mass. He had a subsequent busy careers on land and they included: many fraternal, business, historical and literary organizations, and he held various positions of honor and trust. He was prominent in Masonic circles and in the Boston Marine Society, which he joined in 1867, holding in succession secretary, vice president and president, and was a member of its Board of Tustees.
In 1868 he was appointed marine inspector for the Record of American and Foreign Shipping, and in the same year he was appointed Marine Inspector by the Boston Board of Marine Underwriters, holding that office for 10 years. In December 1882 he was appointed by the Bureau Veritas of Paris as Surveyor for the District of Massachusetts and Rhode Island. He was Treasurer, and in 1873, President of the Boston Fire Brick and Clay Retort Manufacturing Company, and also, in 1881 President of the Boston Terra Cotta Company and of the Massachusetts Safety Fund Institution. For seven years he was a Director of the Franklin Fire Insurance Company of Boston, and he was a Trustee of the Home Savings Bank. For 20 years he was to be found at his office in the old Merchants' Exchange Building , actively engaged in insurance and marine affairs.
In politics and in all that concerned public improvements and the general welfare of the community, Captain Candage showed a lively interest. For 8 years he was Chairman of the Republican Town Committee of Brookline, he was a member of the State Central Committee from second Norfolk district, and he belonged to several political clubs. Very frequently his fellow townsmen called upon him to serve as the moderator of the Brookline town-meetings. In March 1884 he was selected as one of the Assessors of Brookline and served in that capacity for 26 years, during 15 of which he was Chairman of the Board. Candage took great delight, especially in later years, in historical and genealogical research. He read much, enjoyed social gatherings and was a member of the Council of the Genealogical Society. In 1901 he was the principal organizer of the Brookline Historical Society, serving as its President for 8 years.
A partial short obituary was found in The New York Times, June 21, 1912, p. 13: One of the oldest citizens of Brookline, Maine died in Gleasondale (home of his daughter, one of all six children who survived him) yesterday, aged 85. He was born in Blue Mill, Maine. His life in a metropolitan suburb and his literary pursuits never banished the bluff but genial greeting of a sea-captain. Quick and generous with his sympathy, he could be gentle to a marked degree in dealing with those less fortunate than himself. His popularity was a natural outcome of his personal qualities, and his death removed him from a large circle of friends in every walk of life.
A front view of Captain Candage's home on Kent Street taken in winter showing trees, fnces and road blanketed in snow. The house is located in the Longwood Historic District (Figure 2).