The advertising cover front only was for Dr. Jaeger's Sanitary Woollen System Co. Ltd. Melbourne Branch, 321-323 Flinder's Lane had the diamond shaped insignia used in many of their advertisements. It had a picture of Dr. Jaeger in the centre, with the full name of the company at the top, 'SOLE CONCESSIONARY' above the head, and 'PURE WARRANTED WOOL' at the lower edge of the insignia. The red 1d stamp appeared to be perfined and was postmarked with the double circle MELBOURNE/ PM/ 6 30/ 23.4.92/ 21. The cover was addressed to Messrs Shierlaw & Coy, 16-18 Hindley St., Adelaide, South Australia (Figure 1).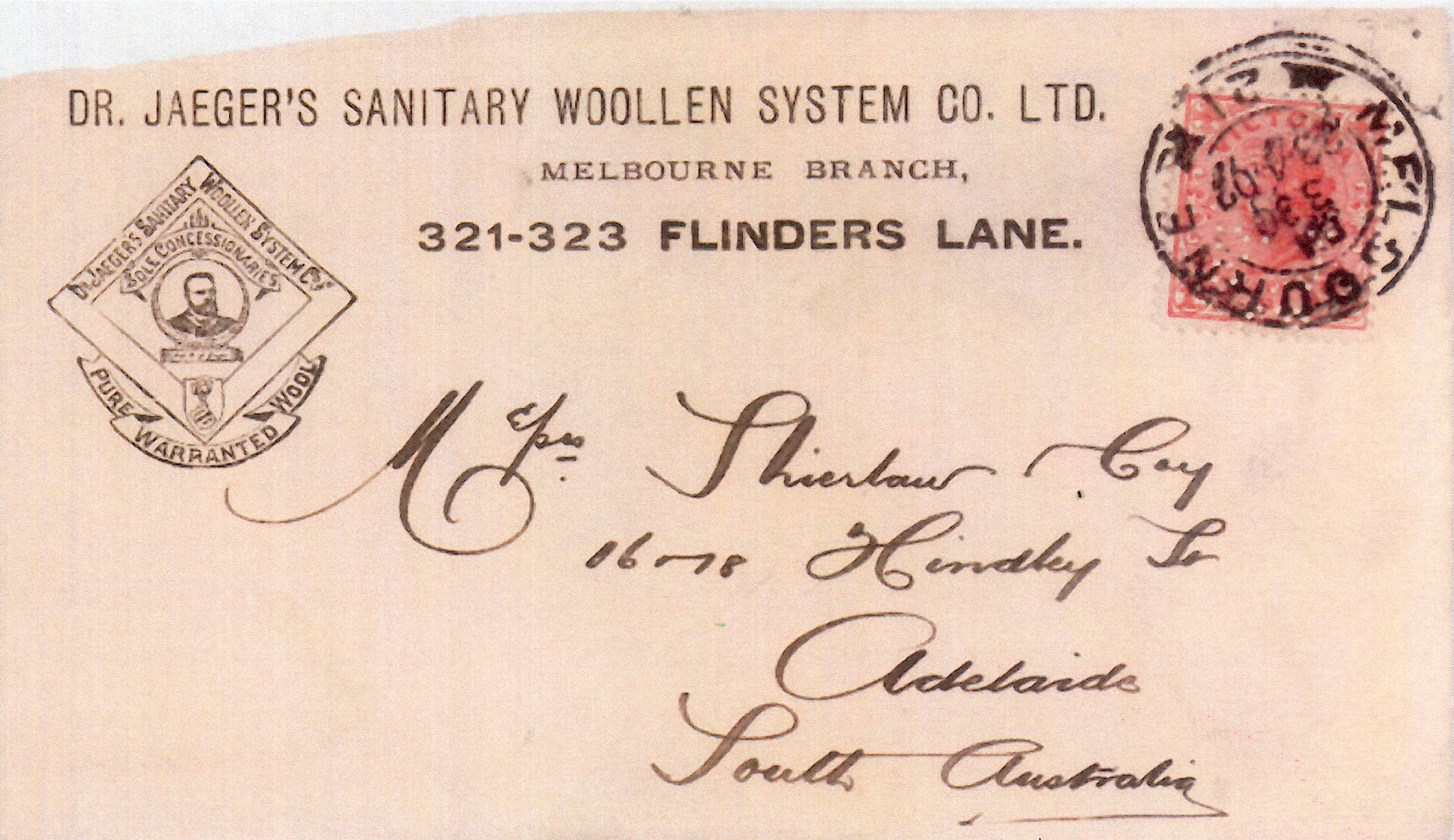 A better example of this frequently used advertising insignia, on this occasion with the added words 'TRADE MARK' is seen in Figure 2.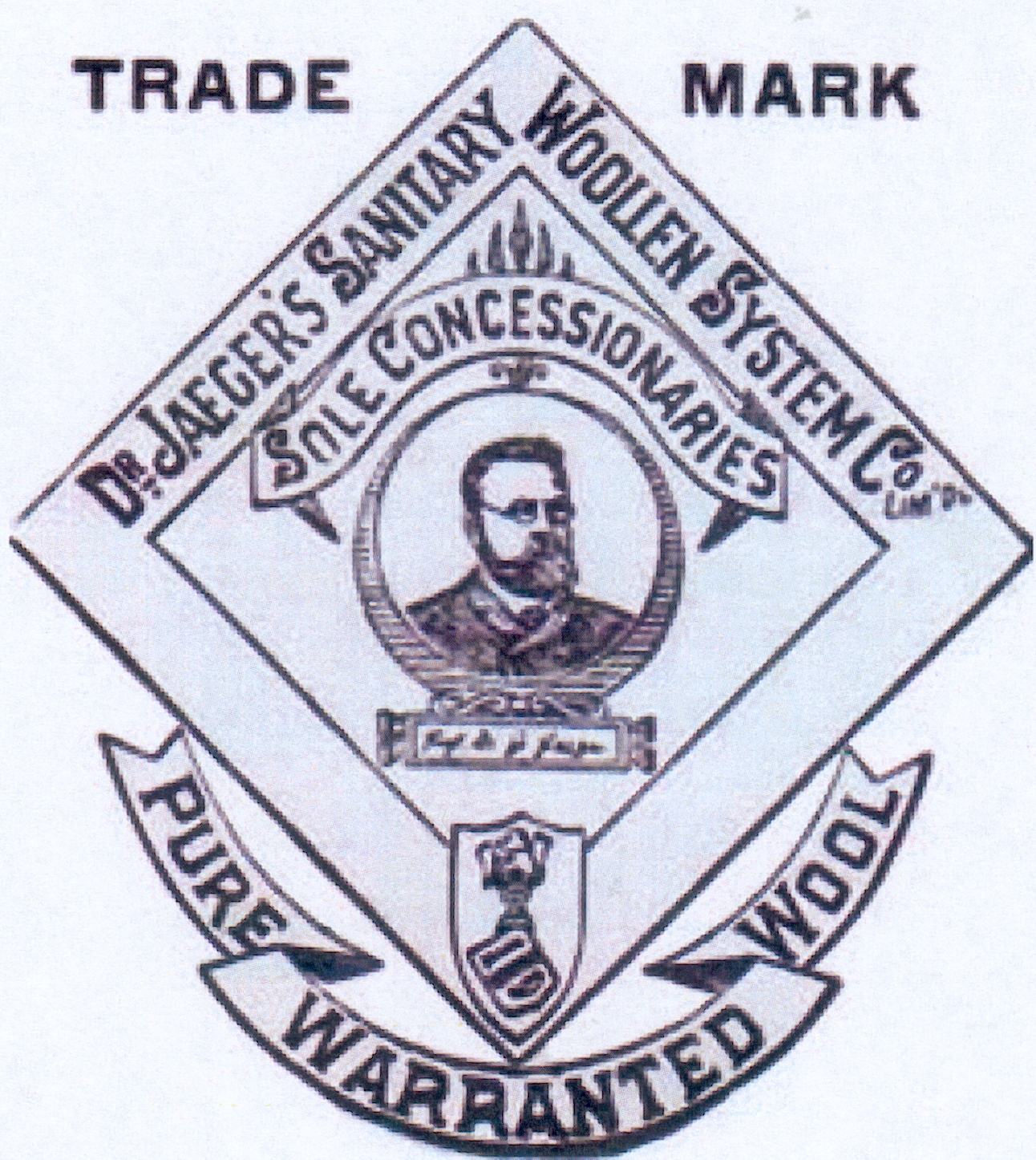 In 1884, Dr. Gustave Jaeger, a German professor of Zoology and Physiology at the University of Stuttgart developed 'scientific' theories about the use of hygienic dress and of wearing wool, next to the body. published his essays on health culture as Dr. Jaeger's Sanitary Woollen System. He wanted everyone to use wool fibres throughout the house right down to the bed sheets. He thought pure animal fibres would prevent the retention of noxious exhalations of the body. A picture of Dr. Jaeger is seen in Figure 3.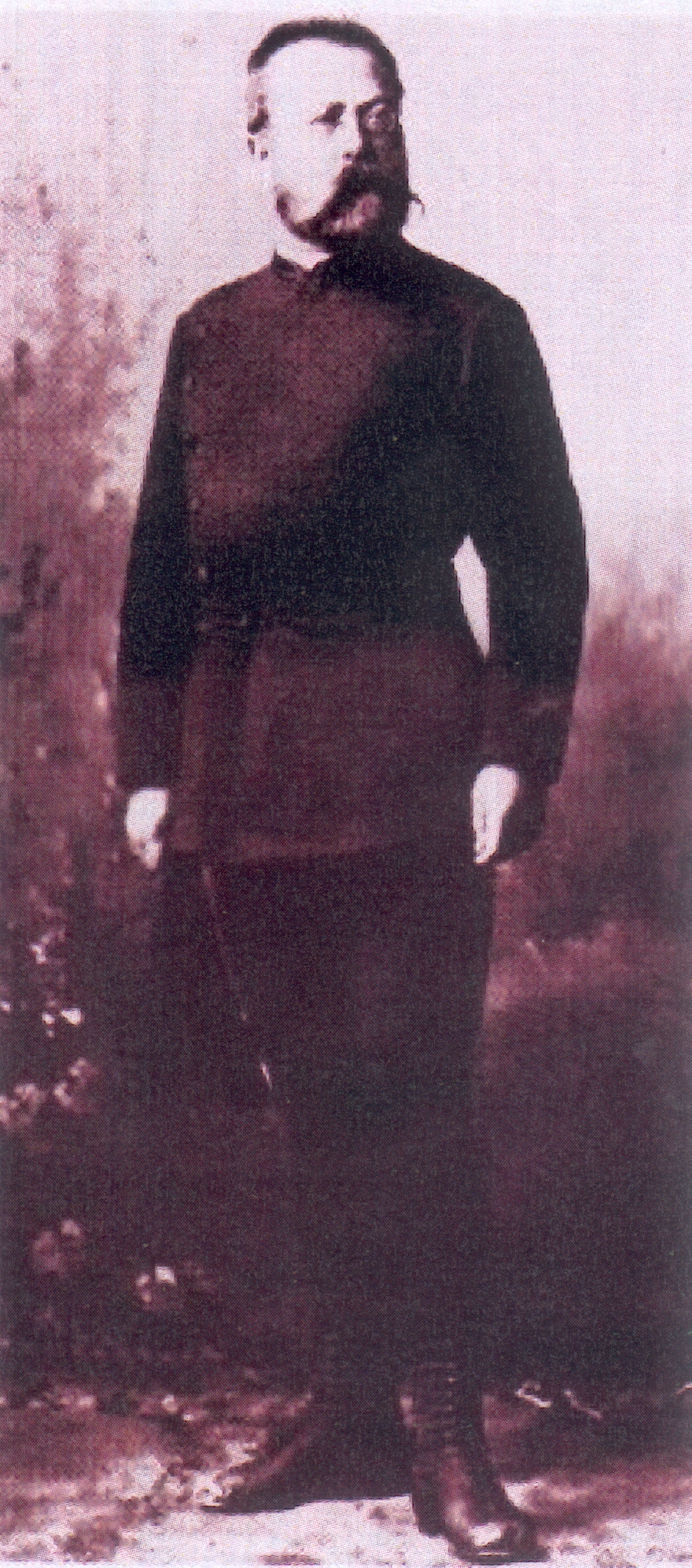 The ideas were promoted as scientific even though they were far from being scientific. Science was equated with being modern and therefore a rational argument hence the name we associate with dress reformers. Surprisingly his ideas were accepted by enough people to be swayed by the inaccurate scientific argument to wear undergarments made of wool. Soon after other manufacturers produced ranges of similar undergarments, but made them more colourful.
Jaeger is a British retail fashion company producing distinctive clothes for both men and women. Its origins lie in Germany over a century ago – a period when theories of rational dress abounded throughout Europe and the United States. In 1880 Dr. Gustave Jaeger of Stuttgart, expounded his belief that only clothes made of animal fibers (principally wool) were conducive to one's health.
Jaeger's theories were translated into English by Lewis Tomalin and taken up by the Times, which devoted a leading article to Dr. Jaeger's ideas on 4 October 1884, on the occasion of the London International Health Exhibition in South Kensington. Tomalin obtained Dr. Jaeger's permission to use his name and opened a shop to sell the "Sanitary Woollen System" of clothing on Fore Street, in London where two of the earliest and most famous customers were Oscar Wilde and George Bernard Shaw. The latter heavily endorsed the product and wore Jaeger clothing for much of his long life.
The Jaeger company was founded in 1884 by Lewis RS Tomalin, head of the finance department of a large City grocers' firm. Three years previously, Tomalin had read and translated Health Culture by Dr. Gustave Jaeger (1832-1916). Professor Zoology and Physiology at the University of Stuttgart in West Germany. Jaeger believed that clothing was more healthy if made of animal fibres, mainly wool, rather than of vegetable fibres such as cotton.
The first shop was opened in Fore Street near Moorgate on 1st February 1884, trading under the name of 'Dr. Jaeger's Sanitary Woollen System'. Tomalin had acquired from Dr. Jaeger the sole rights to this trade in Britain. The Jaeger company was awarded a gold medal at the International Health Exhibition in the summer of 1884, following which the Times printed a leading article about it on 4th October 1884.
The company soon expanded, and the first West End branch opened in 1885 at Prince Street, Oxford Circus. In 1887, the company headquarters were established in Fore Street near Moorgate, where they stayed until the move to City Road in 1945. 1886 saw the acquisition of the sole rights to trade in the USA, and further branches were set up in Australia in 1890 and Canada in 1904. By 1900 there were twenty Jaeger shops in Britain. Notable patrons of the company included many Arctic and Antarctic explorers, such as Scott and Shackleton in the Arctic, as well as Stanley on his search for Dr. Livingstone in Africa.
Lewis Tomalin's son, Henry Ferdinand Tomalin, joined the company in 1899, and he took over as Chairman after his father's death in 1915. At the start of the war the company changed its name from Dr. Jaeger's Sanitary Woollen System Co. Ltd. to the Jaeger Co. Ltd. HF Tomalin's son, Humphry R Tomalin, entered the company in 1921, moving round the Canadian, Australian and American branches before returning to England. He was first deputy Chairman and later Chairman, and he died in 1950.
By the 1930's, however, Jaeger had greatly extended its range from the early emphasis on "sanitary wear" as exemplified in the turn-of-the-century exhortations to "Wear wool to South Africa – khaki drill spells a chill." Under the founder's son, H.F. Tomalin, the emphasis turned from functionalism, to fashionability, all a woman (or man) needed for work and leisure, from country tweeds, twin sets, and stylish coats to swimsuits and slacks.
Jaeger exported its goods to such diverse locales as Beirut and Buenos Aires, upholding Tomalin's now-dated dictum, "Wherever you go among white people you will find that Jaeger is known." The original ethos of health clothing, however, has long been superseded by one of cool, timeless elegance, albeit still in fine materials – an image aided the high caliber of Jaeger design.
There were others who advertised that their woolen products were as pure wool as the Jaeger clothing, but this was not always the case, as shown in this item in The New York Times of October 30, 1889 (Figure 4).