I have been intrigued in the past 10 years by Australian postmarks, particularly those of my native State of New South Wales. In part this is due to the fact that I dropped Australian history and geography from my early studies in Sydney and I am now playing 'Catch-Up' by looking out for places that interest me. This common red 1d 'Shield' stamp of N.S.W. had the earliest postmark known as 'Rays' with the numeral canceller '292′ of Type 3a, which was used as the stamp obliterator. The 4-volume 'bible' of N.S.W. postmarks of N.C. Hopson & R. Tobin shows in volume 1, page C-14 that this is attributed to Charcoal Creek, with the following entry: CHARCOAL CREEK 5k from Wollongong, the post office opened 1.10.1860 with a postmaster named W. Russell, and its name was changed to Unanderra on 7 April 1881. After the Rays '292′, a postmark of Type 1A was used with 'CHARCOAL' from 1863-66; followed by Type 1A 'CHARCOAL CREEK' from 1875-?, prior to being cancelled 'UNANDERRA'. The 'Shield' stamp cancelled '292′ and the CHARCOAL/ JY 5/ 1866/ N.S.W, Type 1A postmark, are seen in Figures 1 & 2.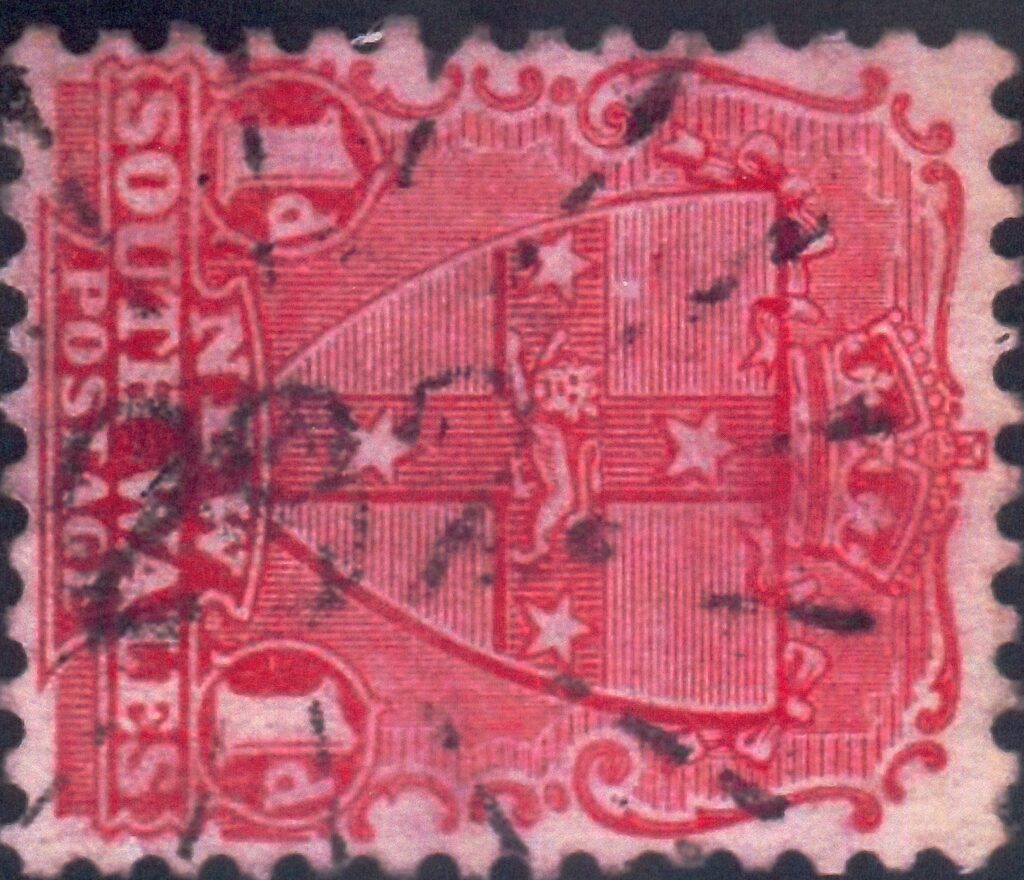 The village of Charcoal or Charcoal Creek was situated on 280 acres of land acquired by Mrs Jemima Jenkins in 1835-6. There are two explanations for the origin of the name, Charcoal. One is that charcoal was burned there, the other is that it owes its name to an aboriginal stockman employed by Throsby Smith, known as "Charcoal". Smith's cattle, under the care of "Charcoal", are said to have rested here after descending the mountain road. Unanderra is situated on part of the "Berkeley Estate" which was granted to Mrs Jemima Jenkins in 1835-36. Originally called Charcoal or Charcoal Creek, from 7 April 1881 Charcoal Creek became Unanderra, an aboriginal word meaning the "meeting place of creeks" or the "junction of the two creeks". The two creeks were Charcoal and Allan's Creeks. The original form of the name is thought to have been Unundurra or Un-dirra.
Robert Jenkins (c.1777-1822) was one of the first five land grantees in the Illawarra district, receiving from Governor Lachlan Macquarie a holding of 1,000 acres on January 24, 1817. The holding can be identified on present-day maps as portion 52, parish of Wollongong, fronting the north-east end of Lake Illawarra. Jenkins called his grant Berkeley, after the historic estate of that name in his native Gloucestershire, England. Berkeley was used as a cattle run from 1817 to 1839.
Robert Jenkins arrived in New South Wales about 1808 and became a prominent auctioneer and shipping merchant. In 1813 he was appointed Auctioneer and Appraiser for the town of Sydney, and in 1819 served briefly as a director of the Bank of New South Wales. In 1813 Jenkins married Jemima Forrest (ca.1786-1842). Robert and Jemima had two children: Robert Pitt Jenkins (1814-1859) and William Warren Jenkins (1816-1884).
On September 24, 1834, Jemima Jenkins was allowed to purchase 2,000 acres adjacent to Berkeley, for 500 pounds. This area had been promised to the family by Governor Thomas Brisbane in 1825. Other areas purchased by Jemima increased the estate to 3,280 acres. The enlarged holding became known as the Berkeley Estate, part of which comprises modern-day Unanderra.
In 1839 William Warren Jenkins assumed management of the Berkeley Estate, engaging the architect Edmund Blacket to design the residence, Berkeley House. This mansion was built from convict labour, and incorporated features such as a six metre-wide hallway and Italian marble tiles and fireplaces. Berkeley House was demolished in 1940.
About 1870, William Warren Jenkins built Nudjia House on the western boundary of the Estate for his eldest son, William James Robert Jenkins. Nudjia, the Aboriginal name for 'a safe and protected place', was built from red cedar mostly grown on the property, and at one time had its own racetrack. Nudjia opened as a museum in 1993, and is located at 83 Cummins Street, Unanderra. The elaborate cast iron gates which once led to the Berkeley Estate can now be seen at the Berkeley Pioneer Cemetery, formally the Jenkins family's private cemetery.
George Lindsay (died 1866) settled at Charcoal in 1841, opening a small store. In 1843, he received a land grant of 35 acres for property south of Berkeley Estate, which he called Lake View, and used for mixed farming and dairying. Lindsay is reputed to have sent the first keg of butter from the Illawarra to Sydney. One of George Lindsay's sons, William, established the Farmers' Inn at Charcoal in the 1850s, while another son, George, represented New South Wales in rifle shooting.
Unanderra was also surrounded by rich dairying country, its farms being noted from the 1840s for their Ayrshire cattle. In 1887 the Unanderra Butter Factory was established west of Factory Road, backing onto Jenkins Creek. The factory was 78 feet long with two 9 feet verandahs and a shingle roof. James York was the butter maker. Twenty seven suppliers delivered milk cans in their carts, and much of the milk produced was sent to Sydney. During Spring, from 1000 to 1500 lbs of butter were dispatched daily. A refrigeration plant had been installed in the factory by 1898, and the factory burnt down in 1913.
A major industry in Unanderra during this period was the tannery, which at one time employed up to about 40 workers and had an annual turnover of 15,000 pounds in 1880. The tannery was established in 1860 by John Richardson. Eventually 60 pits were built, and steam rollers, wattle bark cutters, pumps and other plants were installed. Unanderra's 'Tannery Street' commemorates this early industry. A map of the region shows Unanderra as a red balloon, near Wollongong, in Figure 3.
Charcoal Creek, ca. 1884-1917 is seen near Wollongong at a bend in the creek showing 2 large palm trees on the right side of the image (Figure 4).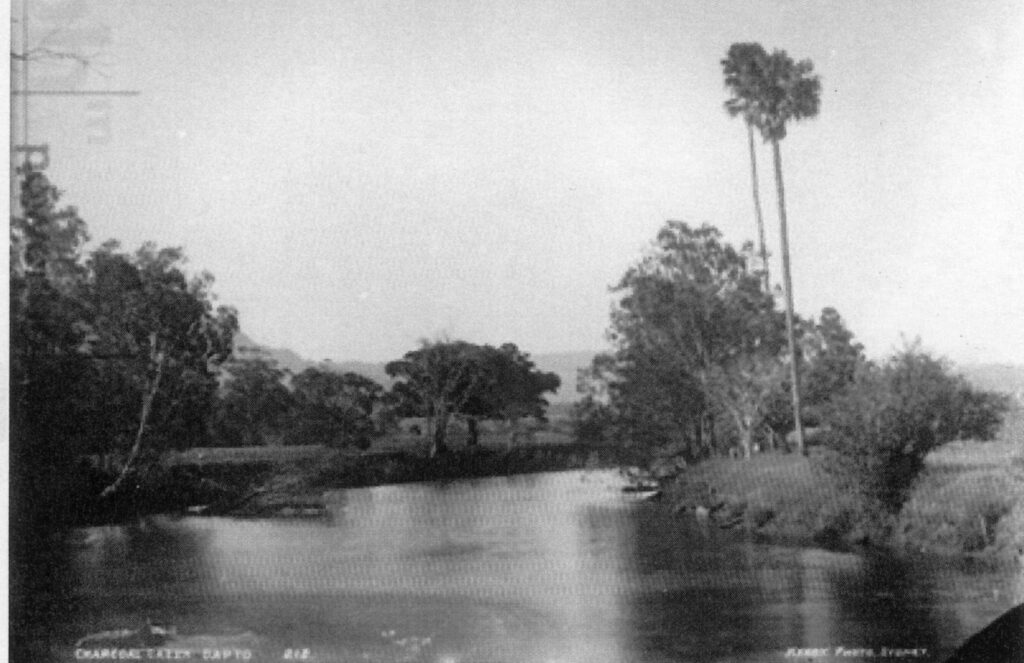 I acknowledge that the text was that of a Wollongong Library site, which is a great source of information on the locality. The picture of the Charcoal Creek was taken from a glass negative by Kerry and Co., Sydney, ca. 1884-1917.