The cover had a ms. 'By airmail to Perth' and the brown 5d KGV Head stamp was canceled by ADELAIDE/ 1934/ 20 JUN/ 1030PM/ SOUTH AUSTRALIA, with a slogan cancel 'POST EARLY EACH DAY'. It was addressed to Philip Gosse Esq MD, Weppons, Steyning, Sussex England, and the reverse was not seen (Figure 1).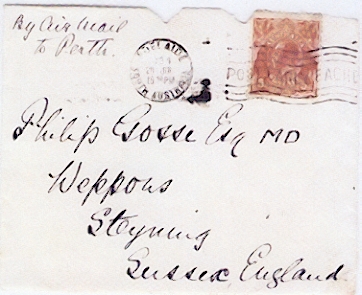 Philip Henry George Gosse was born on 13 August 1879, the only son of Sir Edmund Gosse (1849-1928) and Ellen Epps (1850-1929). Philip had one sister by that union, (Laura) Sylvia Gosse. Philip was first educated at Haileybury College and then entered an agricultural college in Lincolnshire, and he was in the Edward Fitzgerald expedition to the Andes as a naturalist in 1896-97. Soon after his return he was sent to Cambridge by his father, and read medicine at Trinity College, going on to St. Bartolomew's Hospital to receive his clinical training. He qualified M.R.C.S., L.R.C.P. in 1907, and in 1923 received his M.D. at Durham University. He held the appointment of house-surgeon at the Essex County Hospital, Colchester, and then entered general practice in a village in the New Forest. During WWI he served with the R. A. M.C. in France and India. After the war he was a medical referee in the Ministry of Pensions, and, later medical superintendent of the Radium Institute, London, from which post he retired in 1930.
Gosse was a man of multifarious interests, and he is credited with saying that he had "failed in life" because he had too many interests and that he cultivated a new hobby every few years. He made his mark as a naturalist, and as a historian he published several volumes. In 1939 his collection of books on pirates and piracy was presented by an anonymous donor to the National Maritime Museum, Greenwich. In 1889 Gosse published Notes on the Natural History of the Aconcagua Valley, and subsequent works Birds of the Balearic Islands and Mammals of Flanders, and a biography of Charles Waterton , the naturalist, entitled The Squire of Walton Hall. He produced The Pirates' Who's Who in 1924, 'My Pirate Library' in 1926, and 'The History of Piracy' in 1932. A widower, he was three times married: to Gertrude Agnes Gosse Hay 1872, Irene Ruth Hawkshaw 1898, and Anna Gordon Keown 1896, with one daughter of the first marriage, one daughter of the second marriage, but no children of the third marriage.
He had confessed that medicine had not been of his choosing. His grand father had been also named Philip Henry Grosse, the naturalist, and thus his interests was in the study of birds and animals, and also in his writings. He had a host of friends in the U.K. and all over the world with whom he conducted a large correspondence with wit and enthusiasm. He will be remembered for his interest in the Fountain Club, a dining club of old Bart's men, of which he was one of the founders, and was responsible for its conduct over many years. He remained young in heart and mind, and was active to the end, which came with a sudden illness which overwhelmed him in several days.
Most of this information was derived from an obituary in the British Medical Journal, October 17, 1959. He died at his home at Cambridge on 3 October, 1959 and was 80 years of age. I have as yet not found a photo of Philip Henry Gosse M.D., and his better known naturalist grandfather (1810-88) of the same name can cause confusion, their dates being the best identifier.
Addendum (June 1, 2010): I found definite associations between Dr. Philip Gosse with Australia, in particular with South Australia, whence the cover originated (Adelaide, South Australia). His books, particularly on 'Piracy' were reviewed in several Australian papers, but the clinching evidence was the finding of a long description of his wedding in'The Advertiser' Adelaide, reported 18 August 1908: (the guest list was out of 'Who's Who', the flowery description of the extravagant costuming, the regaling of the presents and reception at such length). The wedding (his first) took place on July 14, 1908 in Kensington, London and his wife, Gertrude Agnes Hay, was identified as the daughter of the late Mr. Alexander Hay of South Australia. At the end of the long description of gifts, the following was recorded: "…the gifts sent to the happy couple by relatives and friends in all parts of England and Australia."
Correction (August 2010): Catherine Levy emailed me that Dr. Gosse had 2 sisters and I have confirmed that I had left out Emily Teresa, born in 1877, and she was called "Tessa". She could not remember the date of Tessa's death.