The registered cover has a Markets/ Queensland , Brisbane registration label and is addressed to Cosmophilatelist, Leodegarstr 2, Lucerne, Switzerland. It has the large brown 6d Kookaburra definitive stamp postmarked MARKETS, BRISBANE / 14 FE 33/ QUEENSLAND, and there is the common red crayon 'cross' of registration (Figure 1).
The reverse has four postmarks, a confirmatory MARKETS BRISBANE, a REGISTERED/ 730P/ 14 FE 33/ BRISBANE, a REGISTERED/ F/ 16 FE 33 A/ SYDNEY N.S.W. and an arrival LUZERN 2/ 25.111.33-8/ VII/ BRIEFAUSGABE (Figure 2).
A second cover had a printed Cosmophilatelist/ Leodegarstrahe 2. Luzernw (Schweiz), a black registration label 'Luzern 6 Zurichstr.' as well as a black Luzern/ 25 v 31. 17/ viii/ ZURICHSTRASSE postmark. It was addressed to Herrn P Lehrt, St/ Gabriel b. Wien, Osterreich (Figure 3).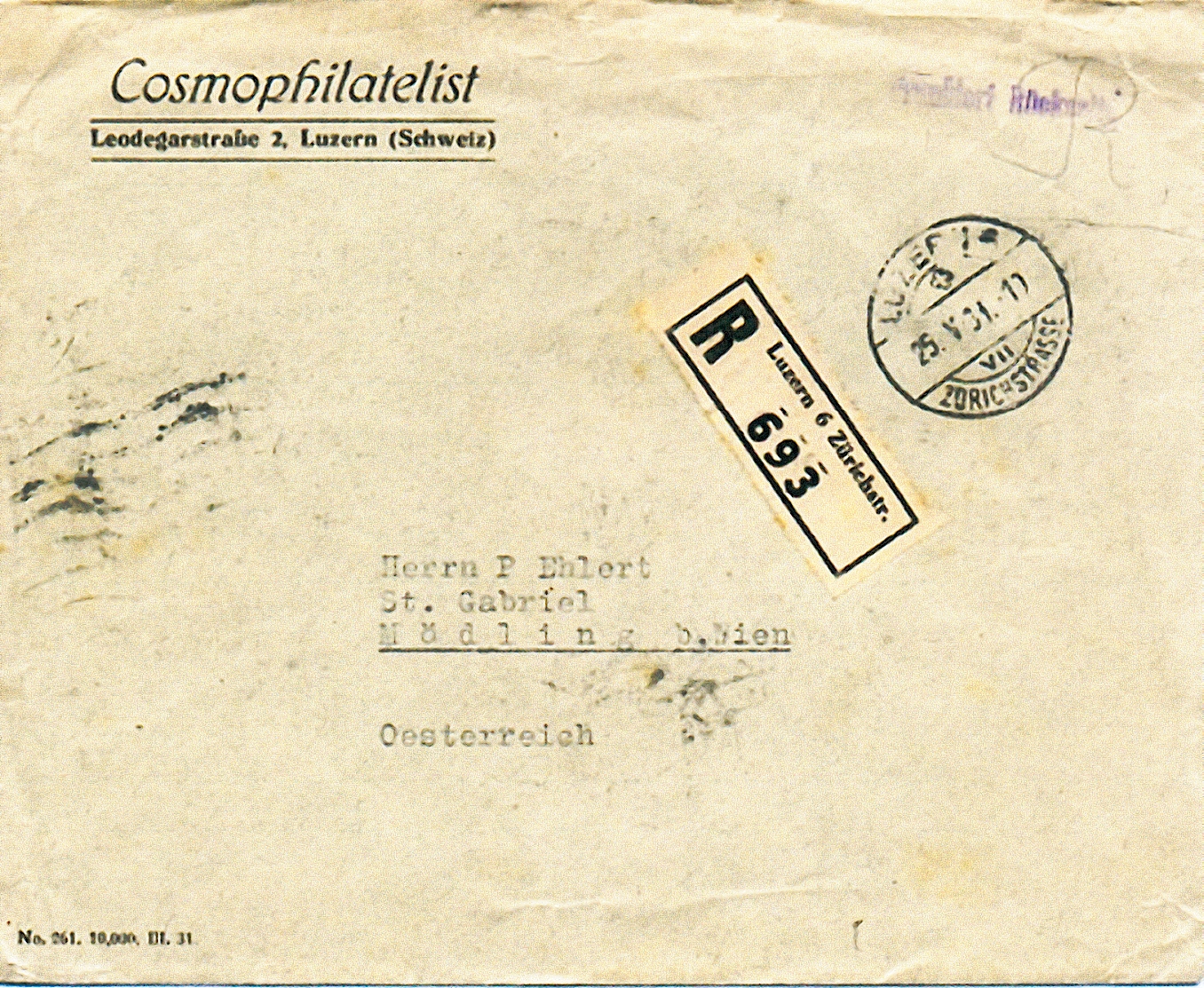 The reverse had a block of 12 Swiss stamps , 10 of which were the 5c green 'William Tell's Son' stamp and 2 which werethe 10c violet 'William Tell' stamp, and the 4 centrally placed stamps had a tete-beche configuration. In addition there were 2 singles of the violet 5c stamps, with the same design of the green 5c stamps. All stamps were cancelled with roller cancels of Luzern/ Zurichstrasse (Figure 4).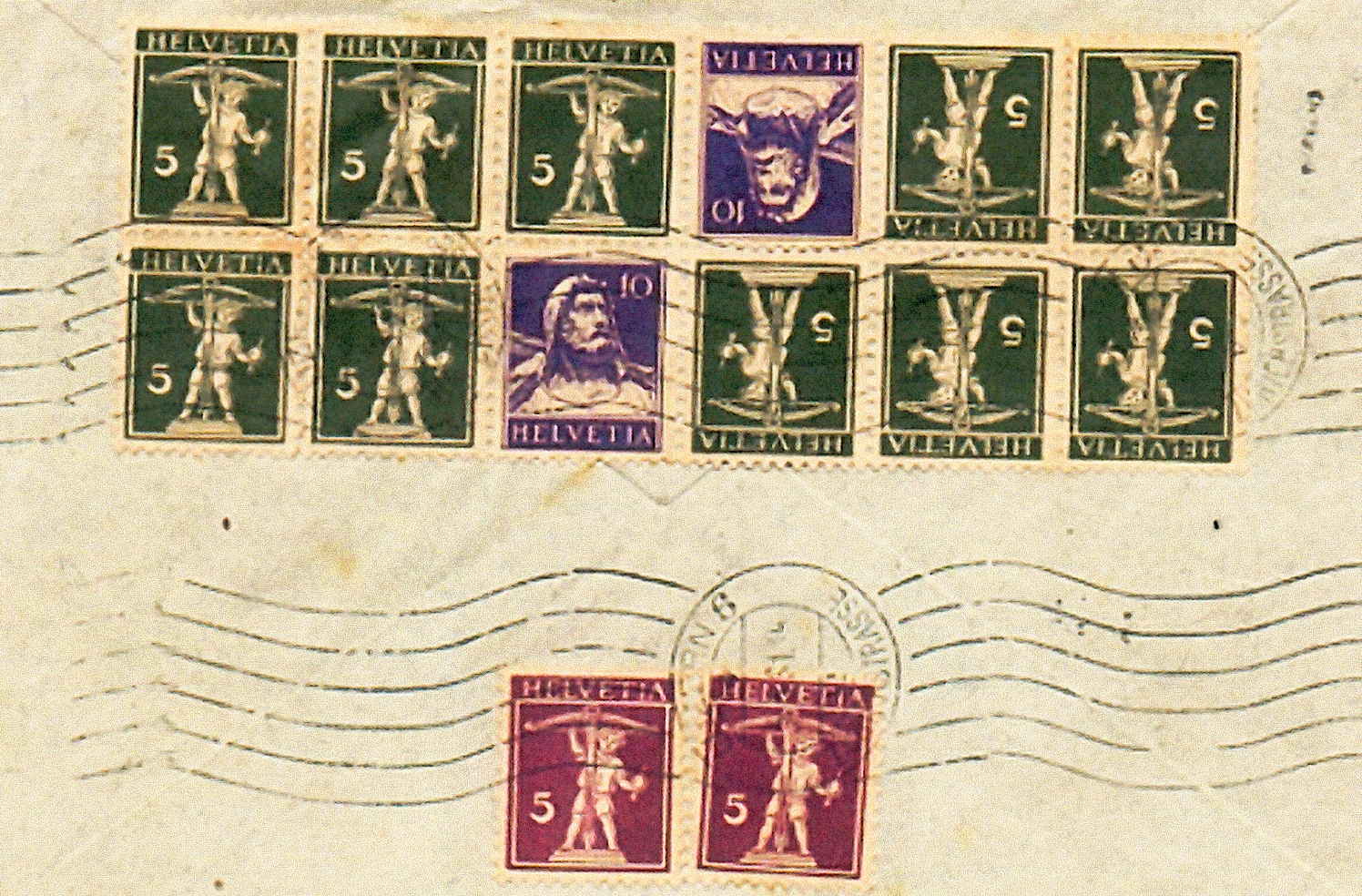 In addition 2 adverts were seen in the Popular Science magazine advertising inexpensive stamps in December 1952 and March 1953, headed Cosmophilatelist, with an Andover, New Jersey address, but no mention of Bela Sekula. An Ebay advert, which had been removed, stated that an item had been for sale by "Cosmophilatelist, a stamp company run by Bela Sekula, the well known stamp dealer". To date, this is the total information that I have been able to find about the 'Cosmophilatelist' and its association with Bela Sekula. He may have sent the stamps that clients bought in approval booklets as shown in Figure 5.
Bela had a propensity to overprint stamps with his name, as shown on the green 3c. 'William Tell' stamp of Switzerland overprint of 'Béla Szekula/ Luzern (Figure 6).
During his career as a seller of postage stamps, Bela was accused of many forgeries, and Doig's Ethiopia Stamp Catalogue website recorded some of the most damning information written about him, as shown in Figure 7.
I was surprised to find at the National Library of Australia beta newspaper site a total of 12 stamp advertisements, ranging from an early date of 20 October, 1928 until 11 October, 1930, and The Brisbane Courier was the source for 11 of the Bela Sekula stamp adverts, with only 1 more being found in The Argus, Melbourne. This may account for the fact that the Australian cover in 1933 originated from Brisbane, perhaps from a satisfied returning customer. All the adverts were quite short and the stamps were inexpensive. The Brisbane Courier advert for 20 October 1928 is shown in Figure 8.
I have yet to find a single comprehensive account of Sekula's philatelic misdemeanors, but what follows is a short account of his life: Bela Sekula (1881-1966) was born on 02.09. 1881 in Budapest, Hungary, who moved to Geneva in 1902, but returned to Budapest in 1904 and he re-settled in 1916 during WWI in Switzerland, now at Lucerne. He and his brother Eugene were stamp dealers and Bela sometimes worked under the guise of 'Cosmophilatelist'. He married Berta Huguenin on 9 October 1916 and they were the parents of the tragic artist Sonya Sekula, who finally succeeded to suicide. The family had moved to 400 Park Avenue, New York in 1938.