The cover has a printed Engelhardt & Co., Kokosplantage KABAKON, Post Herbertshohe, Deutsch-Neu-Guinea and the green ½d and grey 2d 'Roo on Map of Australia' stamps are both cancelled with a purple diagonally-placed straight Herbertshohe handstamp. The cover is addressed to 18 York Street, Sydney N.S.W. There is a red ink manuscript 'Censored, Stuart W. Cameron, Lieut RANR' as well as a re-addressed purple crayon 'Box 216′ (GPO). The reverse was not seen and the vendor states the date was late 1914 (Figure 1).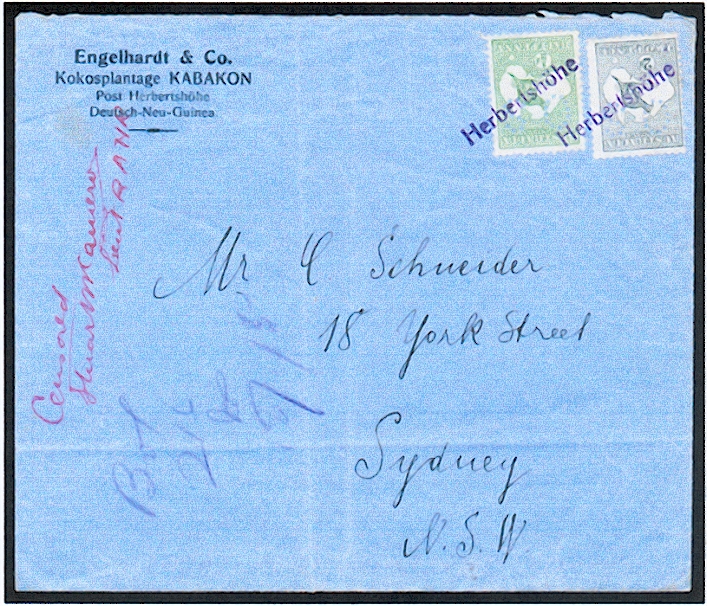 The registered cover has a printed Englehardt & Co., Kabakon, bei Rabaul. Postfach 20, Deutsch-Neu-Guinea and the red registration label has a printed black G.R.I. Rabaul/(Deutsch Neuguinea)/ 3d. No. 578. The pale chestnut 5d 'Roo on Map of Australia' stamp, perfined OS, is cancelled with a purple double oval RABAUL/ JAN 18/ 1915/ NEW BRITAIN handstamp. It is addressed to Kodak Ltd, 379 George Street, Sydney, N.S.W., Australia. There is a purple reception handstamp FEB 12 1915, as well as a red ink 'Passed by/ Censor/ [initials]. The name of one of one of Engelhardt's followers (Wilhelm) 'Bradtke' the presumed sender of the cover, which is in red crayon (Figure 2).
The reverse shows on the flap a white on blue seal of the German Treasury 'KAISERL. HAUPTKASSE/ [German Eagle]/ Rabaul (Figure 3).
August Engelhardt was born in 1870 at Nuremberg, and he left school early and became an apothecary (or a teaching pharmacy assistant). By 1899 he developed an interest in healthy living, vegetarianism and later nudism. In 1902 he bought the small island Kabakon. close to Neu-Lauenburg, which is now the Duke of York Island, with a small plantation. Kabakon is about 28 miles from Herbertshohe, to-day's Kopoko, the place of German administration at that time. From October 2, 1902 Engelhardt lived on Kabakon, at first the only white man among 40 Melanesians. He always was naked and was a complete vegetarian, living mainly on coconuts. He started to write down his thoughts: He worshiped the sun as the central spring of life, as well as coconuts, because they grew nearest to the sun; and he considered they were the most natural food for men. He was convinced, that, by eating only coconuts, he would achieve a higher state of mind, almost divine, and a place in a kind of paradise.

He then tried to convince other people about his lifestyle, by his writings where he developed a philosophy of 'Kokovorismus' which stated that the constant eating of coconuts led people into a god-like state of immortality. Engelhardt seems to have been wealthy, as he could support financing the passage of followers to the island. His second follower, Max Lutzow, wrote after 2 months on Kabakon an enthusiastic letter to the most-read vegetarian magazine in Germany. Then a lot of followers came; it is said, that for some time 30 nudists lived on Kabakon. After a short time disillusion and frustration set in, there were diseases and accidents, and all followers including Max Lutzow, left the island, some of them only to die shortly afterwards of the diseases they had got on Kabakon.

At this point an old friend of Engelhardt, the writer August Beckmann, came to Kabakon. He was soon convinced by Engelhardt and started to send reports to Germany about the new paradise. Then Engelhardt became ill, and he reached the hospital in Herbertshöhe weighing only about 85 pounds. His skin ulcers and scabs were cured at the hospital and Engelhardt came back to Kabakon. He now stated, that the ulcers, the last impurity, had left his body, and he now would be ready for the highest state of mind. In the meantime Beckmann had stated to have doubts about the nudist life on Kabakon, and by June 1906, he was waiting to leave for Germany. But before that date, Beckmann died. There seems to have been a quarrel between Engelhardt and Beckmann: ?suicide, manslaughter, murder, nobody knows, but it was not due to disease, and Engelhardt was again alone on the island.

Engelhardt again started a publicity campaign to find followers, but now the German government was cautious. All civil servants were requested to warn every newly arriving settler of Kabakon. Once again everything on Kabakon became quiet, but Engelhardt became ill again, and the German doctor at the hospital in Herbertshöhe judged Engelhardt to be "a paranoid wreck". In 1909 Engelhardt closed down his "Order of the Sun" cult and only attended to his plantation, but he became a point of interest for tourists in German New-Guinea. The composite map shows Rabaul, New Britain (red arrow) and Kabakon (blue arrow) in the Duke of York group of islands (Figure 4).
During WWI Engelhardt was for some time in an Australian camp in Rabaul, then he was able to return to Kabakon. Engelhardt now started to study the flora of the island and sent a lot of specimens to the Botanic Gardens of Brisbane and Sydney. He also started to paint plants in watercolors, and a lot of his paintings remained after his death and in the 1930s, they were obtained by a friend of Engelhardt. August Engelhardt died May 6, 1919 and his grave is unknown. The coconut plantation had been operated as Engelhardt & Co., Kabakon from the early 1900's, as shown in the covers. A picture of a partially covered August Engelhardt in 1911 is shown in Figure 5.
Addendum (February 2009): I was surprised to find this additional information on a subsequent search. It was from Sydney, dated September 18, 1905 and was sent in Special Correspondence, to The New York Times Magazine Section October 15, 1905, headlined "Failure of a Womanless Eden in the Pacific – A Strange Story from the South Seas." It basically told a similar story as above about August Engelhardt but based the events at Kahakua in the Pacific. This was the first time that I learnt that the sect followers could not be women, and that the men were strictly vetted ('only men of noble and excellent character will be admitted; each applicant must be recommended by two respected persons, both known to the leader of the sun-worshippers'), and they had to pay their own way to the island ('a payment of $250 must be made by such applicants as can afford the amount'). It confirmed that all members must lead a permanent naked life on the island. The number of followers on the island was given as hundreds of disciples. The date of Engelhardt's death was not given, and he was said to have been buried wrapped in a German flag, in the sands of Kahakua beach. A stylized drawing of Engelhardt welcoming his disciples who are in a ship in the bay, is seen in Figure 6.