This postcard with a relatively unimportant message related to the exchange of postcards between friends, was posted from DELORAINE/ NO 17/ 03/ TASMANIA to Evandale, Tasmania (Figure 1).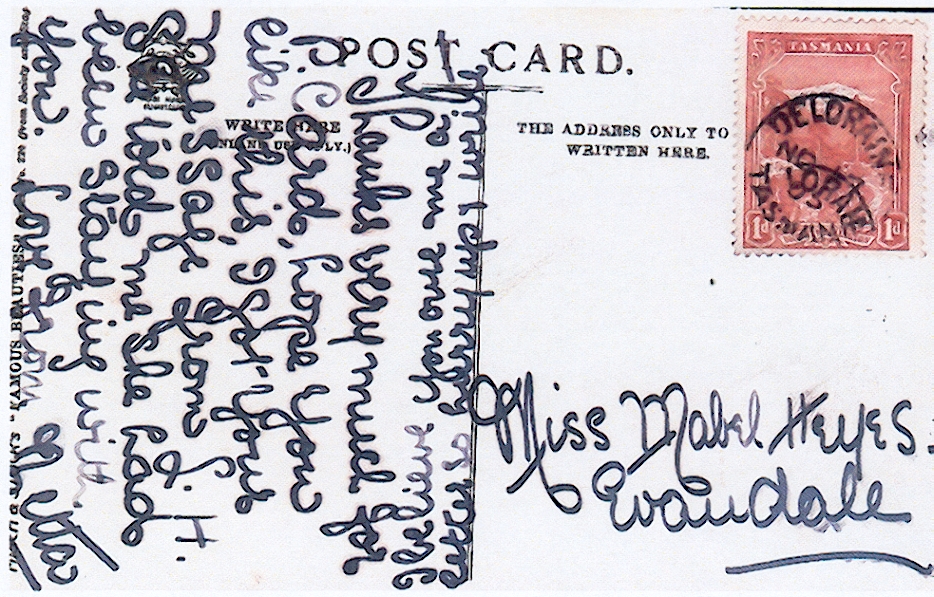 I was attracted to the postcard's reverse of an acknowledged beautiful lady who was born in Sydney, became a comedian, singer, screen actor as well as an actor on the New York and London stage, and was acknowledged as one of London's 'Gaiety Girls'. As well she acquired the title of Lady Clarke, and to my surprise she was hardly documented in the land of her birth, Australia. She was Norma Whalley, and she appears in one of her acting roles on the postcard's reverse (Figure 2).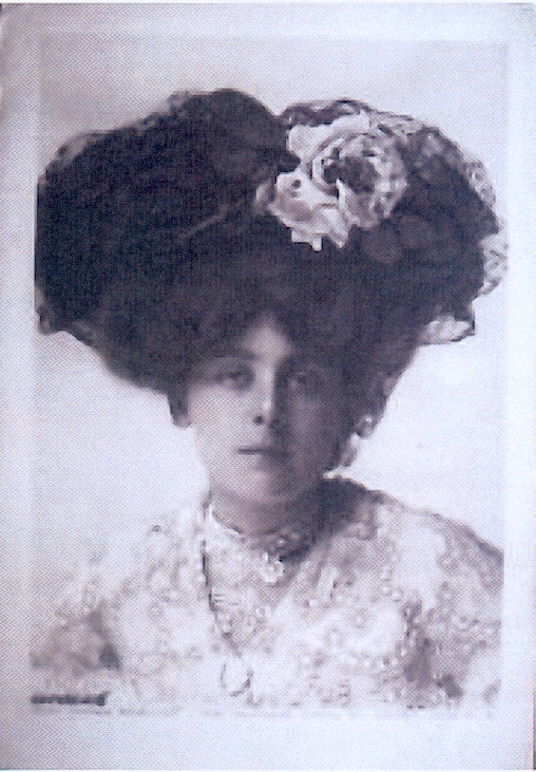 I could find only two items of any consequence in an Australian newspaper, the first in The Advertiser (Adelaide) 20 September 1904, and repeated in The Sydney Morning Herald 24 September 1904, from which I quote: "A recent wedding at St. James Church, Piccadilly, was that of Mr. Percival Clarke, son of Sir Edward Clarke, K.C. (King's Counsel), to Miss Norma Whalley, a young Australian actress, daughter of the late Henry Octavius Whalley, a well-known physician of Sydney. For some time a "comedienne" in Sydney, Miss Whalley had also three years stage experience in New York before coming to London, where she met her future husband during the early days of "A Run-Away Girl" at the Gaiety. She had good parts in "Three Little Girls" and "Madame Sherry", and was understudy to Miss Ellis Jeffrey in "Lady Flirt". Mr. Percival Clarke is, like his distinguished father, a barrister".
The only other item that appeared in an Australian newspaper was also found in The Sydney Morning Herald 16 November 1912, headed A Woman's Letter: Autumn Dressing, London October 11, 1912, which related to the clothing worn be actresses, amongst them Norma Whalley's dresses in the stage play "The Turning Point", which was accorded some 12 lines. So where else was there additional biographical data?: Norma Whalley's date of birth is still unknown; the year of her death was 1954; the height of her film making in America was between 1920 and 1935 when she was named in the cast of at least 21 films. I found proof that she was a singer, as shown on the front page of "I Guess You'd Better Hush-Hush-Hush" as sung by Norma Whalley (Figure 3).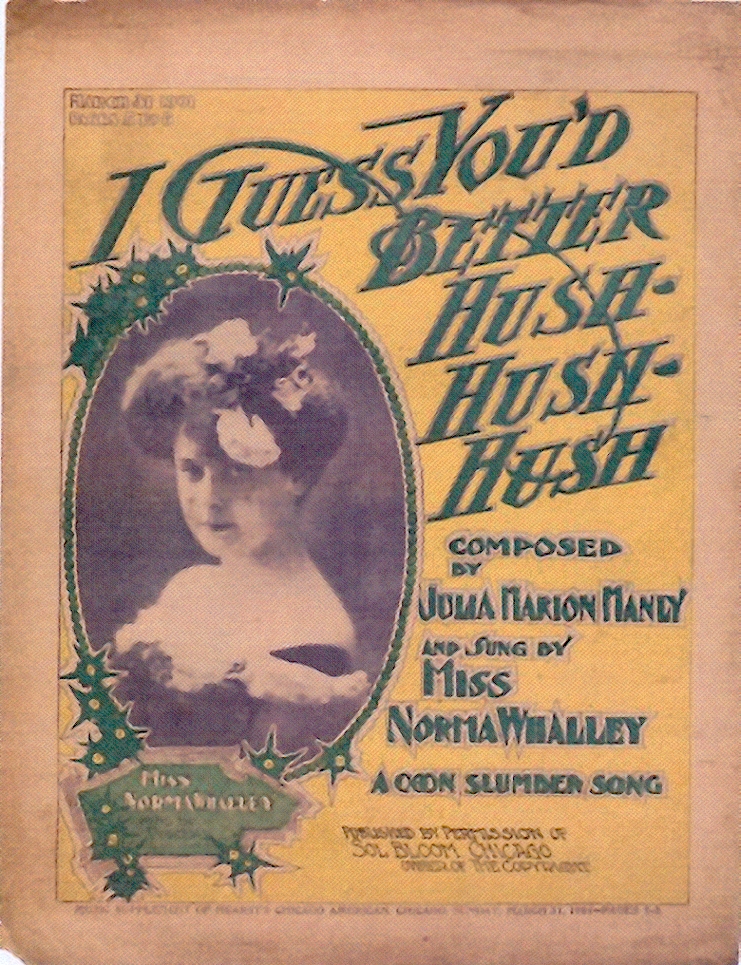 She is listed as having been painted by Bassano and 3 paintings are to be found in the National Portrait Gallery, London. The latest finding for Norma Whalley on the internet was a ca. 30 seconds Pathe Newsreel entitled "Gaiety Girls' Reunion 1946" as shown by the front 'header' in Figure 4.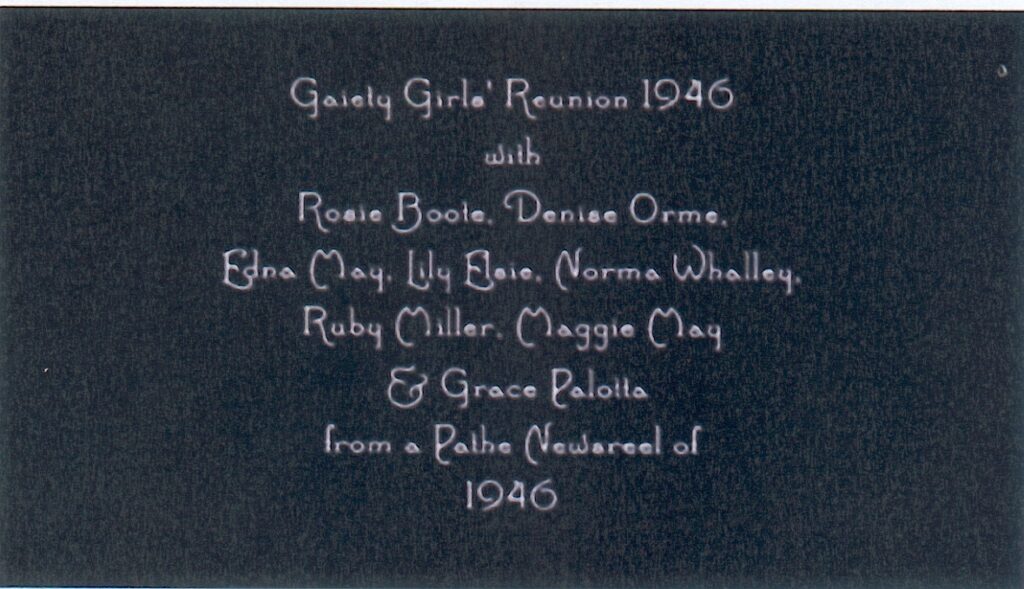 Another picture of Norma Whalley in colourful attire is seen in Figure 5.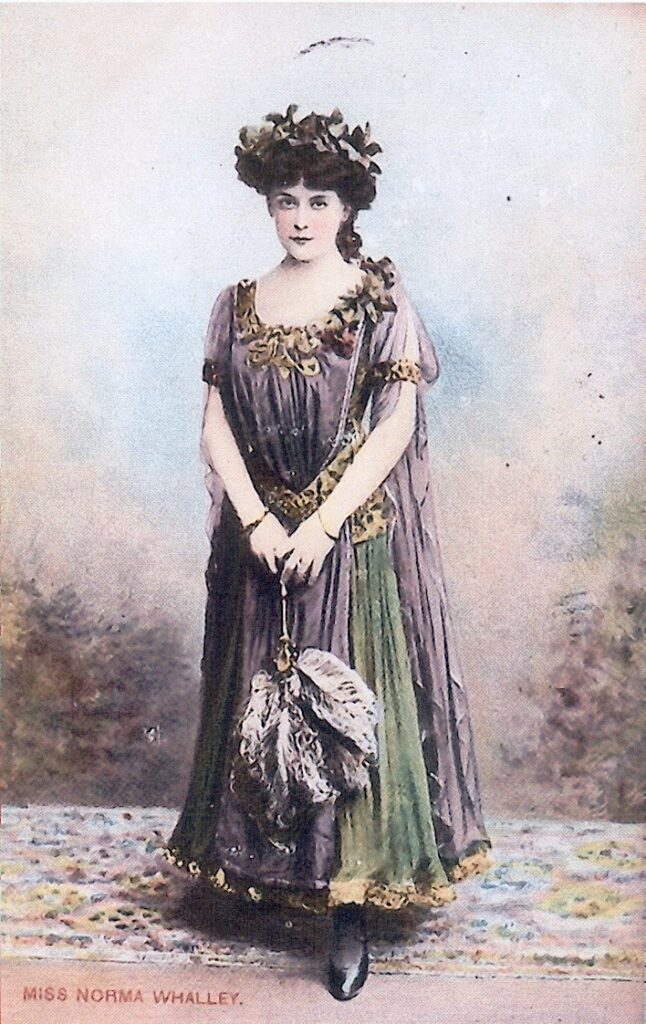 I had the advantage of Suzanne Morris's help ( Reference Librarian, Information Services, National Library of Australia), and she was unable to find entries in the online indexes of the N.S.W. Registry for births, death or marriages of Norma and her father Henry; she checked the UK births, death and marriages records and verified the marriage of Norma to (Edward) Percival Clarke in 1904 and Norma's death in 1954 at age of 75; she checked The Australasian Medical Directory & Handbook for the years 1882, 1883, 1886 and 1890. This Directory includes a list "containing the names of all known legally qualified physicians, surgeons, an general practitioners resident in Australia", and Henry Whalley was not included in any of the lists! In a further search at the NLA, Suzanne found 6 roles that Norma played in London at three different theatres from 1903 until 1910.
I would be delighted to hear from any reader who is able to provide further biographical data on Norma Whalley.