The letter was sent to Dr. Tracy E. Hazen, Barnard College, Columbia University, New York U.S.A. It had a pair of the red 'Shield' stamp of New South Wales, cancelled with BERRIGAN/ 16 AU 11 (T)/ N.S.W of the Type 2 (iv) (T) of Hopson and Tobin. There were 3 markings showing addirional tax, a blue crayon ms. with 'T 1d', as well as an octagonal 'T/ 30c' and a circular 'Due/ 2/ CENTS' handstamps, plus a NEW YORK N.Y./ OCT 7/ ( )TERM STA. (Figure 1).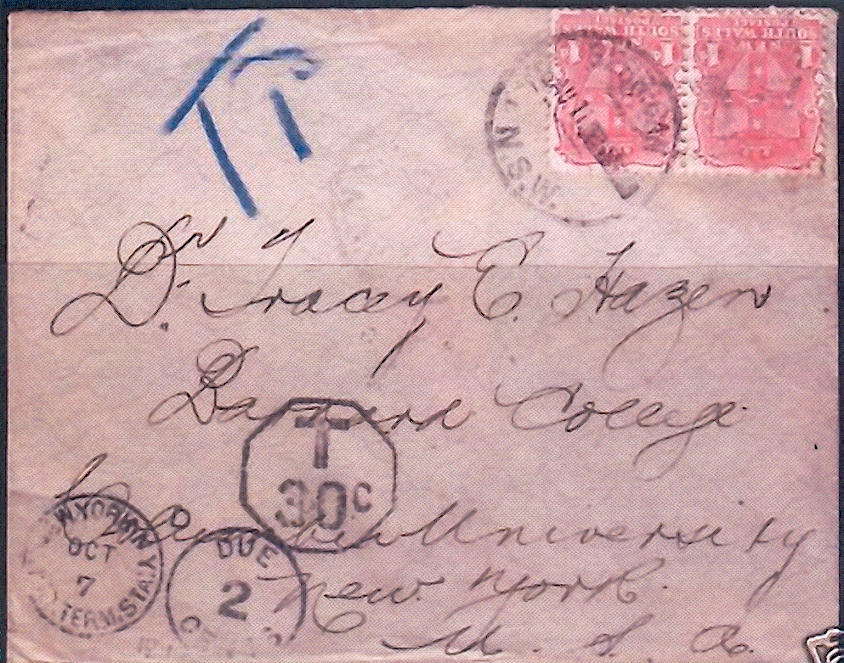 The reverse had a single red U.S. Postage Due stamp cancelled with a duplex NEW YORK/ OCT 7/ 12 P M/ M.I. & F. handstamp (Figure 2).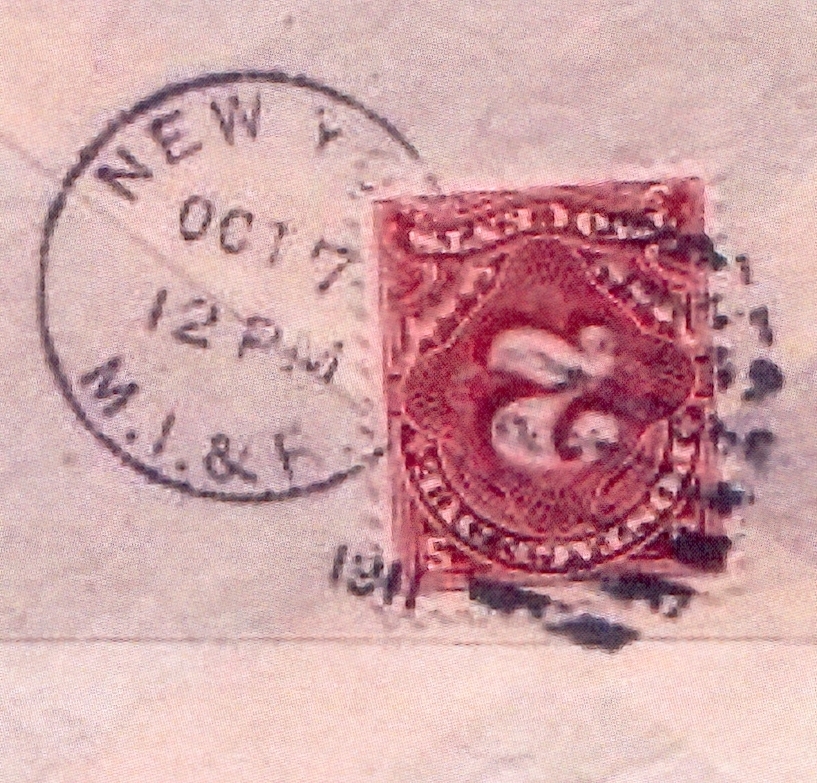 I was surprised how difficult it was to track down information on this academic. The major findings were his full name of Tracy Elliot Hazen; that had received his PhD in Botanic studies in 1901 at Columbia, he became a tutor at Columbia University in botany and he rose through the ranks to associate professor. He was best known for his book on the Hazen Family in the USA, but I could not access any information on himself, in this book. In 1934-35 he was the president of the Torrey Botanical Society. Attempts to gain further information on him from Columbia University Archive Library, the State Library of New York and the Library of Congress, Washington D.C. provided no additional information. Another early surprising finding was the ease in accessing a photograph of Dr. Tracy Hazen (Figure 3).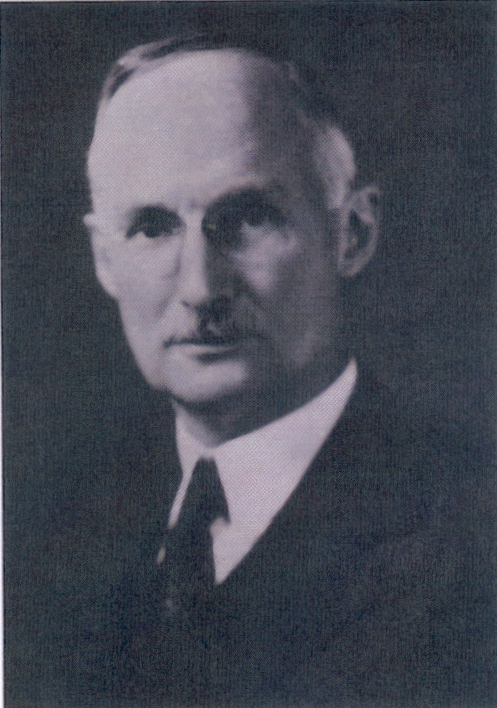 Tracy Elliott Hazen was the youngest of seven brothers, 3 of whom survived him. He was born on July 4, 1874 in Jericho Center, Vermont, the son of Rev. Austin Hazen and Mary Jane Carlton. He graduated from the University of Vermont in 1897 with the A.B. degree, and as a student he was keenly interested in the study of classics, but he received stimulation and encouragement from Prof. L. R. Jones who was in charge of botanical work at Vermont. During the 3 years of 1897-1900, he pursued graduate studies in botany and zoology at Columbia University, receiving the A.M. degree, and the Ph. D. in 1901. At the suggestion of Prof. Underwood he carried on critical taxonomic studies of the filamentous Chlorophyceae, and became an indefatigable collector during this work. He was elected to the Torrey Botanical Club during this period, and from 1903 -1939 he served as associate editor an editor of the Bulletin of the Torrey Club. He was inducted as Honorary Life Member in 1939.
Dr. Hazen served as Director of the Fairbanks Museum of Natural Sciences at St. Johnsbury, Vermont in 1901-02, continuing his collection and study of the algae, as well as ferns and flowering plants. He returned to Columbia as assistant in the Department of Botany in 1902-03, and then a tutor at Barnard College, thus beginning an association with that school which was to continue for 36 years. He attained the rank of associate professor which he held at the time of his retirement in 1939. The years at Barnard were exceedingly fruitful in research, much of which remains unpublished, and more especially in teaching. His failure to publish much of his work was attributed to his high ideals of perfection and thoroughness. He travelled extensively in Europe, South America and the West Indies, collecting and studying the local flora.
After retiring he gave himself more fully to genealogy and achieved distinction and recognition in this field, and an example of this was his publication of his book on The Hazen Family in the USA. Professor Hazen after several years of declining health, died at Waterbury, Connecticut on March 15, 1943. There was no mention in this obituary of his having married.
I am indebted to Lindsey Bannister, Librarian Mills Library, McMaster University, Hamilton Ontario, Canada who opened my access to the Editor-in Chief Brian McCarthy of the Bulletin of the Torrey Botanical Club, November 1943, Vol. 70 No. 6, pp. 559-562, through the agency of Susan Fraser, Director of the Library, New York Botanical Garden.