Within 10 minutes of seeing this item on E-Bay I was able to identify both the sender and receiver of this unpretentious postcard, a most unusual amount of luck. This N.S.W. postcard with the lilac 1d printed 'View of Sydney' stamp is postmarked with a faint barred numeral '1237′ and it was addressed to J.M. Antill Esq R.O. [Receiving Officer], Picton, N.S.W. There was a faint PICTON/ 1891/ 8 JU/ N.S.W [Type 1D(i), with the year date slug incorrectly placed above the day/month (Figure 1).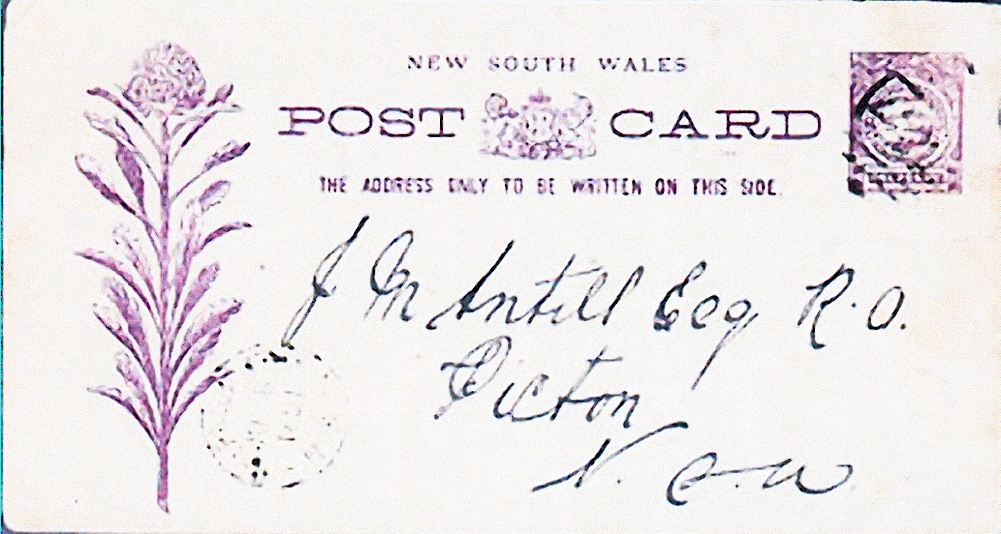 The reverse was dated Helensburgh 8/6/91, and the message read: Memo to J.M. Antill Esq. Have seen Mr. I.S. Horan he is satisfied to act in the capacity of poll clerk as at last election. Have also seen Mr. Harper and told him that arrangements will be made with him (by you to call as presiding (?) officer in due course. Faithfully yours, Thos Horan (Figure 2).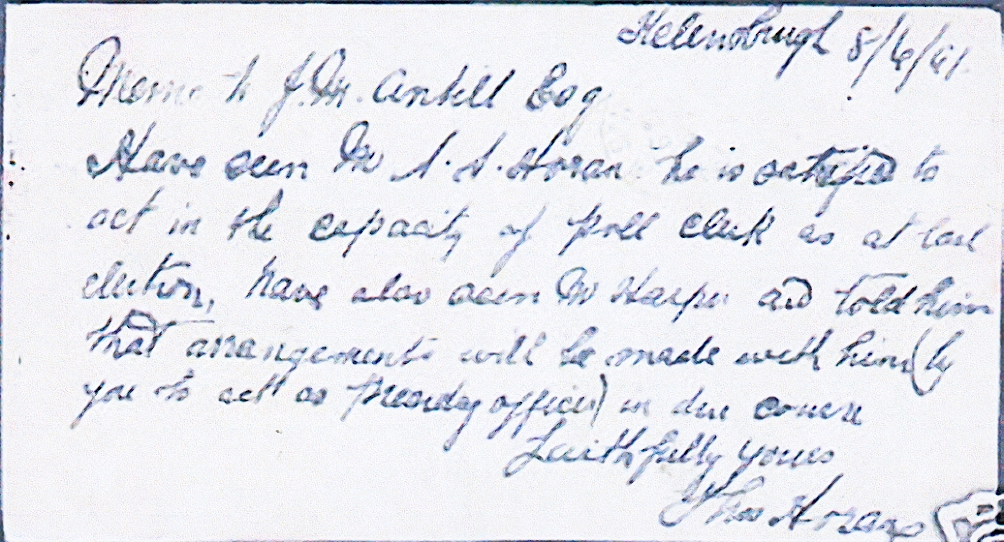 The postcard's sender, Thomas Horan was the first storekeeper and postmaster in Helensburgh, N.S.W. The Post Office was opened in 1886 and he held the position of postmaster for 22 years. Thomas was also given the contract to run a mail service from Waterfall to Helensburgh using a horse drawn cart, and also from Helensburgh to Otford by horseback, six times a week. In 1901 the present Post Office building was opened. Thomas was also the Registrar of Births Deaths and Marriages for 11 years. Thomas Horan was described as a very capable, prominent citizen and an asset to Helensburgh.
Three generations of the Antill family of Picton are central to this paper: Henry Colden Antill (1779-1852), John Macquarie Antill senior (1822-1900) and John Macquarie Antill Junior (1866-1937). Henry Colden was born in New York of British stock, his great grandfather Edward Antill having migrated from England to America in 1680. His father John Antill had fought in the war of American Independence. The family migrated first to Canada; Henry was in the British army in India; he migrated to Sydney on 1 January 1810; he married Eliza Wills in Sydney in 1818; settled near Liverpool, N.S.W.; in 1825 settled on his estate near Picton, named Jarvisfield; and, in 1844 he subdivided part of his estate on the north of Stonequarry Creek, as the result he made possible the founding of the town of Picton (originally known as Stonequarry). He died and was buried in the family vault at Jarvisfield, in August 1852, survived by six sons and two daughters. A picture of Henry Colden Antill is seen in Figure 3.
John Macquarie Antill senior was born in Liverpool, N.S.W. on 30 May 1822 to Henry Colden Antill and Eliza Wills, and at the age of 18 he went to manage the Primrose Valley estate Molonglo, N.S.W., concentrating on sheep breeding. At the age of 24 he was appointed a Police Magistrate in Picton, N.S..W., a position he held until his death in 1900. His wife Jessie Hassall Campbell was born on 28 March 1834 and she married John Macquarie Antill in 1851 and she continued to live in the Antill family home Jarvisfield, Picton with a daughter and their grandchildren, after her husband's death in June 1900, until she died in Picton in 1917. John Macquarie senior was appointed the receiving officer for the Camden electorate in 1877, which included Picton, and he was still alive at the time of reception of the postcard in 1899. Thus he almost certainly was the intended receiver of the postcard, unless he 'signed-over' the position of Camden electoral receiving officer to his son a year prior to his death in 1900. A picture of John senior and Eliza is seen in Figure 4.
Jarvisfield, which included the village of Picton, was located in a valley under the shadow of the Razorback mountain. It was established by Major Henry Colden Antill in 1825 and John Macquarie Antill senior inherited it in 1858, and he built a new homestead there for his family in 1864. Wheat growing was ruined by rust, and sheep raising on account of fluke, both apparently because it was too close to the coast. In 1875, from imported stock, John senior established the Ayrshire Stud which made Jarvisfield famous. Jessie and John senior had 11 children, two of whom did not reach adult life. The family home Jarvisfield was updated and exists to-day as the clubhouse of the Antill Park Country golf club. The family home, during John senior's time is seen in Figure 5.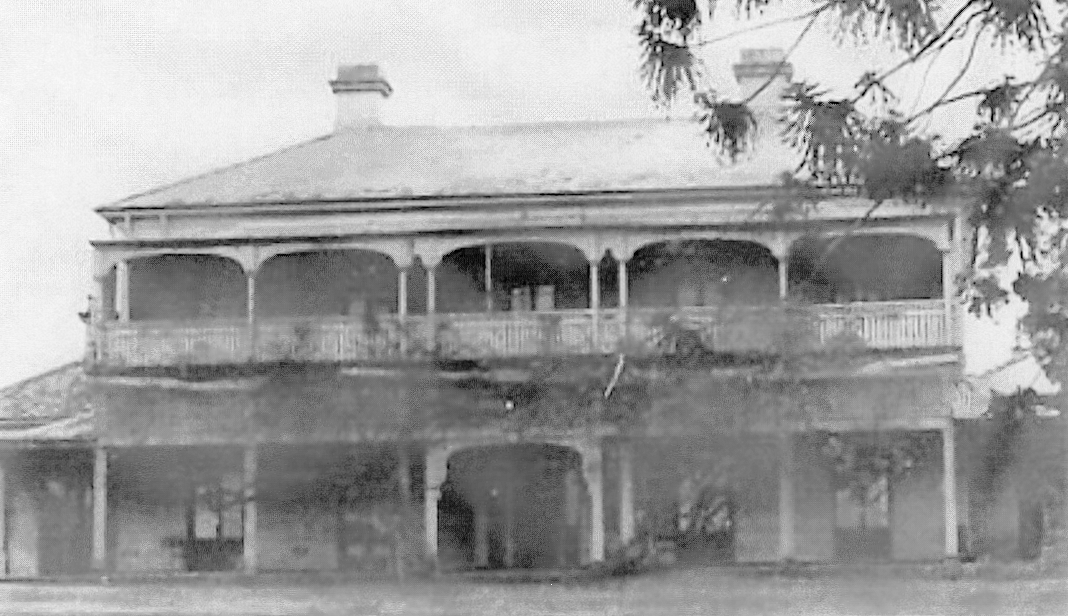 The postcard that introduced the Antill family was related to an upcoming election involving the town of Picton in 1891. The relevant electorate was Camden which included Picton and Helensburgh N.S.W. Nominations were slated for 17 June 1891 and polling was done on 20 June 1891. There were 8 candidates and 3 were elected: William McCourt, Free Trade re-elected, first, John Kidd, Protectionist, re-elected, second and William Portus Cullen, Free Trade, elected, third.
John Macquarie Antill junior was born at Jarvisfield, Picton, New South Wales on 26 January 1866, the second surviving son of John Macquarie Antill. John Antill junior was educated at Sydney Grammar School where he served in the school cadet unit, and became a surveyor. Antill joined the local militia in 1887 and in 1889, he raised a squadron of mounted infantry in Picton, of which he was given command. The Picton squadron became part of the New South Wales Mounted Rifles, in which Antill was commissioned as a captain on 19 January 1889. He had a tour of duty with the British army in India in 1893. On his return to Australia in 1894, Antill was commissioned into the state's permanent forces as a captain. In 1899, Antill was promoted to major and given command of 'A' Squadron of the New South Wales Mounted Rifles, a unit specially raised for service in the Boer War. In 1899, Antill was promoted to major and given command of 'A' Squadron of the New South Wales Mounted Rifles. The squadron participated in the cavalry sweep to relieve Kimberley and was involved in operations in Transvaal and Orange River Colony.
Antill was twice mentioned in dispatches, was appointed Companion of Bath (CB), returning to Australia a war hero. From 1904 to 1906, Antill emulated his grandfather by becoming aide-de-camp to the Governor General, Lord Northcote. After this, he retired from the army and returned to Picton. Widely known as "Bullant", he had a reputation as a tough, square jawed disciplinarian. Antill's devastating assessment of conditions at Liverpool Camp in 1913 caused a storm of indignation and a court of inquiry found Antill harsh and tactless, his allegations unfair and unjust, but no action was taken against him.
In WWI, October 1914, Antill was appointed to the AIF as brigade major of the 3rd Light Horse Brigade in Turkey. Fast forward: He retired from the army on 26 January 1924 with the honorary rank of major general. In retirement, Antill spent several years at Jarvisfield and later lived at Manly and Dee Why.
Tall, spare and wiry, brusque in manner and speech, Antill was recognized throughout his career as a courageous soldier, an able leader, a stern disciplinarian and a shrewd judge of men, with a flair for moulding those under his command to his ideal of what a soldier should be. A picture of John Macquarie Antill junior is seen in Figure 6.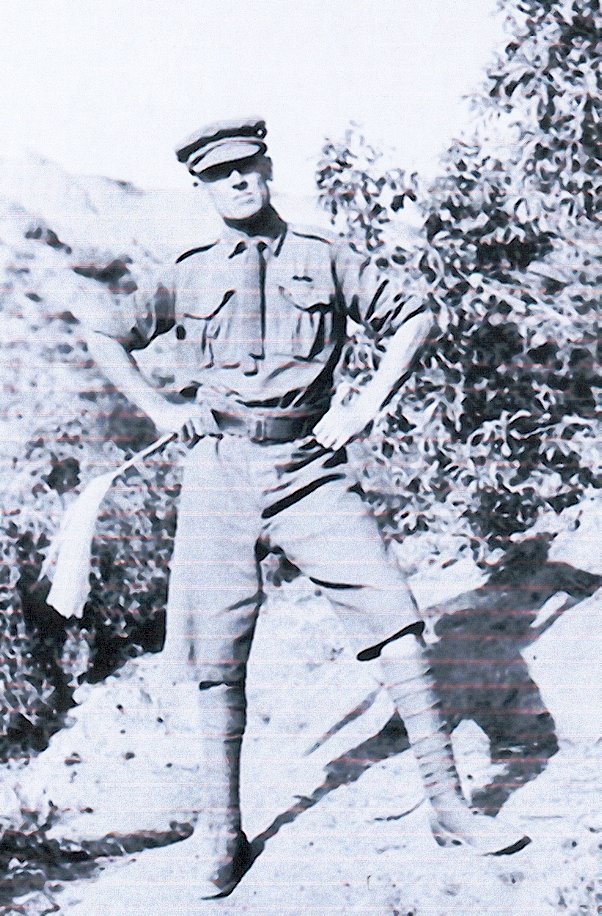 Antill's older brother Robert Henry (1859-1938), who inherited Jarvisfield, was a prominent pastoralist and a noted breeder of Ayrshire cattle. He was chairman of the Picton Pastures Protection Board in 1901-28 and he also served as district coroner for forty-two years.
Much of the information about the Antill Family was derived from the Australian Dictionary of Biography. The electoral information was provided by Robert Lawrie. Manager, Parliamentary Archives of N.S.W. who directed me to the wonderful website of a very helpful Antony Green, [email protected].