This small (10 by 6.5 cms)* mourning cover has an imperforate pale blue 4d QV stamp of Van Diemens Land issued in the mid-late 1850's, it has an indistinct barred numeral cancel, and is addressed to John Meredith, Cambria, Swansea, (Tasmania). It is the smallest Australian Colonies mourning cover that I have seen (Figure 1).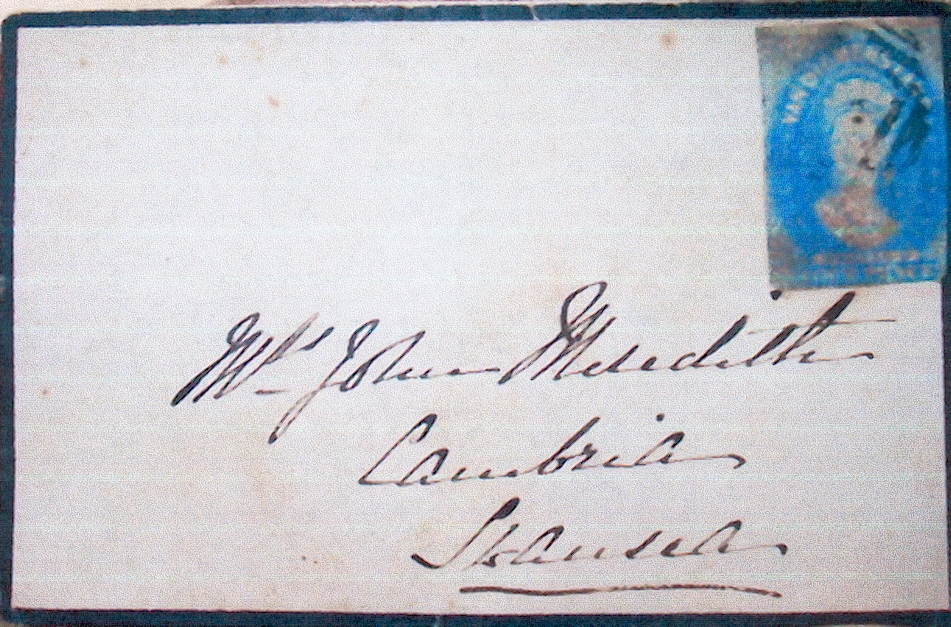 There are no postmarks on the reverse but it has black sealing wax on the flap consistent with the mourning theme, and the wax is imprinted with a sprig of flowers overlying an Irish Harp. The usual extension of black onto the reverse of the mourning cover, is not seen (Figure 2).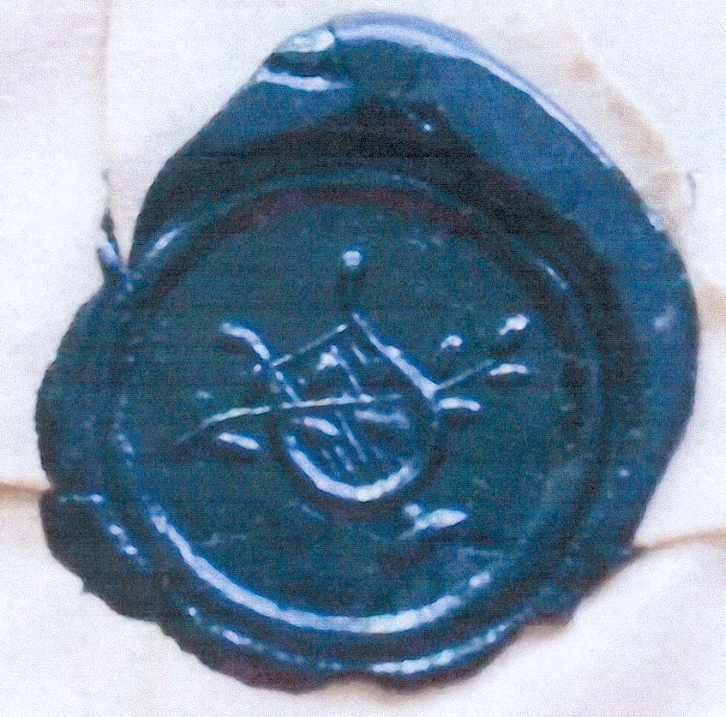 A full biography of John Meredith has not been found to date but there is no doubt about his family history for his father George Meredith is recorded in the Australian Dictionary of Biography and the family home 'Cambria' is well documented in Swansea, Tasmania. George Meredith was born on 13 February 1777 near Birmingham, England, the fourth son of John Meredith and his wife Sally. His father was a prominent barrister and solicitor and descended from the ancient Amerydeth family of Devon and Wales. In 1806 George commenced farming at Newbury and later the family move to Haverfordwest, and farmed there until 1819 when the post-war rural depression stimulated his interest in emigration. He and his wife, Sarah then had two boys and three girls, the eldest being 13.

Meredith settled in Van Diemen's Land and applied to the Colonial Office for letters of introduction. In company with several partners he chartered a ship, but early in 1820 his wife died suddenly, thus jeopardizing the whole venture. By good fortune their former governess and companion, Mary Evans, consented to take care of the young family on the voyage. In July official permission was granted and in October the ship was loaded with personal possessions, extensive farm equipment and a small flock of merino sheep. An agreement had already been made to obtain additional stock from Edward Lock's flocks already on the island, and they eventually settled at Oyster Bay. The family first lived at Redbanks, a turf hut strengthened with timber, on the south bank of the Meredith River. About 1836 the family moved into Cambria, a large dwelling designed by Meredith near the original home and surrounded by gardens which had been steadily developed since their arrival. From that time the management of the property devolved more upon the eldest sons, and they took the entire care of the estate when his second wife Mary died unexpectedly in 1842. By his second marriage he had three sons and four daughters, of whom the second son of George's second marriage, John remained in charge at Oyster Bay until George Meredith died in 1856.
Several of George Meredith's children became prominent in later years: his second son, Charles, was appointed colonial treasurer of Van Diemen's Land in 1857 and continued in high public offices for twenty years; the fourth son, John, was appointed a magistrate at Swansea in 1855 and contributed greatly to the welfare of the district; the fifth son, Edwin, migrated to New Zealand as a pioneer colonist in 1851. George's fourth son, John was the person addressed in the 1850s at Cambria, and his marriage to Maria Hammond was recorded in The Courier (Hobart) on October 4, 1851. The main source of John Meredith's biography was found at the website of the Parliament of Tasmania.
John Meredith was born at Great Swanport, Tasmania on 31 October 1822 and he died at Swansea, Tasmania on 13 February 1909. He was elected to the House of Assembly for the first time on 8 June 1861 for Glamorgan, in November 1862 for Deloraine, in June 1865 for Ringwood and in October 1866 for Glamorgan again. His departure from the House of Assembly was March 1871, after nearly 10 years as a M.H.A.. A picture of John Meredith is shown in Figure 3.
Another aspect of his Public service is recorded in The Courier (Hobart) on 2 November 1855 for he was elected as the President of the Glamorgan Agricultural Association at its inception. He promoted the interests of the district of Greater Swanport respecting the erection of wharves for transport of agricultural products to market (The Courier in 1855). In an advert for tenders for rough-casting the Church at Swansea and replacing the coping stones, the tenders had to be sent to John Meredith (The Courier in 1856). John Meredith's continuance of the family's involvement with sheep is seen in an advertisement (The Courier in 1857). The family home at Swansea is shown in a drawing of Cambria (Figure 4).
There is an episode recorded in Le Souef, 'Extinct Tasmanian Emu' when John Meredith was only 8 years old, as follows: Mr. John Meredith, of Cambria, East Coast, says: "I remember perfectly Emus being caught in this neighbourhood prior to 1830, and for a few years subsequently also between this place and Avoca. I saw a pair at Circular Head on 'Black Thursday' (1851). They were full grown, and had with them half a dozen young ones. The old birds had been caught when young near Circular Head and reared and tamed."
A paper about John Meredith's brother Charles Meredith is also found at this website in the category 'Political'. I acknowledge that some of the information on the Meredith family is derived from the Australian Dictionary of Australia.
* The smallest known mourning cover was a Canadian one, circa 1912 posted in Quebec which measured 7.1 x 4.1 cm.
Addendum: An additional small 'Lady's cover' appeared on Ebay addressed to Mr. John or perhaps more likely to Mrs John Meredith at 'Cambria', Great Swan Port in 1857. The blue FOUR PENCE Van Diemens Land stamp was postmarked with the barred numeral'28′ and there was an additional red handstamp PRE-PAID/ 15 SP 15/ 1857. The second allocation of the barred numeral '28′ was in the Gazette Notice on 31.8.60 and it was allocated to Elizabeth Town. The Pre-Paid handstamp in red was used in Hobart from 10 January 1856 until 13 July 1869, and it was used as the date of posting hand stamp (Figure 5).