The cover was sent from The Austral Otis Engineering Co. Ltd., South Melbourne and the red 1d QV stamp of Victoria was cancelled with a roller postmark of MELBOURNE/ 17 AUG 12 4.10 AM/ VICTORIA. There was a red ms. '31′ and an octagonal T/ 30c tax handstamp addressed to Jarecki Manufacturing Co, Erie Pa, USA. The reverse was not seen (Figure 1).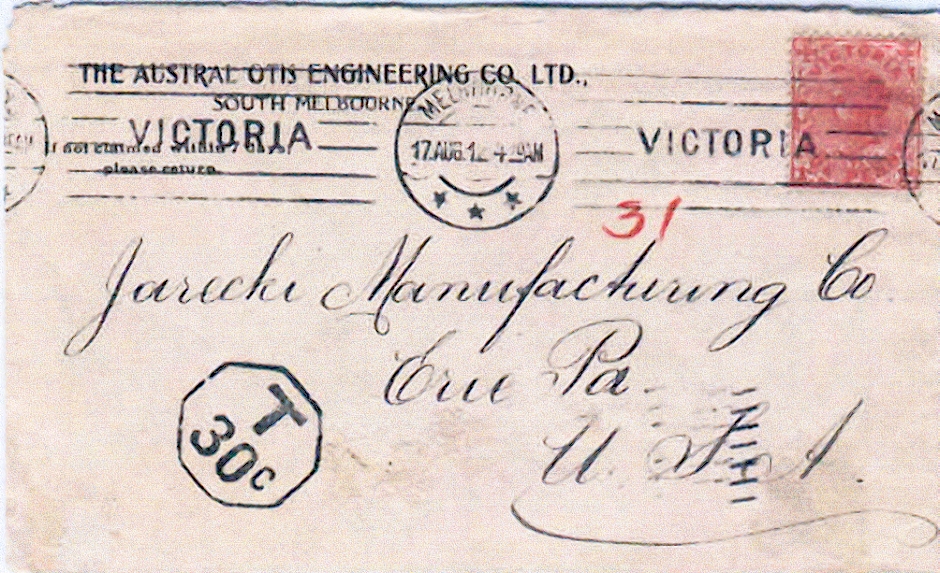 Austral Otis tendered the Victorian Government to produce two steam traction engines after starting up in 1880 as a general engineering business, and in the late 1880s it set up a well equipped works for heavy engineering, which covered about four acres. It had important agencies for machinery including Worthington pumps and the Otis Bros & Co. elevators. The company undertook many major contracts, for mining and other machinery equipment and it was awarded prizes for its steam engines and hoisting equipment at the Centennial Exhibition in 1888, at Melbourne (as mentioned in the Australian Ironmonger in May 1889).
About 1896 the company was engaged to produce four large three-cylinder triple expansion stationary steam engines for the Melbourne and Metropolitan Board of Works sewage pumpers. Although these engines were close copies of the British design by Haythorn Davies, their production proved that Austral Otis had substantial expertise in steam engineering. The company also produced steamrollers. An Austral Otis Steam Traction Engine ca.1909 is seen in Figure 2.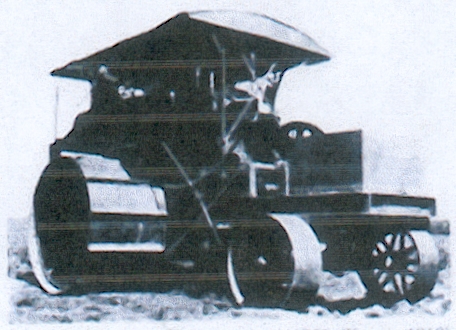 One of the most exciting pieces of very large machinery has been ascribed to the Austral Otis company, the 'Big Lizzie'. Although another Australian company, McDonald's Foundry in Richmond, Victoria has been stated as the manufacturer, this description of its manufacture is the best authenticated: An Austrian (this is not a typo!) Military Newspaper states that the Mount Gunson copper mine ca. 1912 needed a super heavy truck and they chose the Austral Otis Engineering Company to manufacture 'Big Lizzie', which was supposed to handle swamps and to ford small rivers. It was fitted with Frank Bottrill's 'Dreadnaught Wheels' (pedrails) which he patented in 1906. Some of the McDonald's tractors also had these wheels. The truck did not leave Melbourne for Mount Gunson S.A. until 1916. 'Big Lizzie' is seen in Figure 3.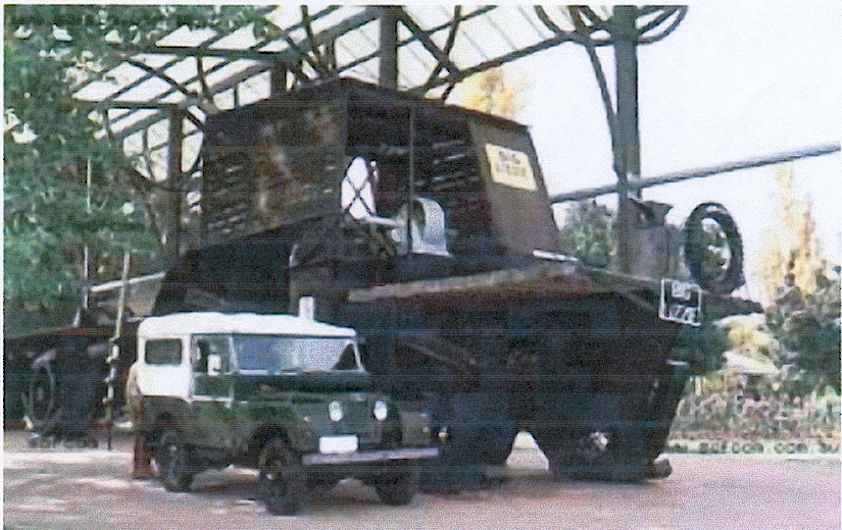 The addressee Jarecki Manufacturing Company in Erie, Pennsylvania in 1868 was the first industrial user of natural gas in the United States and its gas pumps were first used for oil wells in Tidioute, Pa. The company was an oilfield manufacturing and supply company who were making brass specialties in 1852. They were involved in supplying equipment in the big oil fields in Pennsylvania, Illinois, Kansas, Oklahoma and Texas in the 1860s. By 1884 the Erie Pa. site was described in almost lyrical terms: two acres of ground in use, three stories main building, the entire premises was an architectural adornment, an army of 400 artisans, their work finds its market all over the country and across the lakes into Canada. Messrs Henry and Charles Jarecki came to the USA ca. 35 years ago, and they have made their name famous across this country.