This postcard, with photo by Eden, Melb, probably shows Bert Bailey as a man of 39, and it has a ms. 16/8/07. I use 'probably' that this was 'The Bert Bailey' for it hardly resembles the picture of the man presented to Australians in his heyday, and the National Library of Australia had no other 'out-of-character' pictures, with which to compare it (Figure 1).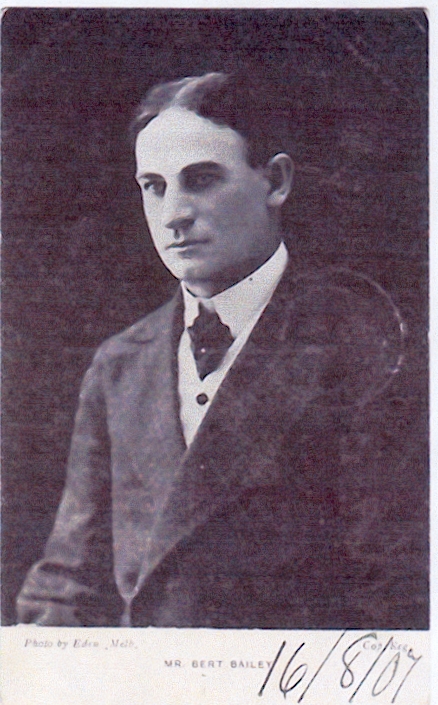 The reverse shows it was published in London, printed in Germany and the message is not relevant to Bailey. The red 1d 'Shield' stamp of N.S.W. is postmarked with the Rays '221′, and the cds alongside confirms that it was sent from HUNTER'S HILL/ 15 FE 1909/ N.S.W [Postmark: Type 2vi, with the arcs midway up the letters, but no full stop after the 'W', which was in use from 1908-17], sent from one Sydney suburb to another, Erskineville (Figure 2).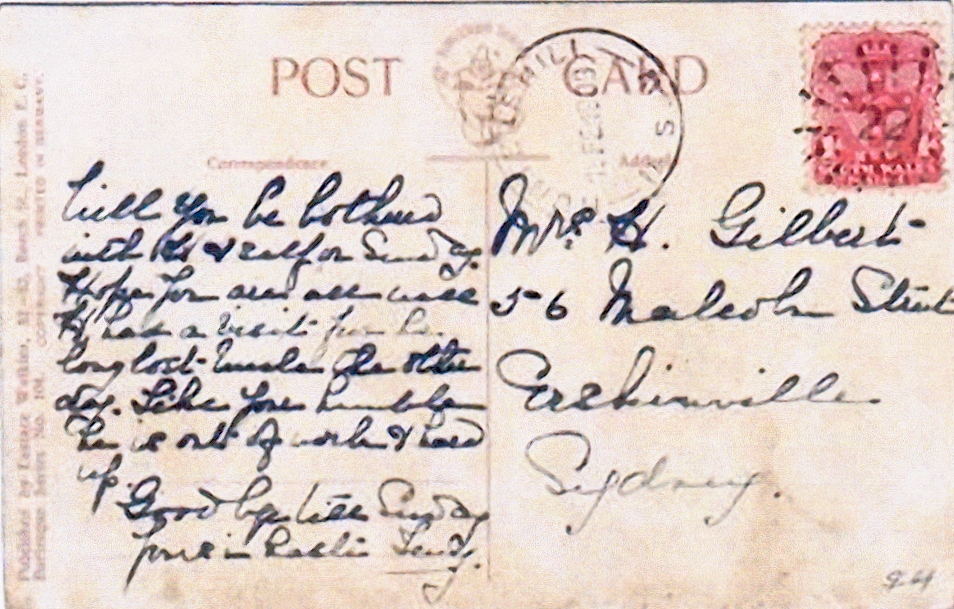 Albert Edward Bailey, stage actor, comedian, composer, film director, playwright, raconteur, theatre producer, theatrical manager and vaudeville performer, was born on 11 June 1868 at Auckland, New Zealand, second son of Christopher Bailey, farmer, and his wife Harriette. By 1871 he was in Sydney with his mother, and he was educated at Cleveland Street Public School. Bert worked as a telegram-boy and at a skating rink, before entering vaudeville as a tambourine player and singer. In 1889 he joined a touring theatrical company led by Edmund Duggan and he played leading roles in numerous melodramas, pantomimes and even grand opera throughout Australia. In 1900 he joined William Anderson's company in Sydney as a comedian, and in1902 he married an actress in the company, Ivy Isobel Gorrick.
With Duggan, Bailey wrote an Australian outback melodrama, The Squatter's Daughter, first produced in 1907. It was highly successful commercially and became a regular stage favourite. In 1910 Bailey supervised the production of a film version with himself playing a comic 'new chum' and Duggan the bushranger Ben Hall. Their partnership continued for many years and they wrote many plays including The Man from Outback (1909) and The Native Born. In 1912 they presented their most popular success, On Our Selection, based loosely on the stories of 'Steele Rudd'. Bailey starred as Dad Rudd, the irascible and stubborn old farmer, with the Shakespearian actor Fred MacDonald as his slow-witted son Dave; both actors remained closely identified with the roles for the rest of their lives. On Our Selection was performed repeatedly on the Australian stage until the early 1930s. In 1920 Bailey took the play to London but it failed after one month, although the critics praised his performance.
In 1912 Bailey had formed a long-lasting business association with Julius Grant and leased Anderson's King's Theatre, Melbourne. As Bailey & Grant they became one of the strongest theatrical entrepreneurial teams in Australia and produced many Australian plays. In 1921 he scored a success in Jefferson Wins Through at the King's Theatre, and next year he produced The Sentimental Bloke, adapted for the stage from C.J. Dennis' poem, and later took the part of Ginger Mick. A commercially disastrous season of Shakespeare followed in Sydney.
In 1932 Bailey emerged from one of his several retirements to co-direct and star in a film version of On Our Selection for the new Cinesound studio in Sydney. The film was a record box-office hit and three 'spin-offs' followed, all starring Bailey and MacDonald as Dad and Dave: Grandad Rudd (1935), Dad and Dave Come to Town (1938) and Dad Rudd, M.P. (1940). Bailey finally retired in 1940. He was deceased by his wife in 1932 and survived by his only daughter, when he died on 30 March 1953 at his home at Darlinghurst.
Physically robust, a teetotaller and a vigorous raconteur, Bert Bailey had a commanding presence on and off the stage. Dedicated to the encouragement of Australian theatre, he was always scrupulously honest and trustworthy. Critics often attacked his plays as crude farce or sentimental melodrama but, especially in his role as Dad Rudd, he enjoyed constant mass endorsement for his work. Posters of Bert as Dad Rudd are seen in Figures 3 & 4.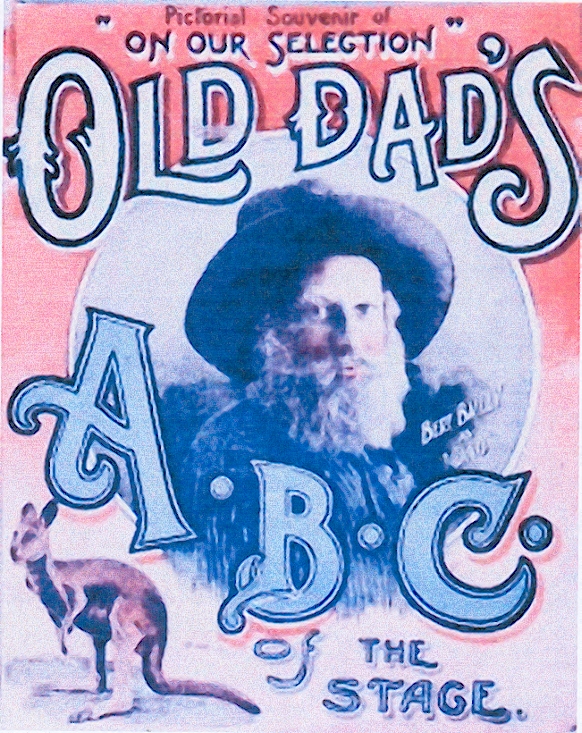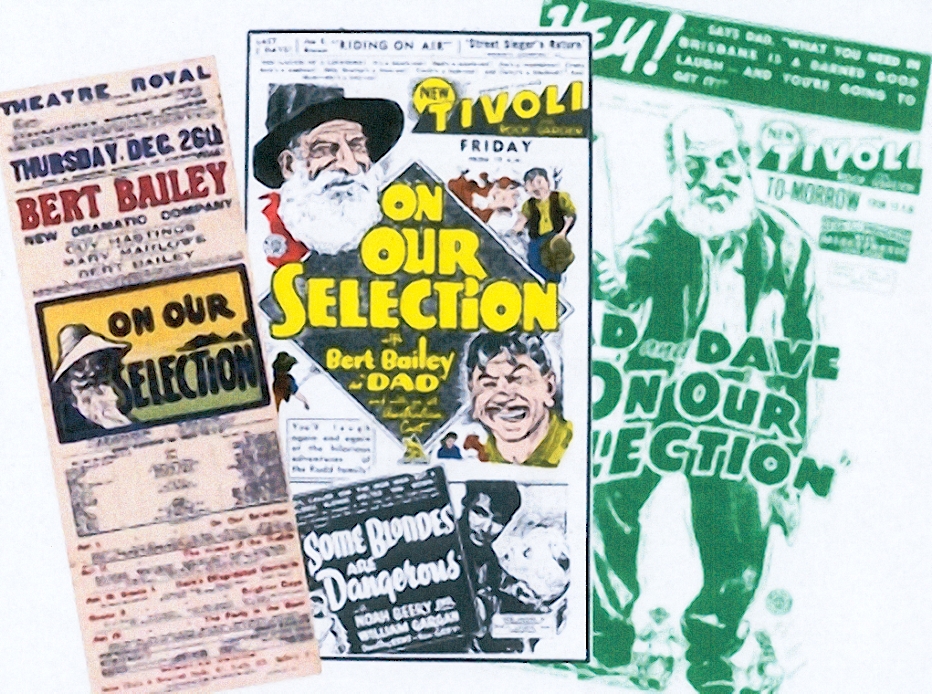 I acknowledge that this paper was extracted from the Australian Dictionary of Biography.