This taxed Tasmanian cover has a 6d platypus revenue stamp which has the barred numeral '61′ of Latrobe as well as the unframed LATROBE/APR 25/ 83/ TASMANIA postmark. It was posted to Hiram Hiller Jr. Esq, Kahoka, Clark County, Missouri, United States America. There is a manuscript 'Via Sanfrancisco and a black handstamp U.S. CHARGE/ TO COLLECT/ 5 CENTS, and there is a part US duty stamp folded over from the reverse (Figure 1).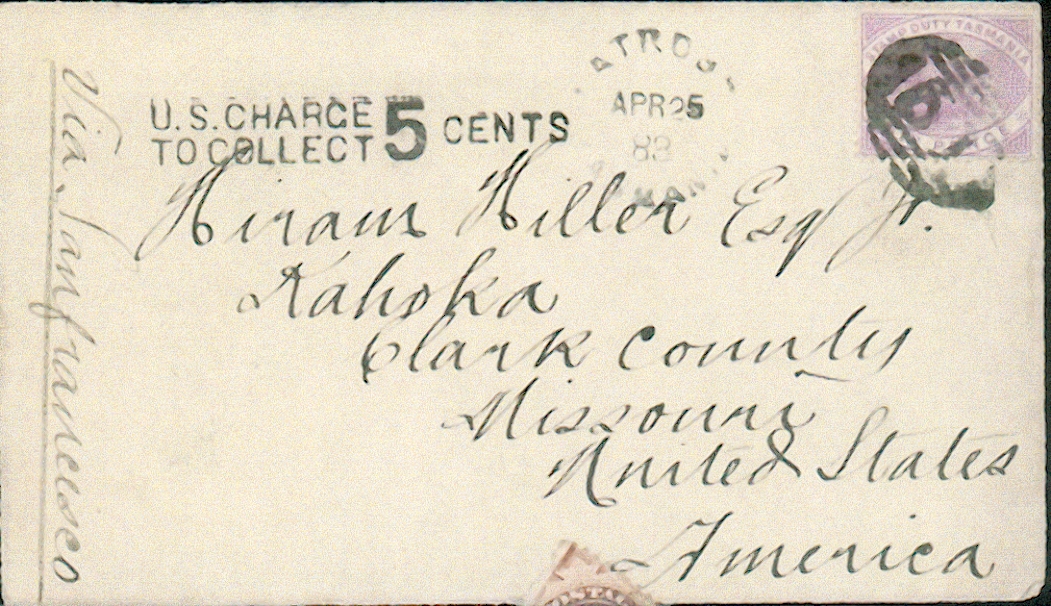 The reverse has a transit postmark of LAUNCESTON/ D/ AP 25/ 83/ TASMANIA and there are five (two incomplete) U.S. ONE CENT postage due stamps, cancelled with a segment cork. There is a transit SANFRANCISCO CAL./ STM SHIP/ JUN/ 11/ P(AI)D. (Figure 2).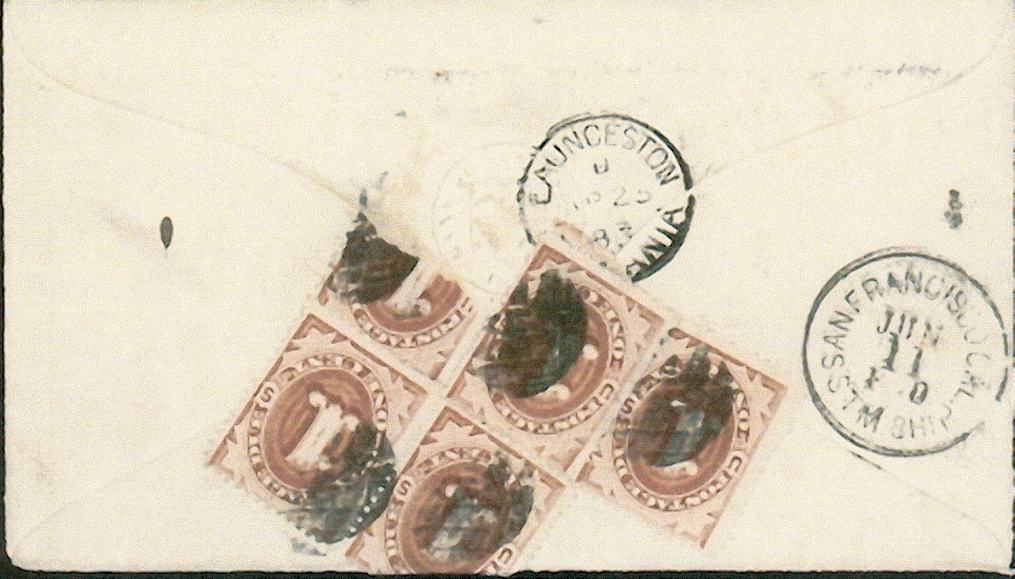 The vendor does not discuss the reason for the taxing of the envelope. It might have been due to it being overweight, with insufficient postage or to it having a revenue instead of a postage stamp, which would have been an incorrect handstamp. On November1,1882 an amendment to the Tasmanian Stamp Duties Act came into force which stated that all postage and revenue stamps were interchangeable. The 1880 platypus stamps, 1d slate, 3d chestnut, 6d mauve and 1 shilling rose-pink platypus stamps (as well as the other design revenues) were thus legal for postal services, and the Act may not have been known by the US postal service. Examples of the four values of the postally used platypus stamps, plus one with the REVENUE overprint, are seen in Figure 3.

Hiram Milliken Hiller Snr. (1834-95) moved to Athens, Missouri in 1855 when his parents died, to take over the operation of a nearly bankrupt grocery and dry goods store, and the care of his minor brother and sister from his uncle. He returned to Pennsylvania briefly in 1857 to marry Sarah Fulton Bell (1837-1915) and take her back to Missouri with him. By the time the Civil War broke out in 1861 all the Hiller siblings had migrated to Clark County and the family prepared to serve the Union cause. Hiram was a lt. colonel and his older brother John was a 2nd lieutenant, and later William, George, and Royal enlisted for shorter terms during the war.
The family's active roll in the war helped them in the Radical Republican politics of the early postwar period. Hiram Hiller became clerk of Clark County Circuit Court in 1865 and a partner in the law firm of Matlock and Hiller. Col. Hiram Hiller was especially prudent in his investments and land speculations. He was instrumental in getting the Clark County seat moved to Kahoka in 1870 by providing, along with other members of Hiller and Company, the means to build a courthouse in Kahoka as a permanent seat of county government. Hiram became one of the most prominent citizens in town: He founded the county's first bank (Clark County Savings, 1874), co-sponsored the establishment of Kahoka College, and contributed to the Episcopal and Presbyterian churches. He also founded the Exchange Bank of Kahoka in 1894, which was operated by the Hiller family until 1963. Colonel Hiram Hiller died in a railroad accident in 1895.
Hiram and Sarah raised six children to adulthood (born from 1860 to 1875) and Hiram Milliken Hiller, Jr. (1867-1921), was the third in line and the receiver of this letter. He was the adventurer in the family. After completing medical school in Philadelphia in 1891, he spent several years travelling in Europe and Asia, primarily Borneo and Japan. On a series of explorations to the Far East between 1896 and 1901, he and some colleagues studied the cultures of several primitive tribes, returning with archeological, cultural, zoological, and botanical specimens and data for museums, lectures and publications. Hiller then managed a sugar plantation in Cuba for a wealthy friend from 1902 to 1907 in order to capitalize his return to his medical practice in Philadelphia. Hiram Jr.'s letters discussed the upper-middle class social life, and provided good descriptions of contemporary medical education and practice. Colonel Hiller's other sons remained in Kahoka as lawyers and bankers, running the family businesses.
I am sometimes amazed where research into people and places addressed on covers leads one, and I find this information much more satisfying than the actual postal history. This cover has the advantage of being both social philately and postal history.
I am indebted to the website for the Western Historical Manuscript Collection, 23 Ellis Library, University of Missouri, Columbia, Miss., USA from which I have extracted this information on part of the important Hiller family.