The air mail cover is addressed to Mrs. W. Shaw-Sparrow 15B Lancaster Grove, Swiss Cottage, Hampstead, London, N.W. 3, England and has a red PASSED BY CENSOR label and a purple PASSED BY CENSOR/ S. 82 handstamp. It has a single purple 'Hermes' 1 shilling six pence airmail stamp cancelled by a CREMORNE/ 12.5O PM 1 (–) 40/ N.S.W postmark . The reverse was not seen (Figure 1).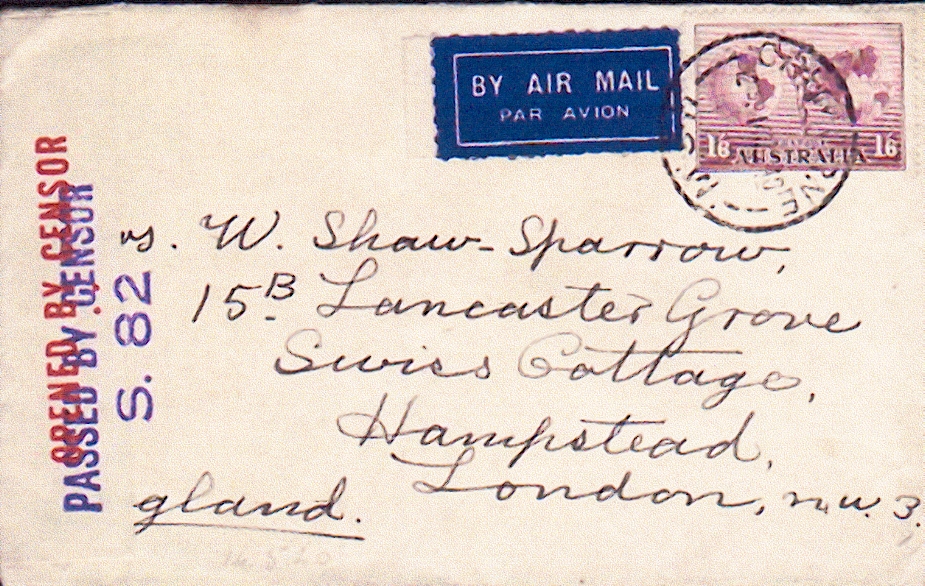 The title for this paper is derived from a book first published in London by Walter Shaw Sparrow (no hyphen) in 1925. It describes Sparrow's life, and particularly the life and art of the artists that he greatly admired, in an entertaining manner, without going into his personal biographical details in any detail. Before reading this book, I knew Walter was born in 1862 and died in 1940 and this letter was sent from the Cremorne suburb in Sydney to Mrs. Sparrow, the year of his death. This was a man who had published at least 20 art, architecture, home decorating and sporting books from 1904 with editions coming out after his death as late as 1965 (as listed by the Library of Congress). For a man who had so many citations on the internet, his life was a virtual blank.
We learnt that his initial schooling was at the boys' school, Chester College, and the headmaster, Dr. Critchley used the whip with frequency. He mentions, but does not name, an older brother in his teens who was at the school. He frequently refers to an uncle throughout the book, George T. Robinson, who was a war correspondent for the Manchester Guardian in the German-French war of 1870-71 , and he specifically mentions the siege of Metz. During WWI Robinson served on the staff of The Saturday Review. This uncle was an architect and he had 2 daughters, Mary F. Robinson (Mme. Mary Duclaux, poetess) and historian Mabel Robinson who wrote 6 novels from 1885-95 as well as a history of Ireland. This is one of the few times that we obtain any information about family members.
His mother is unnamed and mentioned only once in the book but we learn that his unnamed father employed many men, colliers, furnacemen, blacksmiths, carpenters as well as workers on his home and farm. Many of the men went down the coal-pits, and Sparrow describes the plight of men and children working below ground. After 50 pages of minimally biographical data he stated that between his tenth and thirteenth year whilst at Chester College, he became interested in botany, chemistry and physiology, as well as in prints of anatomy, and his drawing lessons were based on nature.
From Chester College he was sent to Newton Abbott College, South Devon and he names Arthur Quiller-Couch was among the boys at the College. Walter won first prize for political economy and for drawing, and during an illness at the college he came under the influence of Mrs.Warner, the Head's wife, a clever painter of water colours, which he admired. Later, he reminisced that whilst he was at Chester his 2 brothers, Alick and Wilfrid were also there. One of Walter's concerns was that he was embarrassed that he still sang with a soprano voice.
He came under the influence of W.J.J.C.Bond a professional artist during the long school holidays in 1875 to 1879. Bond came to stay with Walter's father in 1875, and his father had recently bought a Tudor House, Gwersyllt Hill, Denbighshire, where Bond painted in oils. Walter learnt a lot about the lack of stability of pigments and varnishes from the painter. His father spoke to Bond and George Robinson, and was swayed into approving that Walter attend an art school, The Slade, in London with artist Alphonse Legros, as his teacher. Walter stated that a cousin studied in the life class at The Slade, and there were lots of girls there. It was a mixed school which was a novelty. Legros had a passion for teaching like most French artists. As an aside, Walter mentioned that he played cricket in London.
Father decided to send Walter abroad after 15 months at The Slade to Brussels, in preference to Paris, partly due to the fact that the former city was a cheaper place, in which to live. He enrolled in art classes at the Acadamie des Beaux-Artes, and father & mother accompanied Walter on an artistic and historical tour of Belgium in 1880, before he commenced his studies. Brussels remained his home for 7 years, but he spent holidays in England. As a form of recreation, Walter enjoyed athletics and he won a hurdles race over three-quarters mile. After 3 years in Brussels, his artistic mentor, Van Severdonk advised Walter to break away from class routine, and he took a studio not far from Van Severdonk's home. At times he found it difficult to buy expensive art supplies, and once a month he received a cheque from home. To supplement his funds he opened a drawing class at his studio, and in addition he gave English lessons, wrote four little articles which he sold to The Globe, and sold a few paintings, mostly to friends and relatives.
On the advice of his architect Uncle George Robinson, Walter commenced reading architecture as a hobby study, which stimulated his interest in writing about architecture. His first serious article on a painter was accepted by the editor of The Magazine of Art, and he returned to London in 1888 and took rooms in Kennington (sic) Park, where his companion was his brother, Wilfrid. In London he accepted a few small singing and speaking parts in plays, including ones written by Shakespeare. In 1899 Walter wrote for The Studio publicising the Arts and Crafts Exhibition in London of 1899. When the exhibition finished he was taken on by The Studio as a sub-editor, with long working hours of 15 per day. Medical friends warned him of adverse health effects on account of his overwork, and an unspecified illness occurred in 1910, which was nearly fatal. During 4 years of illness he wrote and edited two books: John Lavery and His Work and A Book of Bridges. Later he stated: "To-day at 63, working days of 12 hours are still very useful."
By page 259 he had resigned from The Studio and he continued to write books on art, architecture and furniture. One book he wrote in 1909 was markedly different from all others in that it described shopping for wallpaper in which he warned: "large patterns printed in gay colours, however attractive in a shop window, are (as a rule) too vivid for home use." Sparrow was particularly enamoured by the art of Frank Brangwyn, and Brangwyn illustrated several of Sparrow's books, particularly A Book of Bridges.
The main purpose for including this paper in my website is that I hope that a reader might be able to supply me with much more biographical data on this interesting man.