This cover with the blue 2½d Swan stamp (A.S.C. # 28) travelled 6½ weeks across Western Australia to the east coast of America, its journey being well documented by its multiple postmarks and manuscript routings. The front is postmarked by an unframed KALGOORLIE/ 6/ AU 26/ 01/ W.A duplex (top rarity rating of '1'). It is addressed to Miss Juliet Gier, Poquetanuck, Connecticut, N(ew) London Co(unty), U.S.A. In manuscript its intended routing is given as: via Sydney and San Francisco (Figure 1).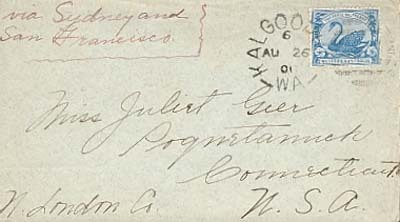 The reverse shows additional markings with a framed GOLDFIELDS/ AU 26/ 01/ T.P.O [Travelling Post Office] (top rarity rating of '1' ), a NEW YORK N.Y./ OCT 9/ AM/ 1901, a largely obscured NORWICH CONN, and a final destination of an uncommon POQUETANUCK/ OCT/ 10/ 1901/ CONN. postmark. There is an additional tax marking of '5' over an inverted 'T', the origin of which was likely New York. For clarity, an enlargement of the GOLDFIELDS T.P.O marking is added to the Figure 2.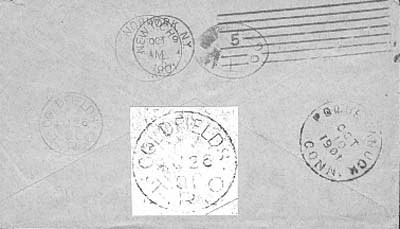 The initial part of the journey in W.A. was west from Kalgoorlie by the Eastern Goldfields Railway which connected with the Great Southern Railway to Albany (Figure 3).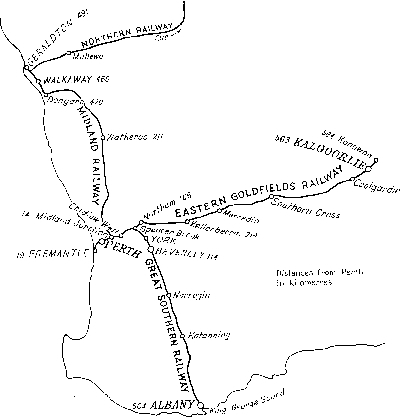 The journey was then onwards by ship to Melbourne and Sydney, where it embarked on a ship going to San Francisco. The route from San Francisco to New York was by train via Ogden Utah, Omaha Nebraska-Council Bluffs Iowa and thence Chicago Illinois to New York Central, and then most likely to Buffalo, N.Y. The journey thereon would have been by train to Norwich, Connecticut, and by land transport to Poquetanuck. In 1901 this across-America journey could be completed in 7 days. A modern-day map of the relevant area of Connecticut is shown with an 1895 map insert illustrating a portion of the New London County, the arrows pointing to Poquetanuck and Norwich (Figure 4).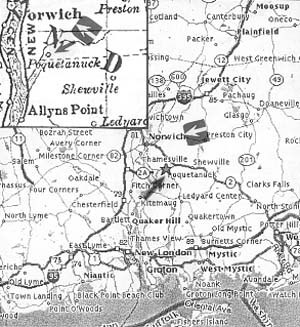 In the 1895 Census tabulation of the New London County, Connecticut, Poquetanuck had a population of 148, a Post Office, but no connecting railroad (relying on Norwich for that), and no express office. To-day the small rural town of Preston includes Poquetanuck which is a Historic District listed in the National Register. Preston was established in the south east corner of Connecticut in 1687.
The discovery of gold at Coolgardie in 1892 followed by Paddy Hannan's finding of gold at Kalgoorlie in 1893, led to a mining boom from which developed the world famed "Golden Mile". These and other gold discoveries in W.A. enticed prospectors from every Australian Colony as well as from overseas. In the 1901 census, the population of Kalgoorlie was 3,904, and in their heyday the population of the combined Kalgoorlie and Boulder area reached 30,000 with 93 hotels and 8 breweries.
With such a small population around the time of the cover (1901), I wondered whether the recipient could be traced. The Geer family (with its multiple spellings) in America was started by George and his brother Thomas Geer who emigrated from England in 1638. From New York they wandered to Boston and then to Connecticut, where they settled in Ledyard, New London County. George is the ancestor of nearly all the Geers in the US to-day. Juliette Geer was born on 20 August 1838 and was a 7th generation descendant of the original George Geer. Her parents were Nathaniel Bellows Geer and his wife Julia Davis. Nathaniel was a farmer, Judge of Probate, surveyor, teacher in the public school and senior warden of the Poquetanuck Episcopal Church. Juliette never married and she lived with her unmarried sister Mary Abby Geer. What a pity that the sender did not identify him/herself, for there are Geers in Australia.
I wish to acknowledge the help of L. J. Dean of the National Railway Historical Society (USA) for providing the railway routing from San Francisco, California to Norwich, Connecticut using the Official Railway Guide for February 1901. The enthusiastic help of Ginger M. August, Geer Family Historian, Princeton NJ was instrumental for providing the Geer family history.
Addendum (April 2008): This paper has been published at the Philatelic Database website: www.philatelicdatabase.com, a website I can highly recommend to postal history lovers.