A postcard appeared on Ebay auctions, and even though it was of very recent issue in 1990, its subject matter was about an Australian vintage car of an earlier time. The red car had a mostly green surround with a grey-stone building reminiscent of the University of Sydney in the background. The caption reads: The Australian made "Southern Cross" Car Test Model/ Built June 1933 (Figure 1).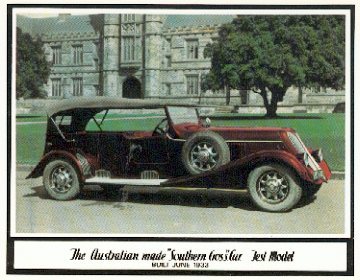 The reverse shows that it is a modern Nu-Color-Vue, Australia postcard with a printed 41 cents Golden Wattle issued for Australia Day 17 January 1990 with a commemorative postmark for "FAIRFIELD N.S.W 2165/ LANSDOWNE BRIDGE/ 31 JAN 1990" and it was used to advertise the Smithfield Stamp Club Annual General Meeting 12 th. February 1990 (Figure 2).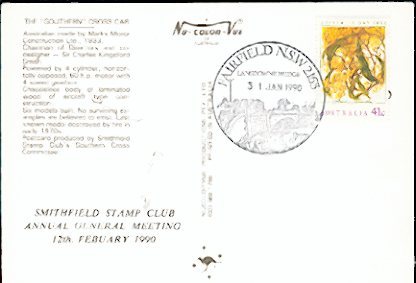 In addition the reverse describes the car in modest detail which was hard to improve upon in all the vintage car sites I have viewed on the web:
"The Southern Cross Car Australian made by Marks Motor Construction Ltd. 1933. Chairman of Directors and co-designer – Sir Charles Kingsford Smith. Powered by 4 cylinder horizontally opposed 60 h.p. motor with 4 speed gear box. Chassisless body of laminated wood of aircraft type construction. Six models built. No surviving examples are believed to exist. Last known model destroyed by fire in early 1970s. Postcard produced by Smithfield Stamp Club's Southern Cross Committee."
Other information was found on a 'talk-about-autos' website which gave a little more background information: "Although Lancia is generally credited with devising the first production car with an integrated chassis and body structure, Sydney's Alfred John Swinnerton had anticipated the idea. In 1907, Swinnerton built a small car with the chassis frame and body integrated into a single unit to add strength and save weight. Eight years later he built a bigger car using the same principle. In 1923 Dr. A.R. Marks of Sydney improved the concept, using stressed plywood to produce a monocoque structure, the grandfather of the chassis-less cars we now drive. His idea was taken up by aviator Charles Kingsford Smith and used in the 1933 Sydney built Southern Cross car."
Another auto site gave further information but with conflicting data on the number built: "Had Charles Kingsford-Smith not been killed on his return to Australia, they (Southern Cross cars) may have survived. He built 4 before flying to the UK to compete in an air race. 2 were 4 door cars and the other 2 convertibles." However, Kingsford Smith did not crash until November 8, 1935, as described below.
The fate of Sir Charles Kingsford Smith remains one of aviation's unsolved mysteries. On 6 November 1935, 'Smithy' and his co-pilot mechanic, Tommy Pethybridge took off on a planned flight from England to Australia in the Lady Southern Cross, a Lockheed Altair. At dusk on 7 November 1935 he and Pethybridge, departed Allahabad, India to fly non-stop overnight to Singapore. They passed over Calcutta, and Rangoon, which they overflew at 1:30 am. Just before 3:00AM, 8 November, another Australian pilot, Jimmy Melrose who was heading south from Rangoon in a much slower plane, saw the Altair overtake him above the Andaman Sea.
In Singapore later that day Melrose was surprised to learn that the Lady Southern Cross had not arrived. Despite the RAF's search of the entire Rangoon-Singapore route, no trace of the Altair was found for 18 months. In May 1937 its starboard undercarriage leg was picked up by Burmese fishermen on the rocky shore off the south coast of Burma about 140 miles south-east of Rangoon. The theory grew that Smithy had flown into the 460-foot top of the jungle-covered Aye Island and the aircraft had plunged into the sea, the wheel breaking off and floating ashore. But an Australian expedition to the island in 1983 searched the seabed without success.In more successful times, the arrival of the Southern Cross was celebrated in Sydney on 10 June 1928, after an 88 hour flight from California. Kingsford Smith, Charles Ulm and crew Harry Lyon and James Warner were met by a crowd of 300,000 at Mascot, Sydney after completing the first crossing of the Pacific Ocean (Figure 3).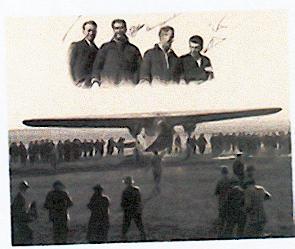 Thus ended the wonderful career of Australia's premier aviator and the dream of a chassis-less vintage Australian car.
Addendum: An additional cover described as the last flight of the "Southern Cross" on 18 July 1935 from Mascot to Richmond N.S.W. has a vignette of its other flights and is signed by Charles and Mary Kingsford Smith, P.G. Taylor, John Stannage plus other personnel aboard the flight (Figure 4).