This long Tasmanian printed to private order pink 1d Tasmanian wrapper with advertisement was mailed with the HOBART/ 2L/ AP 18/ 91 duplex to München (Munich) Germany with The Federal Australian Philatelist as BOOK POST. The sender is identified as "Published by A.F. Basset Hull, Eldon Chambers, Elizabeth Street" and the price of the journal is described as Post Free, 1s (shilling) per annum (Figure 1).

A New South Wales 1d postcard is addressed to A.F. Basset Hull Esq, Box 704 GPO Sydney and is postmarked with the duplex LORD HOWE ISLAND / JY 17/ 1907/ N.S.W with the barred and boxed L.H.I (Figure 2).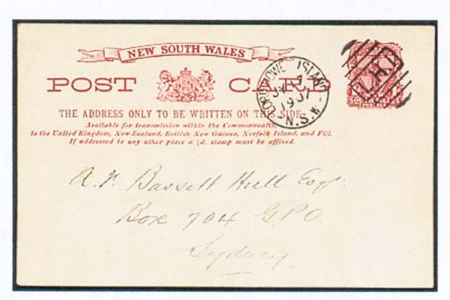 The Federal Australian Philatelist was published by Basset Hull for the years 1890-91, Volumes 1 and 2 and then it was incorporated into Vindin's Philatelic Monthly. The two items are from two phases of Hull's Australian philatelic career for in 1892 he moved from Hobart to Sydney. He was born on 10 October 1862 at O'Brien's Bridge, Hobart Town, son of Hugh Munro Hull, coroner and later Clerk of the House of Assembly, and his wife, Margaret Basset, née Tremlett, one of 14 children. He was lamed by poliomyelitis at 15 and had to wear a surgical boot and use a walking stick for the rest of his life.
From 1883-89 he was a clerk in the registry of the Supreme Court of Tasmania and was admitted to the Tasmanian Bar in 1891, but forsook the law in 1892. He moved to Sydney on 12 October 1892, becoming a clerk in the GPO for 8 years, where his philatelic expertise was eagerly availed of, by the postal authorities. After going to Britain and Europe he joined the Department of Mines from 1903 until retirement in 1921. He was a keen amateur scientist, active in the Royal Zoological Society of NSW, and he was a well published and acknowledge expert on Conchology and he became the honorary ornithologist of the Australian Museum in Sydney.
"From his boyhood (at an early age of 6), Hull collected stamps and was a honorary fellow of the Royal Philatelic Society, London. He published Stamps of Tasmania 1890, The Postage stamps, envelopes, wrappers, post cards & telegraph stamps of New South Wales 1911, and The Postage stamps of Queensland 1930. He contributed many articles on stamps, envelopes, wrappers, postcards and coins to journals and in his later years he collected and annotated revenue stamps". He received many philatelic honours, including election to the Roll of Distinguished Fellows of the Royal Philatelic Society, London in 1920; the Tapling Medal in 1944 for articles on Western Australia published in the London Philatelist; and, the award of Member of the British Empire [MBE] ( Figure 3).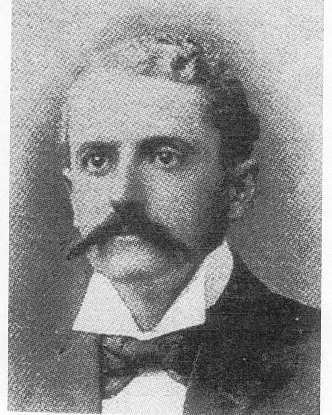 Visitors to his home in Queenscliff, Sydney remember his dining room as a veritable museum holding collections of stamps, coins, eggs, skins, shells and books. Hull died at Manly NSW on 22 September, 1945, survived by his third wife and a son of his first marriage. His portrait is held by the Royal Zoological Society of New South Wales.
The direct quotes are from The Australian Dictionary of Biography Vol 9, pages 401-2. Additional information, including his photograph, was provided by Ellen Peachey of the American Philatelic Research Library.