This illustrated humorous cover was addressed to F.A. PACKER ESQ, House of Assembly, and was stamped with the 1d sideface which was postmarked with a duplex HOBART/ SE 24/ (18)82. The illustration is quite complex and the key figure is a large plump screaming baby, associated with a basin of boiling water, a candle stick, a book of sketches with one sketch lying on the ground, and the fleeing legs of a man. The address is highly stylized with multiple thin streamers and there may be a pipe at extreme left and possibly a long cigarette holder at the fleeing man's feet. The artist is not identified and the meaning of sketch is open for discussion. The vendor gives his interpretation as "an amusing satirical illustration of a famous Packer 'dummy-spit'", a term unbeknownst to me. I am assured it is an Australian colloquial term, interpreted by the Macquarie Dictionary as to throw a tantrum, deriving from the image of a baby spitting out its dummy when it is feeling cantankerous (Figure 1).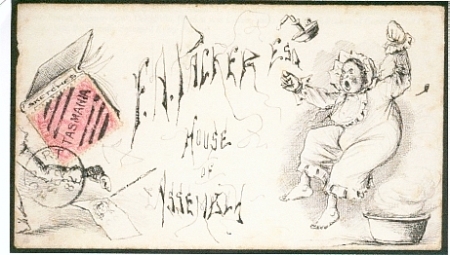 Frederick Augustus Gow Packer was born in Reading England in 1839 the eldest of 12 children, of Frederick Alexander Packer and his wife, Augusta Gow. He has been described as a composer, musician, public officer, teacher of music, instrumentalist, organist and church musician. He first learnt to play the organ in England from his father, Frederick Alexander who was organist at Reading Abbey. Frederick Augustus sang in that Church's choir as a boy, as well at St. George's Chapel, Windsor and the Chapel Royal, St. James, England.
The family migrated to Hobart Town in 1852 and became very active in the musical life of the colony. Packer followed his father as organist at St. David's Cathedral, Hobart and became the city organist mainly because of his successful efforts to procure an organ for the Hobart Town Hall. Packer composed songs, hymns, odes, and comic operas and much of his compositions were published by the Tasmanian publishers, Walch and Sons. He conducted Royal concerts during the visit of the Duke of Edinburgh (the future KE VII) to Australia in 1868 (Figure 2).
His ode The Land of Beauty was performed in the 1894 Hobart International Exhibition by a choir of 400 and an orchestra of 40. In addition to his musical activities, Packer worked as a civil servant, first as a telegraph operator in 1859, later as Clerk to the House of Assembly from 1882 to 1894, preceded by being a Clerk-assistant from 1878-1882. Pictures of him usually show him in clothing befitting his position as the Clerk of the House (Figure 3).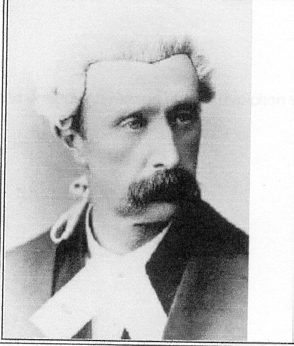 Frederick Packer was acknowledged as one of the most important musicians in the Tasmanian Colony in the 19th century and the volume and range of his published works was quite remarkable. His musical works were recognized in all the Australian colonies, (some becoming long-running 'hits' in Australia), and also in London which he visited (Figure 4).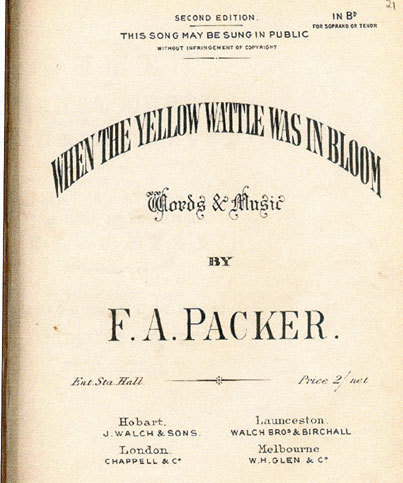 He was married twice in Hobart, in 1869 to Marianne Chamberlain and secondly in 1890 to Clarice Allison. Packer moved in 1895 to Sydney and after a long illness in the Parramatta Asylum he died on 1 August 1902. One of Frederick Packer's uncles was the infamous Sydney composer, Charles Packer and the Australian media tycoon Sir Frank Packer was his grandnephew.
I acknowledge the help of Peter Reardon of the Parliamentary Library, Hobart and my reliance on the Australian Dictionary of Biography Vol. 5, pages 387-8.