This relatively insignificant cover with the 2d red KGV stamp is postmarked OUTER HARBOUR/ 1-P (–) (–)/ 22/ STH AUSTRALIA, and is addressed to C.N. Gale, "Ranelagh", Darling Point Road, Sydney, New South Wales (Fig. 1).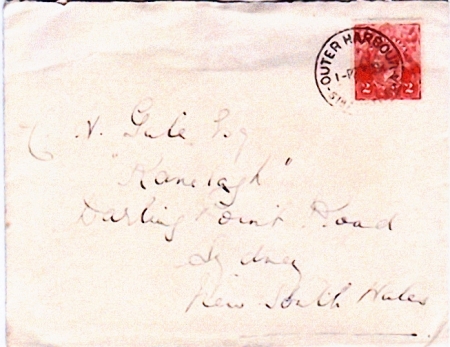 The reverse has no postmarks but the flap is quite intriguing with the flags of 4 shipping companies (from left to right, U.N.Z., B.I., P.& O. and N.Z.) over a rising sun with human eyes, with a latin motto underneath, QUIS SEPARABIT [Who shall separate us?] (Figures 2 & 3).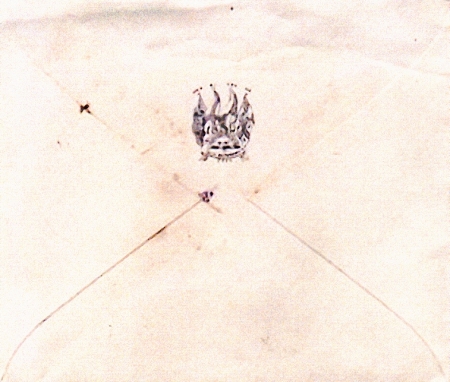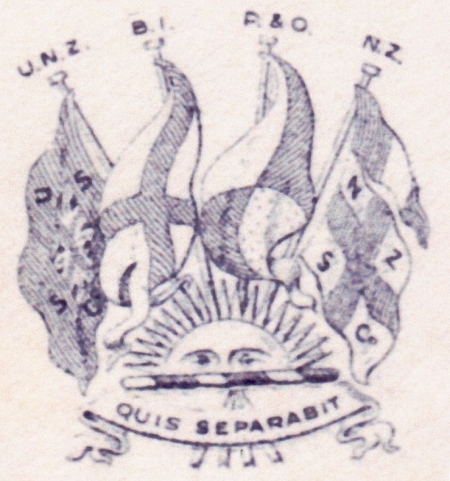 The name of house address is however the most striking feature for it is a prominent home with a significant history. Ranelagh, 3 Darling Point Road, Darling Point is situated at the southern end of Darling Point Road, and it was built by Andrew Lenehan in the 1850's. Europeans settled Darling Point in the early days of the colony in Sydney and it was intended to recognise the wife of Governor Darling, rather than the Governor himself. The land is noted as Mrs Darling's Point in an 1831 field book of Surveyor Larmer. Eventually the title 'Mrs' was dropped from the name in common usage, and the intentions behind the naming of the Point were forgotten.
Darling Point was opened up for residential development in 1833, and became from that time a preferred place of residence for the most successful and wealthy members of Sydney's emerging society. Its reputation as a wealthy suburb and haven for members of the successful remains unchanged today. Re-development and re-subdivision, has led to the original 19th century estates being broken up, and many of the original fine houses demolished. Andrew Lenehan remained at Ranelagh (named after a Dublin suburb) until 1864 when the house was occupied by John Frazer, a company director and parliamentarian.

John Frazer, born in 1827 in Ireland, arrived in Sydney in 1842 where he established a wholesale grocery business, John Fraser and Co., in 1847. By the time that he retired in 1869, the Company was one of the largest mercantile houses in Sydney. He was also involved in land speculation and was noted for his philanthropy. He entered the NSW parliament as an MLC, and remained a member until his death in 1884.

During the 1880s Ranelagh was occupied by another successful business man, the financier and company director James Ewan, chairman of the Australasian Steam Navigation Company and United Insurance Company. He was John Frazer's brother-in-law who became a partner in John Frazer & Co in 1869. Ewan became prominent in Sydney public life, serving as magistrate, a member of the Benevolent Society, and a director of Sydney Hospital.

In 1885 Ranelagh became the home of Julian Emanuel Salomans, who was knighted in 1891, was a distinguished barrister, a member of parliament until his death in 1899, as well as a prominent leader of Sydney's Jewish community. The departure of Salomans from the house in the late 1880s brought to a close Ranelagh's golden age. By the turn of the century it had been converted into a boarding house, and later into a smart guest house until the end of at least the 1950s. In 1967 the house was demolished to make way for the block of units which bears its name. A photo of Ranelagh in 1958 is seen in Figure 4.
I am indebted to an article by David Stanley at the Local History Centre, Woollahra Library, Sydney website.