The cover had three boxed handstamps, 'A/ 32′, '4/ PASSED/ BY/ CENSOR' and a 'SERVICES OF/ PRISONERS/ OF WAR'. It was addressed to The Consul of Switzerland, Section for Italian Interests, "Temple Court". 422-28 Collins St., Melbourne – C. 1. – Vict. (Figure 1).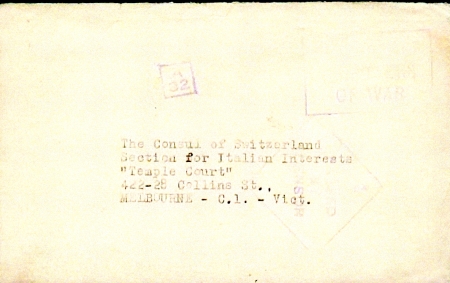 The reverse had an even fainter typed return address of 'THE PRINCE DEL DRAGO/ Camp Leader/ Camp No. 9/ 4th Military District/ SOUTH AUSTRALIA' and a purple boxed '4/ PASSED/ BY/ CENSOR'. The vendor states that Collas records no covers identified as coming from this camp, and described the cover as ca. 1942, as well as of fine quality (Figure 2).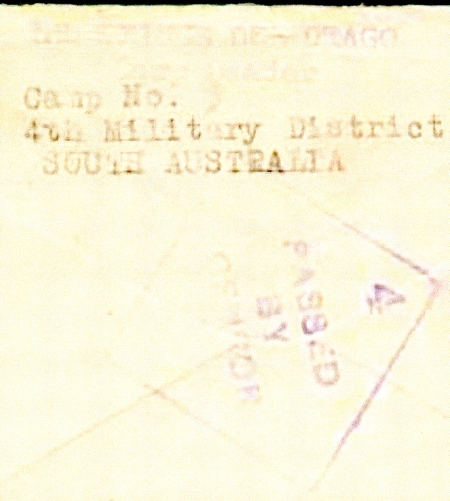 Prince Alphonso Del Drago was born in Rome on 4 October 1882 and died in Sydney on 24 November 1968. He came from a long line of Italian nobility. During WW I he had fought with the Allies against the Austrians and Germans from 1915 until 1918, had been decorated twice and earned the rank of major. When he came to Australia is unknown, but he lived in Sydney, was a member of the Sydney Fascist branch, and was president of the Italian Returned Soldiers' Association. In WW II he was interned at Murchison, Victoria, and he was quoted as saying that he wanted Italy to win the war, but never wished Germany or Japan to share the victory.

He was transferred to the new camp at Hay, N.S.W., where there was room for 2,000 internees and the authorities asked him to assume internal control, for he was the most senior Italian internee, both in rank and age. Nobody knew Prince Alfonso Del Drago's real story, but rumour had it that he had been exiled from Italy because of women and gambling debts. He apparently had a well-known love affair with the widow Baroness Avanzo, and when she transferred her affections to another gentleman, Del Drago challenged him to a duel.

Now at 57, white haired, portly and sporting a Van Eyck beard he was 'in charge' of the Hay Camp. He struck up friendships in the camp and one evening he was playing bridge, excused himself to go to the lavatory, and staggered back with blood streaming from a deep wound, for someone had laid in wait to attack him. The culprit was never discovered, but camp rumours attributed the attack to a disillusioned Fascist fanatic, who was dissatisfied with Drago's neutral political stance. It was not the last act of violence to take place at the Hay Internment Camp.

His last recorded place of internment was in South Australia in December 1943, and many Italians had been released that year. The No. 9 Compound at Barmera was closed and the remaining Italians still interned were transferred to No.14D Compound in the Loveday Internment Group, South Australia. The photograph shows the Compound Leader Prince Alphonso Del Drago, the last Italian, leaving the No. 9 Compound (Figure 3).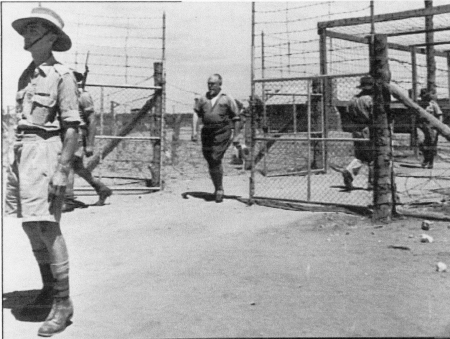 Prince Alphonso was acknowledged as the most distinguished Italian internee in Australia.  He had the 'honour' of being the only internee whom the Italian Government attempted to exchange with Australian prisoners in its custody.  But since Italy did not hold as prisoner or internee an Australian considered of sufficient importance, no exchange took place!

I am indebted for the information in two articles by  Dr. Gianfranco Cresciani, one article by Diana Grollo, and for Figure 3 from the Australian War Museum.