CODED MESSAGE: WINGHAM to TINONEE, N.S.W., POSTCARD: MANLY BEACH
The coloured postcard of Manly Beach, Sydney has a red 1d 'Shield of New South Wales' stamp postmarked with the rays numeral '123' of Wingham, New South Wales (Figure 1).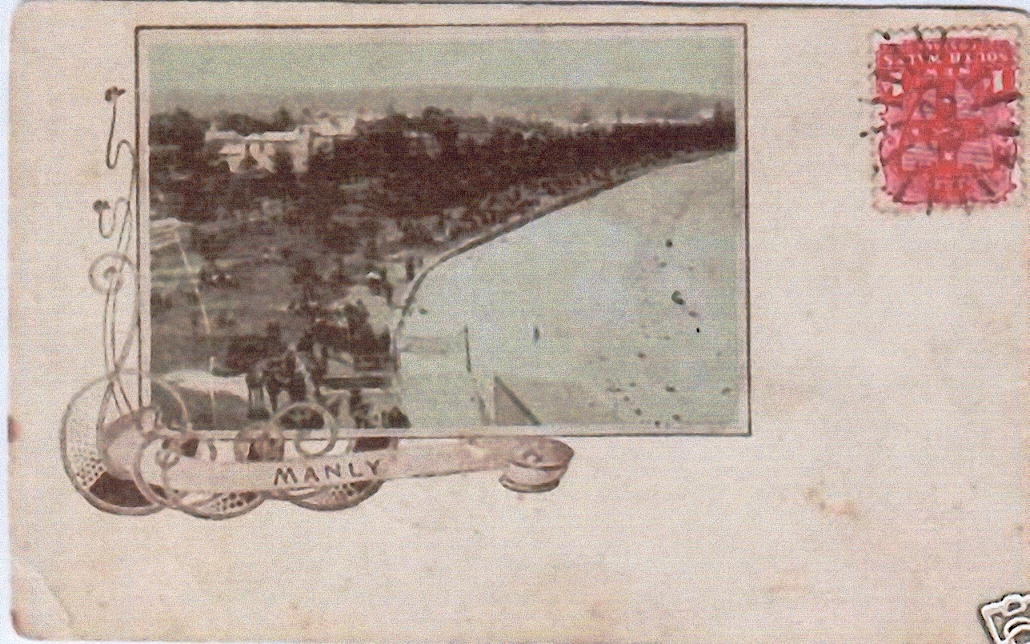 The reverse message is a total surprise to the vendor and myself for it is written in an alphanumeric code, which may be difficult to 'crack'. It was sent to a Mr. H. Gollau Jr. (Gollan?), a presumed teenager addressed at Post Office, Tinonee, N.S.W. It has a clear reception postmark of TINONEE/ MR 22/ 1906/ N.S.W as well as the originating postmark of WINGHAM/ MR 22/ 1906/ N.S.W. The sender is identified as 'Maud' perhaps another teenager, and the code would probably defy the parents' interpretation (Figure 2).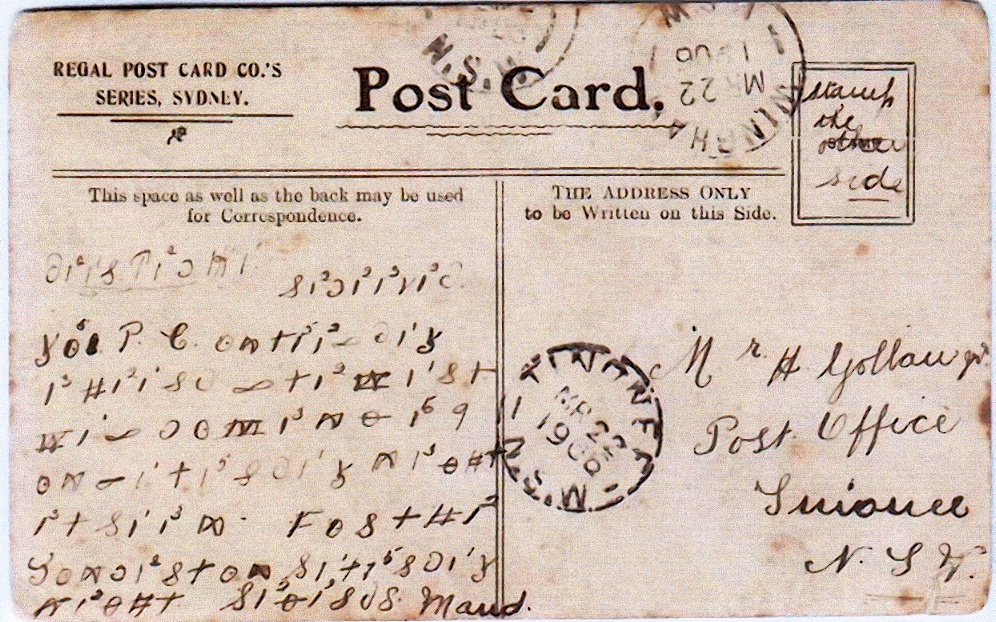 The two towns of Wingham and Tinonee are less than 20 km apart. Are there any code experts out there who can 'crack' the code?
Addendum (August 2010): The above short paper with the coded message was entered into the website in September 2009. I have received an email from Jill Brown, as follows:
"Just had a reply from a friend of mine that lived opposite the Gollans house in Tinonee. She has written that the H is Hector and he was the son of Captain John Gollan. She believes Hector built the house that her family lived in and that they operated a shipping business across Winter Street ( in Tinonee). There are still Gollans living in Tinonee. But alas she does no know what the code is."
In the years when the rivers were the roads, Tinonee was the heart of the Manning River and majestic sailing ships plying the river were an everyday sight as Tinonee buzzed with commerce and industry.

Around 1860-70 Tinonee had five hotels, a post office, flour mill, sugar mills, sawmills, three churches, blacksmith shop, broom factory, bakery, newspaper, office, hospital, school, bacon factory, brick kiln, butchery, bank and of course, Captain Gollan's shipyard. These were the base of a thriving community!

Surveyor Henry Carmichael completed the design plan of Tinonee on November 21, 1853. Gazettal of the site of Tinonee was on March 24, 1854.


QUICK, A.C., MARINER/CARTOONIST, CHURCH SQUARE, GUERNSEY, CHANNEL ISLD
This cover was seen on Ebay on sale by a vendor in England, and it was described as follows: "A scarce long vertically llustrated cover from a mariner (who was also a ships artist) to his wife in Guernsey. Franked 4d (pair 1d red swan & single yellow swan stamps of Western Australia, postmarked from Port Headland(s) (sic), correct Port Hedland, OC 12 05 (Figure 1).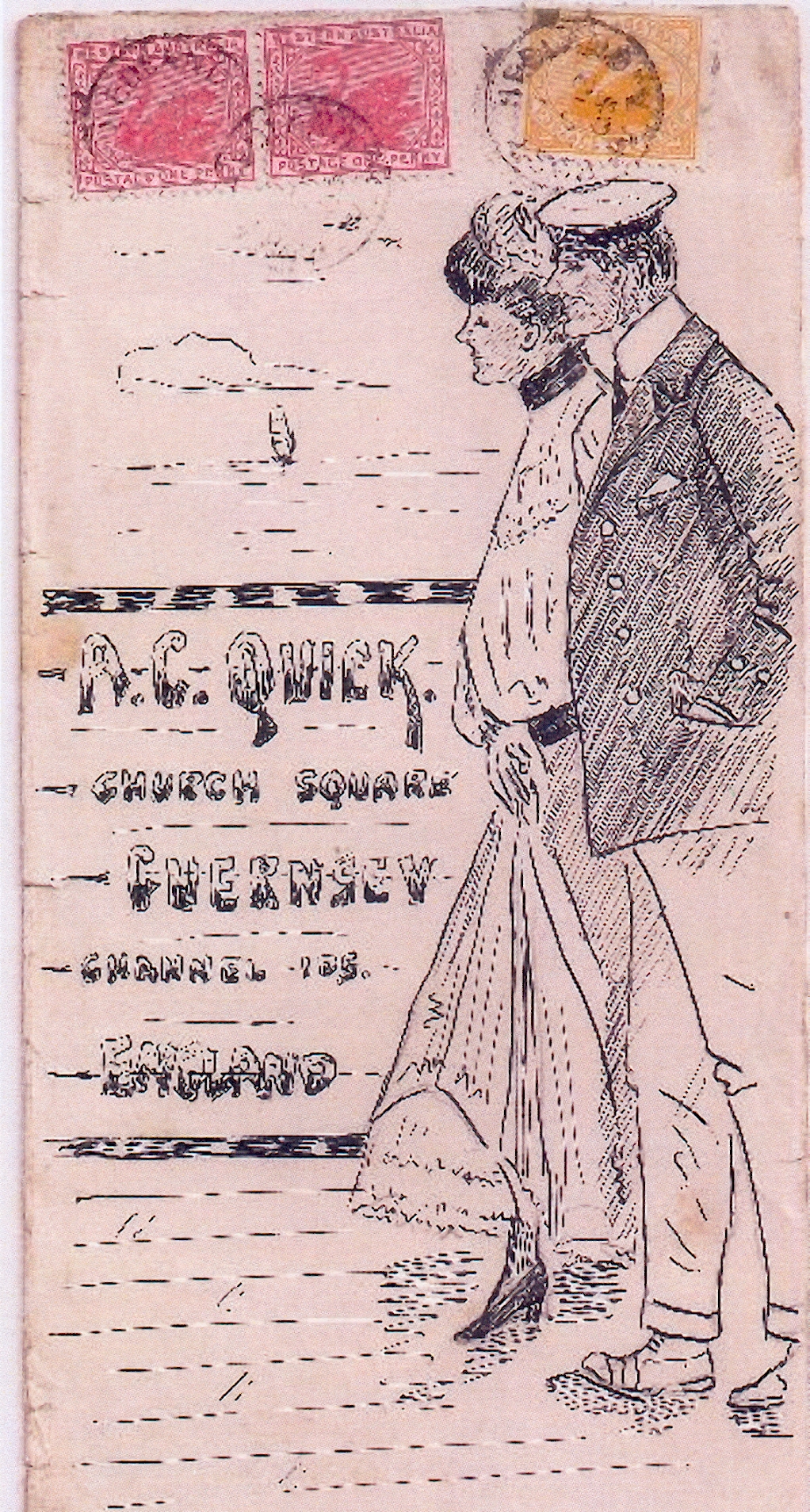 Perth transit postmark (19 OC) on the reverse, as well as a Guernsey receiver postmark NO 19 05, and there was an unsigned ink drawing of a dapper man and a well dressed woman presumably walking along the beach (Figure 2).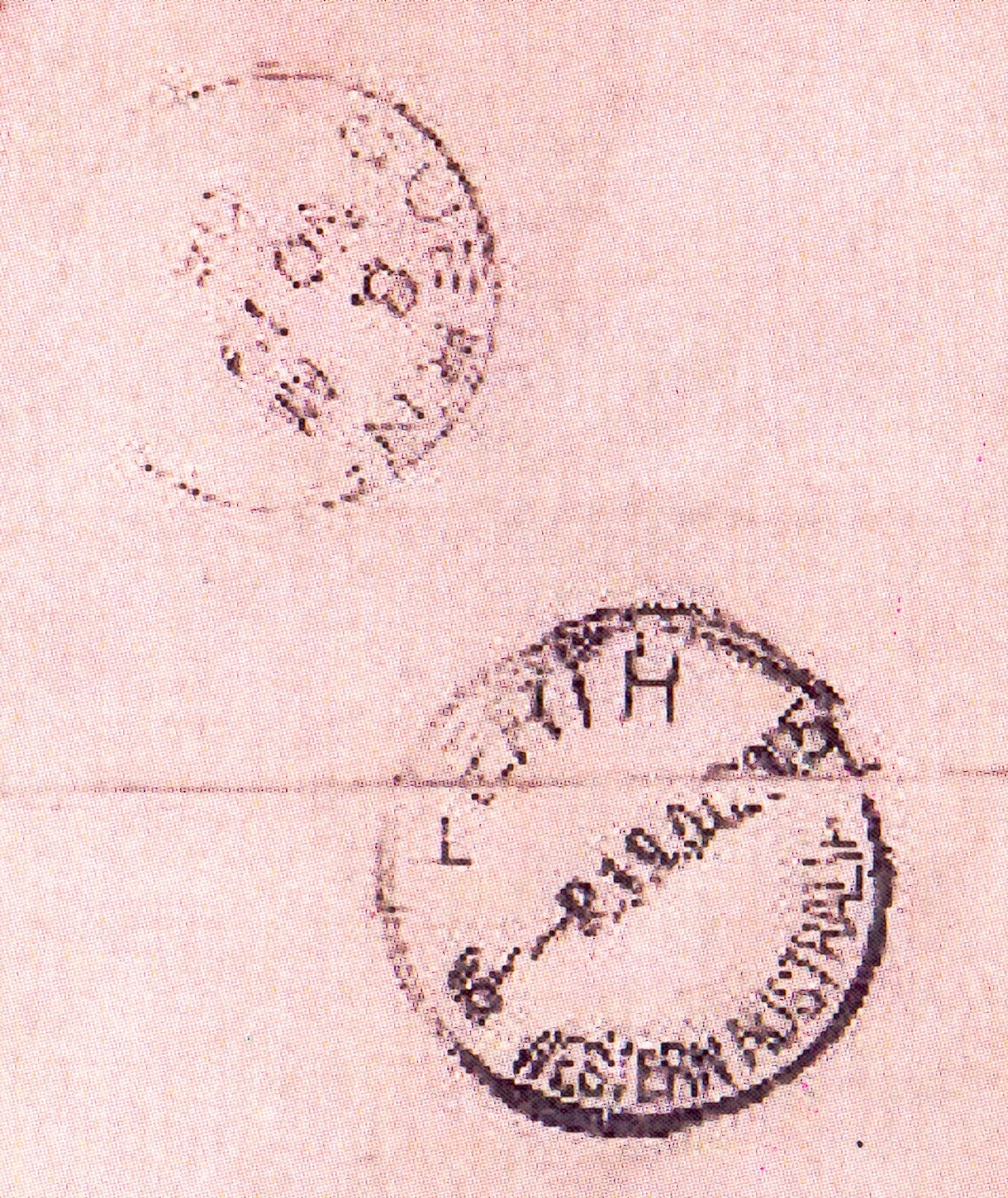 To date (March 2011) only one item was found mentioning an A.C.Quick at Church Square, Guernsey, Channel Isds, England. This was a Google book entitled TRANSACTIONS of the GUERNSEY SOCIETY OF NATURAL SCIENCE and LOCAL RESEARCH, VOLUME III 1895-1899. Gurnsey: Richards Printing & Publishing Company, Ltd., Bordage Street. 1900 (Figure 3).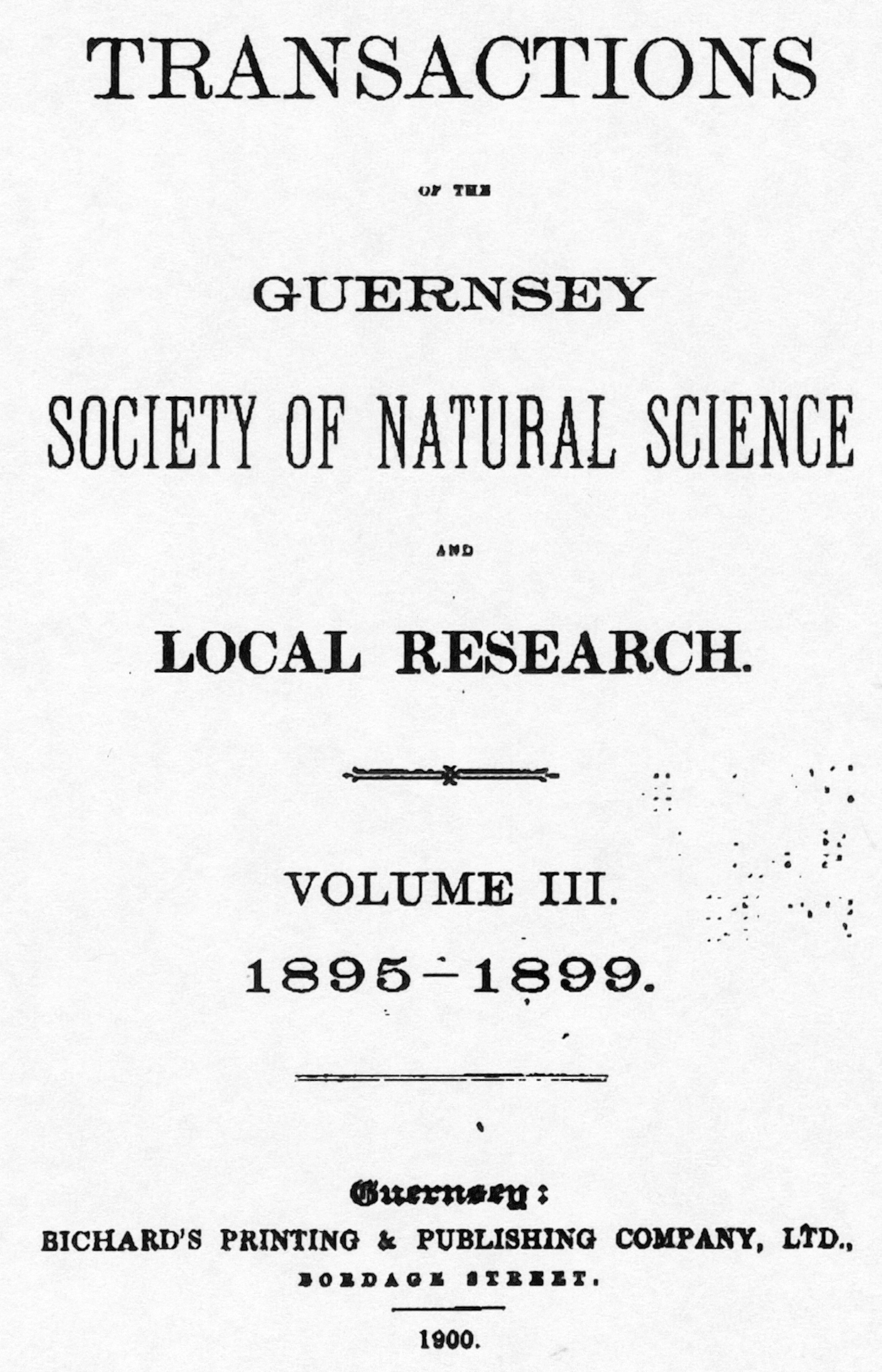 There was an entry in this book as follows: "Canichers. Quick, Mr. A.C., Church Square, in the list of members of the Society (Figure 4).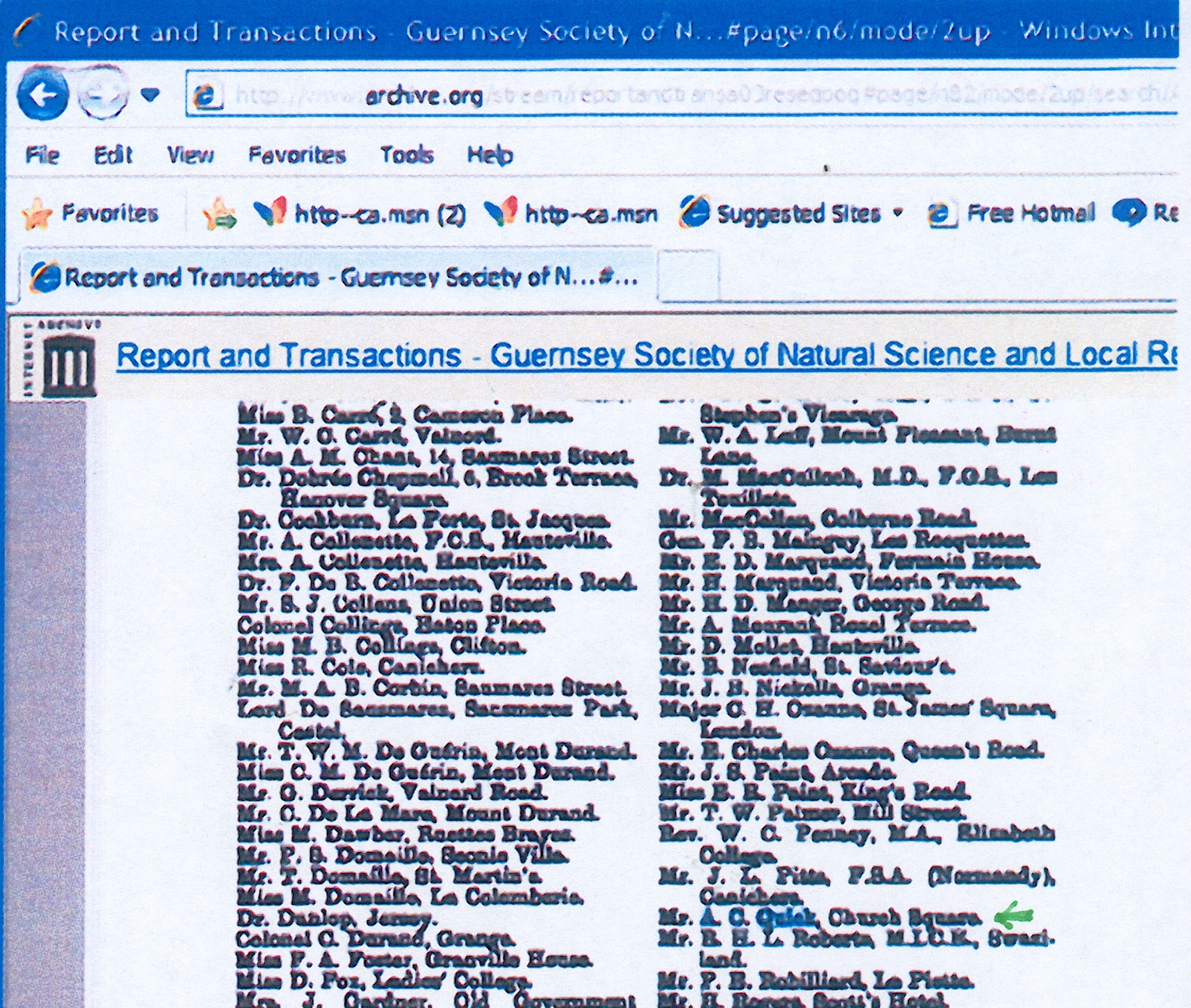 I would be delighted if readers of this short paper could provide futher information on Mr. A.C. Quick and his wife, and their relationship to the cover from Port Hedland.
RAILHEAD P.O/ R.M.1., REGISTRATION LABEL: 'TRAV P O/ AIF' in PALESTINE
I need help with this cover as I don't have access to the book which may give me more information about this interesting postmark and registration label. The blue Australian 3d KGVI head stamp is postmarked RAILHEAD P.O/ -1 AU 40/ R.M.1. The blue registration label R/50 has a typed Trav P. O/ A I F / 780, and the other significant postal marking is a red boxed PASSED BY CENSOR/ [crown] No. 606, with 2 manuscripts 'XXX' and 'No 24', both of dubious importance. The cover is addressed to a post office box, at the Sydney suburb of Chatswood, N.S.W. The reverse was not seen (Figure 1 ).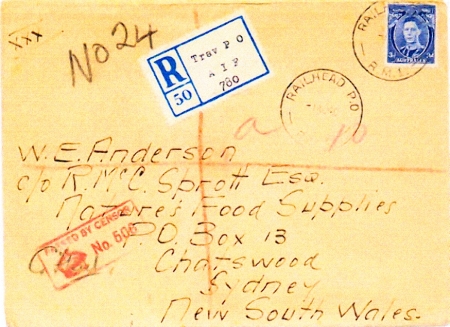 Figure 1: Click to Enlarge
The vendor describes the cover as follows: Australia. 1940 (Aug), military in Palestine. Railhead PO RM1 postmark (Proud records this for only about 4 months) and typewritten Trav PO AIF R-label on registered cover to Australia. US$180. The book referred to is Proud Bailey's Australian Military Postal Services 1914-50. Actually it gives the dates of use as 3.6.40 until 15.10.40.
The meagre information I found on the internet was as follows: The 6 Australian Infantry Division was formed in Australia in October 1939 and was sited in Melbourne until January 1940. It set sail on 11 January 1940 and was at the Suez Canal Egypt, followed by Qastina Palestine, then Gaza Palestine and from 12 August 1940 until 01 September 1940 at Deir Suneid Palestine. You will note that this cover is dated 01 August 1940 an earlier date than that in the above book, and I suspect that it originated from the Deir Suneid region in Palestine. The Division was again reformed in Palestine during June-July 1941.
The reason for linking it to this cover to the Deir Suneid region in Palestine is because of another cover which was offered by the Yorkshire Cover firm in their Auction #76, held on August 27 2005 and unfortunately a picture of the cover was not shown, but the description was as follows: (Lot) 1059, 1941 July airmail censored cover Railhead PO RW1 Deir Suneid to Australia at 9d rate. This strongly suggests that this postmark was used for a second time period when the 6 Australian Infantry Division was again re-formed in Palestine.
The village of Deir Suneid (shown with a red arrow) situated in the Gaza strip is shown in a map of Palestine produced in August 1948, and the village is approximately 7 miles NNE of Gaza City (Figure 2).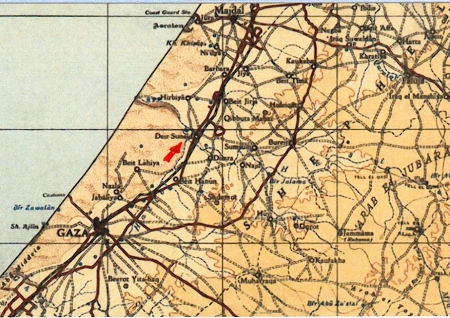 Figure 2: Click to Enlarge
I am completely out of my depth with this cover and I present this information in the hope that readers can put me right.
Addendum: A second similar, but different cover, has come to light. It is an AIR MAIL LETTER CARD which has a blue 3d KGVI head stamp postmarked with a partially visible RAILHEAD P.O./ date obscured/ R.M.1and it has a purple PASSED CENSOR/ [crown]/ No. 3165 all within a triangle as well as a mss. signature. The addressee in Grafton N.S.W. has not been identified. The knowledgeable seller describes it as "PALESTINE 1941 on a blank country type air mail letter card with RAILHEAD P.O. R.W.1. cancel dated 14 AU 41. This canceller was in use at Deir Suneid Stationery Office in the Australian Lines of Communication." On questioning him about the R.W.1 and asking whether this should have been R. M. 1., his answer was as follows:
"There were two RAILHEAD postmarkers, RM1 was lost in the Greek campaign. Therefore at the time of the air mail letter cards the only canceller was RW1. Looking at the cancel more closely, I am unsure as to the exact date, and I will amend the listing. It is not 14 August (written on the face of the 'AMLC') [in pencil]. as there is a clear 17. It has to be after 15 July 1941 when the 'AMLCS' were introduced. It could be that the date is later in 1941, but I think that the correct date is 17 Aug" (Figures 3 & 4).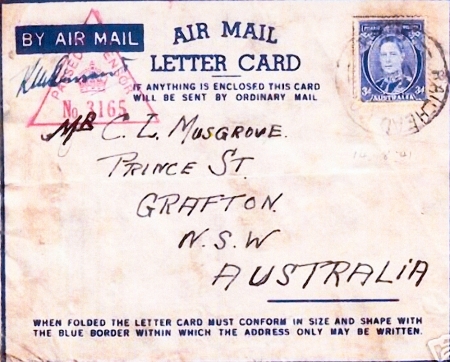 Figure 3: Click to Enlarge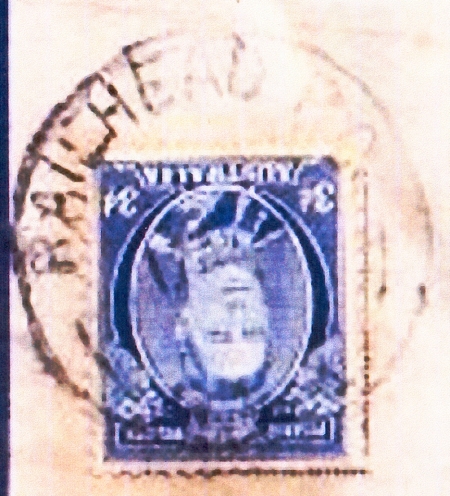 Figure 4: Click to Enlarge
An enlargement of the RAILHEAD P.O. postmark in the first cover is shown in Figure 5.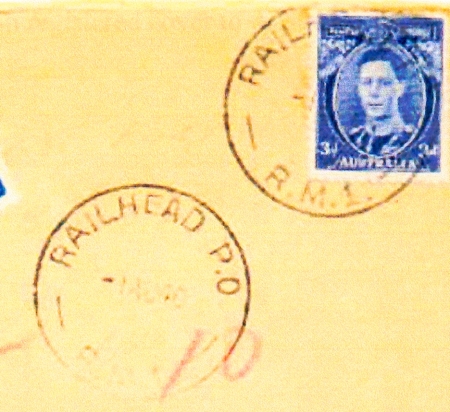 Figure 5: Click to Enlarge
And, a drawing of the same postmark is shown in Figure 5A.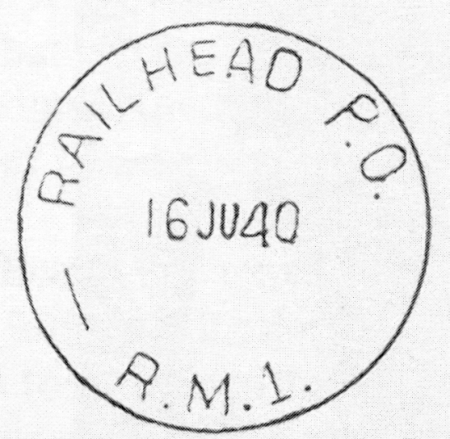 Figure 6: Click to Enlarge
I acknowledge the assistance of Russell Stern, Sydney in the description of the second cover.