'PROF'. A. V. SEGNO, AMERICAN INSTITUTE of MENTALISM, LOS ANGELES
The first cover has a black G.P.O. Registration Label of Melbourne and the blue 2½d and orange 3d stamps of Victoria are cancelled REGISTERED/ 1 30P 15 AU 11/ MELBOURNE. It is addressed to Prof. A. Victor Segno, Inspiration Point, Echo Park, Los Angeles, Calif. U.S.A. Station E. The reverse was not seen (Figure 1).
More Information ...
---
A BEVY OF AUSTRALIAN POSTAL CURIOSITIES
The first cover I suspect may have been philatelically contrived by the unidentified sender. It is addressed to Mr. Walter George Rendall, Artist, Goulburn and Goulburn is crossed out probably by the sender and G. P.O., Sydney has been added. A vertically joined pair of two partial blue Two Pence 100 Years of N.S.W. stamps have been cancelled with a SYDNEY/ JU 15/ 6 30 P.M/ 91/ 27, N.S.W duplex, and a manuscript '2d' has been added probably by the sender. An indistinctly cancelled 2d green N.S.W. postage due has been added, and it is difficult to confirm with certainty that the postmark 'ties' the due to the envelope (Figure 1).
More Information ...
---
A BEVY OF AUSTRALIAN POSTAL CURIOSITIES, PART 2
This follows on from the original paper with the same Title of Australian Postal Curiosities. During World War 2, the Allies printed enormous amounts of propaganda, most of which was dropped over the Axis enemy lines. In addition, private individuals printed 'Patriotic labels' which could be placed on mailed covers.
More Information ...
---
AH TOY'S CHINESE GARDEN, NORTH RICHMOND, VICTORIA
An unclaimed cover in 1882 turned out to be a revelation of Australia's past history, of which most Australians are not proud. A long cover with a green 1d Victoria stamp was postmarked with an incomplete RICHMOND/ VICTORIA, barred numeral '71' duplex. The cover was addressed to Mr. Ah Toy, Chinese Garden, Appleton St., N. Richmond. There were 2 other markings, an indecipherable manuscript (denoting a form?) and a purple boxed 'UNCLAIMED AT/ RICHMOND' (Figure 1).
More Information ...
---
AN AMERICAN in MELBOURNE: LETTER to HIS SCHOOLGIRL, SISTER
This cover was bought on E-bay for sentimental reasons only, and when I received it I was surprised to find a letter in it. The contents were not historically exciting, but it did provide information that was of interest. The reason for buying it was for the Menzies Hotel Melbourne insignia on the reverse of the cover, as it provided memories of the second night of our honeymoon, when we stayed there on November 12, 1954. The size of the bathroom was huge enough to accommodate a ping-pong table, something we will never forget!
More Information ...
---
AUSTRALIA & THE EARLY SWEDISH CONNECTION
I was surprised to learn of the past and present Swedish connection with Australia when I came across a very ordinary cover on Ebay listed as an advertising cover. It hardly lived up to expectations for the very plain commercial cover with the 3½d KGVI stamp was sent from Sydney in 1952 to a firm in New Zealand. An address for return was given as 'SWEDISH CHAMBER OF COMMERCE, SYDNEY (Figure 1).
More Information ...
---
AUSTRALIAN BANK to CALCUTTA BANK with FRENCH CONNECTION, 1899
This 1891 1½d overprint on the 2d Victorian postcard with the red 'UNIVERSAL P0STAL UNION' overprint, deletion of the 'FOR THE UNITED KINGDOM' and 'by the long sea route' came about when Victoria joined the U.P.U. As a result cards could be sent for 1½d to any member country of the Union, which by then comprised most of the rest of the world. It is addressed to the Manager, Comptoir National d'escompte de Paris, it is postmarked MELBOURNE/ 50/ MR 1/ 99, there is a transit mark of TUTICORIN/ 16 MA./ 99/ (India) and a reception mark of CALCUTTA/ 20 MA. 99 (Figure 1).
More Information ...
---
BARRACLUFF'S OSTRICH FARM, DIAMOND BAY, SOUTH HEAD, SYDNEY
Every now and then a postcard speaks to our family personally. It was late1950's and we bought our first home. One of our 3 sons was born whilst we lived there. It was a bungalow built on rock with 8 inches of sandy topsoil. Its address was 8 Marne Street, Vaucluse, but the locals called it Diamond Bay. It was perched high on a massive rock formation with glorious views of the Pacific. Within 10 years the back gardens of homes across the road subsided and the homes were evacuated. Another battle of the Marne. Our close neighbours slept in a historic cemetery. The milkman from Peel's Dairy, on his horse-drawn cart delivered bottles of cream-laden milk. His horse made valuable deliveries at our curb. We had no inkling of Barracluff's Ostrich Farm.
More Information ...
---
BENJAMIN KANE, INSPECTOR of NATIONAL SCHOOLS, MELBOURNE (1834-72)
This stampless entire was addressed to Benjamin Kane Esquire, Acting Inspector of National School Board, Melbourne on 28 April 1853. It was sent from Lake Colac, as shown by the framed red 'PAID/ LAKE COLAC', and was rated by a manuscript red '2' (2d being the inland letter rate)as well as the manuscript 'Free'. The reverse (not shown) had back-stamps of Colac and Melbourne (Figure 1).
More Information ...
---
BOYD'S CITY EXPRESS MESSENGER COMPANY PTY LTD. [USA]
Three examples of this company have appeared at one Melbourne stamp auction company over several years. The messenger company was first established in New York in 1830 by John Boyd, initially as a service for tradesmen to deliver hand-bills. In 1844 it became a local post competing with Governmental postal services and it continued in this form until it was suppressed in 1883. After the service was closed by the U.S. government, Fitz A. Boyd a grandson of the founder, migrated to Australia and ca.1888 he became associated with H.S. Havling, the manager of the Express Messenger Company in Melbourne.
In 1894 Boyd became the manager of the company which went through multiple name changes over the years and Boyd was still associated with the firm until 1915, although usage of the firm's stamps is not recorded after 1910. The exact date of issue of the first local stamp by the CITY EXPRESS MESSENGER CO. LTD. is not known, but it probably was 1894 when Boyd gained control of the firm. The American influence on the design of the stamp is obvious.
The first cover ca. 1894 shows the design of the green 'CITY EXPRESS MESSENGER/Co. Ltd/ DESPATCH STAMP' label (with a variety of a white line joining the 'X' with middle bar of the 'E') and is uncancelled, as is often the practice, is seen on the front. On the flap (not shown) EXPRESS MESSENGER SERVICE was embossed (Figure 1).
More Information ...
---
COVER from SYDNEY to NATIONAL GEOGRAPHIC, HUBBARD MEMORIAL HALL
The printed registered cover with the pre-printed violet 4½d KGV head stamp ('A.C.S.C. RE 13' issued 1925 has been uprated with the red 1½d KGV head stamp and both have been cancelled with a GLEN INNES/ ( --- )/ N.S.W postmark. The front also has a transit REGISTERED/ F/ 27 JA 28 B/ SYDNEY N.S.W. as well as a double oval transit NEW YORK, N.Y./2-21/1928/ REGY DIV. postmark. It is addressed to Mr J.J. Edson, Hubbard Memorial Hall, Sixteenth & M. Streets, Washington D.C., U.S.A. (Figure 1).
More Information ...
---
DELAYED ESPERANTO WWI COVER from KINGAROY QLD to TEHERAN PERSIA
I have seen surprising number of Australian covers and postcards posted interstate and particularly to the USA, but this one must be a relative rarity. It has a total postage of 2½d made up of a pair of red 1d KGV heads and a single green ½d KGV head postmarked with three copies of the KINGAROY/ T-12 NO 17/ QUEENSLAND [Type 1t (i)]. The cover is addressed to 'Ia Esperanta, Teheran, Persia and there is a manuscript arabic notation written in indelible pencil, and there is a red OPENED BY CENSOR label folded over the left border (Figure 1).
More Information ...
---
EDWIN J. DINGLE, PRECEPTOR EMERITUS, INSTITUTE of MENTAL PHYSICS, L.A.
Perhaps I should start a new category for 'Unusual People To Whom Australians Write', for 'People' or 'Miscellaneous' do not do justice to this man. The cover has an advert for The Grosvenor, the leading Private Hotel, Adelaide, S.A. Opposite Railway Station. The pair of green 1d Q.E. stamps are cancelled with a roller ADELAIDE/ 430AM/ 28 MCH/ 1941/STH AUSTRALIA with the slogan AIR MAIL/ SAVES TIME. It is addressed to Edwin J. Dingle F.R. G. S., Preceptor Emeritus, Institute of Mentalphysics, Second & Hobart Blvds(?), Los Angeles, California, U.S.A. The reverse was not seen (Figure 1).
More Information ...
---
ELEANOR LANCASTER SHIPWRECK, NEWCASTLE MEDAL, & DR. W. SWAIN
NOVEMBER 7, 1856
When I first considered this paper I could not find any information on the addressee of this letter, so I decided to discuss this ship which had a short but interesting sailing history, with journeys to and from Australia, and finally its demise on the coast of New South Wales. Its association with Australia is shown on this cover which is addressed to W.D.P. Swain Esq, Barque Eleanor Lancaster, Port Office, Sydney. It has a 2d blue imperforate stamp, the first N.S.W. stamp with a portrait of the young Queen Victoria, issued initially in 1851. The reverse was not shown on eBay, but the vendor states that the cover was dated 1852 (Figure 1).
More Information ...
---
EMPIRE DAY, CORONATION DAY & THE AUSTRALIAN WOMEN'S NATIONAL LEAGUE
This colourful 1911 Australian Women's National League fold-out illustrated "A Souvenir of Empire" letter-sheet promoting both Empire Day and Coronation Day, had a printed history of the Union Jack flag within, and the green ½d 'Bantam' entire was used at Melbourne and posted to Middle Brighton, Victoria. This was an example of the scarce ½d solo stamp use for the printed matter rate, legal in the British Commonwealth (Figure 1).
More Information ...
---
FELIX AUSTRALIA MASONIC LODGE: AUSTRALIAN FREEMASONS
Two covers addressed to the Australia Felix Lodge were found, both very early in their founding. The first was a December 1840 entire addressed to the Worshipfulful Master of the Lodge of Australia Felix, Melbourne with a ms. Per Clonwell with a GPO backstamp and it was rated '4' and it had an oval postmark MELBOURNE/ [crown]/ JA 14/ 1841/ NEW S. WALES. This was one of 3 recorded covers from the wreck of the Clonwell which ran aground at Ninety Mile Beach (Gippsland) on 3/1/1841 (Figure 1).
More Information ...
---
FRANCIS CADELL, NAVIGATOR/ ENTREPRENEUR, & MURRAY STEAMERS
The first reference to Francis Cadell and Murray steam navigation I could find was surprisingly in The Courier (Hobart, Tasmania) on 9 October 1852. Page 3. He was described as "Captain Cadell of the Queen Sheba, with four successful gold-diggers, has sailed in a canvas boat on the Murray as far as Swan Hill, a crossing place on the upper Murray, distant 120 miles from the gold fields of Bendigo. The gallant explorer expresses himself most sanguinely as to the possibility of navigating a steamer up to the Swan Hill, which is a distance of 1300 miles by the river, and from whence the road to Mount Alexander is an excellent one. At Swan Hill the river is 150 yards in breadth, quite free from obstructions, with a depth of quarter less three fathoms.... The settlers in the districts of New South Wales and Victoria bordering upon the Murray and its tributaries have freely offered to supply sufficient fuel in the vicinity of their several stations." He mentions that a small steamer is being built to be launched on the Murray and it is soon to commence her first voyage towards the Victorian diggings (Figure 1).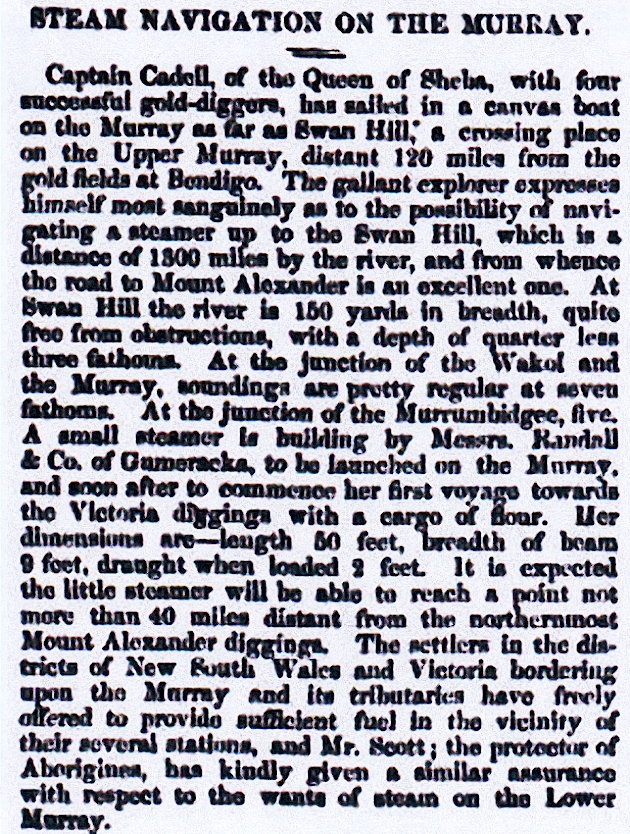 More Information ...
---
GOV. PHILLIP & CINDERELLA STAMPS for AUSTRALIA'S 150TH ANNIVERSARY 1937-38
Two covers appeared on Ebay displaying in total, on the two covers, the 15 different designs of the cinderellas stamps that are derived from a sheet of 30. The format of the sheet was six horizontally and five vertically, with the same order repetition of the first and last three stamps in each horizontal row of six (Figure 1).
More Information ...
---
HENRY UPTON ALCOCK: 'FATHER' OF THE AUSTRALIAN BILLIARDS TRADE
Two registered covers were found advertising Alcock & Co., Billiard Table Manufacturers, 213 Russell Street, Melbourne and it also listed their addresses in the other colonies. The first had 2 QV stamps of Victoria (1d &2d) as well as the green 'TWO PENNY' Boer War Charity stamp, with a large 'R' in a circle handstamp, and the postmark REGISTERED MELBOURNE/ PM/ 2/ 27.6.00. The reverses was not seen (Figure 1).
More Information ...
---
HUMPHREY OXENHAM, BOOKMAKER/GAMBLER, RIVAL of GEORGE ADAMS, & HORSE RACER
This registration cover has a printed 'Four Pence Kangaroo on Map of Australia' stamp canceled with a BOGANGATE/ 19 AU 14/ N.S.W as well as a red Registration label of Bogan Gate N.S.W. No. 281, and it is addressed to Mr. H. Oxenham, Tattersalls Club, Sydney (Figure 1).
More Information ...
---
JACK'S DAY, NAVAL FORCES CHARITY, & 3 KNIGHTED BANKER -TREASURERS
This unusual cover reveals a World War One charitable fund for naval personnel and their families which was started on November 1, 1918 and which ran for several weeks in Australia. The cover has a green ½d and a red 1d KGV Head stamps postmarked with a patriotic roller cancel, HELP TO WIN THE WAR. The stamps partially obscure a printed blue "JACK'S DAY"/ By Authority of the Department of Repatri(ation)/ A FUND TO HELP THE MEN OF/ THE NAVY AND THE MERCANTILE MAR(INES). It has a caricature of a smoking sailor over JACK'S DAY/ NOV 1ST,1918, and the cover is addressed to Little Jack, 5 Hugh St, Ashfield (Sydney). The return address is listed as Dalton House, Pitt-street, (5th Floor), Sydney, and it has a ms. '31/10/ 1918'. The reverse was not seen (Figure 1).
More Information ...
---
JOHN CAMPBELL PTY. LTD., ELECTRIC POTTERIES, LAUNCESTON
With a modest stretch of imagination the label could be classed as postal ephemera, and it did appear several times on eBay Australian philatelic auctions. It was a label to be affixed to boxes posted with breakable Pottery Ware (Figure 1).
More Information ...
---
JOHN & ANN FRASER BON, WAPPAN STATION, DELATITE RIVER
This inward bound letter had three stamps from England postmarked with a duplex of LONDON-N/ X/ NO 25/ 60 with a barred obliterator N/ 16 addressed to John Bon Esq, Wappan, Delatite River, Melbourne Australia (Figure 1).
More Information ...
---
JOHN WREN (1871 - 1953), SELF-MADE MAN, LOCAL HERO & SCOUNDREL
This cover leads into a remarkable story told in a total of 4½ pages in the on-line Australian Dictionary of Biography (A.D.B.), a length of biography uncommon for a man of his ilk (a page more than for Ned Kelly). The front shows that it is addressed to John Wren Esqr, Bourke St., City (Melbourne). The 1d rose Victoria 'Postage' stamp is postmarked with an unframed sixth duplex SOUTH YARRA/ 1/ AU 18/ VICTORIA, with the barred numeral '200'. It is endorsed by red pen 'Delivery prohibited/ [initials] 20/ 8/08 (Figure 1).
More Information ...
---
JOSEPH ROWE's AMERICAN CIRCUS in MELBOURNE in the 1850's
This 1855 letter was addressed to a circus but unclaimed by the addressee and it was accompanied by a Post Office List which was advertised in the Melbourne Morning Herald of March 10, 1855. The letter had an orange-yellow 6d 'woodblock' stamp of Victoria postmarked with a barred oval '2 over V' of Geelong and alongside there was a red butterfly cancel '14 over V' . It was addressed to Mr. Jones, Rowes Circus, Melbourne and there is a red handstamp 'ADVERTISEMENT/ AND/ UNCLAIMED, a rating of a manuscript '2' as well as a manuscript 'Gone away', with 'M A' initials. The figure '28' refers to the number used in the Post Office List as seen in the next figure, after Figure 1.
More Information ...
---
LAWRENCE ADAMSON, HEADMASTER of WESLEY COLLEGE, MELBOURNE
The orange brown One Penny 'Reading' postcard on yellow stock was cancelled with a duplex MELBOURNE/ 16 S/ JE 10/ 91 with a VICTORIA obliterator, and it was addressed to L.A. Adamson Esq, Wesley College, Prahran (Figure 1).
More Information ...
---
LETTER from a CONVICT to the GOVERNOR of TASMANIA, 1858
The entire raises more questions than answers, for aspects of the letter are in doubt, particularly the name of the convict, but the story is worth reporting. The vendor describes it as follows: "1858 (16th Nov) entire from Port Arthur to Newtown, Hobart from the convict John Lester to the Governor of Tasmania appealing for a reduction of his sentence, franked with (the imperforate blue) 6d tied by barred numeral '61' at Hobart, a fine strike of the rare 'PRISONER'S LETTER (crown) PORT ARTHUR', additional handstamp 'C.G.O./ 1 DEC 1/ 1868 (actually1858)/ RECEIVED'. A desirable exhibition item (AU) $8500". Other information is clearly visible "The Honble. ?J Burgess MLC, Newtown by Hobart," signed by an illegible 'Civil Commandant'. The C.G.O. handstamp is for the Comptroller-General's Office (Figure 1).
More Information ...
---
LETTER to the MAYOR of St. KILDA, VICTORIA 1904
This cover as a single folded sheet has a Victorian 1d red 'Postage' stamp postmarked with St KILDA/ B/ JA 11/ 04/ VIC and a reception roller postmark of MELBOURNE / 11 JAN/ 3 15 PM/ 1904/ VICTORIA. It was addressed 'To His Worship, The Mayor of St Kilda, Town Hall, St Kilda (Figure 1).
More Information ...
---
LETTER to KATE MULLIN, HOME for INCURABLES, ST. JOHN, N.B.
The letter was sent "Per 1st Steamer" with the indigo blue 2½d 'POSTAGE' stamp postmarked Melbourne 10 / PM/ 3 30/ 30.6.03, and was addressed to Miss Mullin, "Home for Incurables", Wentworth Street, St. John, New Brunswick, Canada (Figure 1).
More Information ...
---
MELBOURNE to OTTAWA, CANADA LETTERS: MUTUAL FORESTRY INTERESTS
Three covers appeared on Ebay demonstrating a mutual interest in forestry both in Australia and Canada. The first cover was a spectacular advertising cover from a commercial firm with a fine franking in red, the advertisement showing a pictorial stand of trees and the text of 'INVEST IN TREES, Your Money Grows, Afforestation (Aust.) Pty. Ltd., 413 Collins St. Melbourne', associated with a double circle MELBOURNE/ 2 V 32/ VIC and 2 copies of the POSTAGE PAID 1d W7 AUSTRALIA printed stamp. It was addressed to the Manager, Canadian Foresty Association, P.O. Box 746, OTTAWA, CANADA (Figure 1).
More Information ...
---
MESSRS. SAINTOIN FRÊRES, NÉGOTIANTE, ORLÉANS, LOIRET, FRANCE
The cover has a strip of four green 6d 'Chalon' Queensland stamps cancelled with four duplexes of BRISBANE/ JA 20/ 1867/ QUEENSLAND and it is addressed to the Saintoin Brothers Company, Merchants, Orleans, Loiret, France and there are two illegible transit &/orarrival French cancels, one in blue and the other in red. There is a manuscript at the bottom of the cover 'Pour remettre a —— Gaujaro, tiné', and the reverse was not seen (Figure 1).
More Information ...
---
OPENING of the SYDNEY HARBOUR BRIDGE 19 MARCH 1932
The stamps commemorating this event were issued on the 14 March 1932, with the two red 2d stamps (single line perf. 11, for the unwatermarked recess print and comb perf. 10.5 for the letterpress stamp) with the blue 3d and the green 5/- stamps. The design featured the bridge from the south-east, with a large liner, R.M.S. Orford passing beneath to provide a perspective of size (Figure 1).
More Information ...
---
RECTIGRAPH COMPANY, ROCHESTER, NEW YORK, COVER from SYDNEY
I had never heard of a rectigraph prior to this cover, but the city of Rochester, New York gave me a clue as to what it might be. This cover had a fine copy of the first issue of the blue 2½d 'Kangaroo on a Map of Australia' stamp which was issued on 27 January 1913, and ruling out the same stamp with the second watermark issued in July 1915. The roller cancel clearly showed that it was cancelled at SYDNEY/ 7/ 27 MR-10AM/ N.S.W/ 1915. The sender W.M. Field , 398 Park Rd., Sydney has not been identified and the reverse was not seen (Figure 1).
More Information ...
---
RICHARD ERNEST MINCHIN (1831-1893), ADELAIDE ZOOLOGICAL DIRECTOR
A cover posted to R.E. Minchin Esqr, Government Offices, Adelaide had a strip of three dull violet Two Pence Victoria Laureates with four copies of the Melbourne duplex, MELBOURNE/ 2 C/ DC 1/ 68 as well as a reception postmark an unframed G.P.O/ K/ DE 4/ 68/ ADELAIDE. The reverse, not seen had no postal markings (Figure 1).
More Information ...
---
ROYAL DANISH CONSULATE, HOBART & THE AUSTRALIAN PRINCESS
The cover has a circular HOBART/ 830PM/ 16 JUL/ 1937 postmark with a slogan cancel USE THE/ POSTAL EXPRESS/ MESSENGER SERVICE with a green 1d and a red 2d KGV Head stamps. It is addressed to The Ministry for Foreign Affairs, Copenhagen, Denmark, Europe and it was sent from the Royal Danish Consulate, G.P.O. BOX 486A, Hobart. The reverse was not seen (Figure 1).
More Information ...
---
SCHOOL of ARTS HOTEL, ROMA QUEENSLAND to PAPUA NEW GUINEA
This advertising cover for the School of Arts Hotel, Roma, Queensland, Proprietor: E.J. Galton was addressed to C/o The Postmaster, Port Moresby, Papua and in addition to the blue AIR MAIL vignette, there was a purple handstamp with Australia/Papua/New Guinea/ July 1934/ first Official Air Mail as well as a straight 2-line handstamp (or manuscript) stating essentially the same message. The two air mail stamps, 6d OS overprint dull brown and 3d green were postmarked BRISBANE/ 11-A 24 JY 34/ QUEENSLAND [Nelson Eustis # 390] (Figure 1).
More Information ...
---
SCOUT JAMBOREE, FRANKSTON VICTORIA, 1934-35
This illustrated cover specifically prepared for the Jamboree was postmarked with a faint AUST. JAMBOREE FRANKSTON/ 2.30 P 3 JA 35/ VIC. and it was addressed to Tom Fielding, Penguin, Tasmania. The front had a small printed AUSTRALIAN JAMBOREE FRANKSTON/ VICTORIA 1935, with a kangaroo and a boomerang in the centre, as well as a scout badge. It had a total postage of 1½d made up of the green 1d and orange ½d KGV head stamps (Figure 1).
More Information ...
---
SEPPELT'S FAMOUS WINES: BENNO SEPPELT & DAME NELLIE MELBA
The postcard advertises Seppelt's Famous Wines, and the green 1d KGV Head stamp is postmarked GREENOCK/ ( ) 1938/ S.A. The printed message is addressed Seppeltsfield, South Australia. Dear Sir, We desire to advise you that our Representative, H.A. YEOMAN will have pleasure in waiting upon you on or about the 6th June when any order you may favor us with will receive our careful attention. B. SEPPELT & SONS LTD. The cover is addressed a client Messrs Hopping Bros Store, Tumby Bay [South Australia] (Figure 1).
More Information ...
---
SIR RICHARD LINTON, MIDDOWS BROTHERS & BIG BROTHER MOVEMENT
The ornate Middows Brothers & Linton Ltd Sydney/ Sole Agents in Australia for L.t. Fiver, Paris cover was the entry point for discussion of the Big Brother Movement in Australia. Certainly research on the Middows Brothers, Frank and Lionel, was disappointingly unrewarding, with sparse information on their paper and printing trade, whereas their partner Richard Linton had a much heralded career. The TWO PENCE overprint on the red 1½d KGV Head stamp was postmarked with a roller slogan cancel which included a vertically placed 'INTERSTATE/ SPECIAL BOX', a SYDNEY/ 4 AUG/ 1930/ 5 30 PM/ N.S.W., in a circular box, and the slogan ADDRESS MAIL TO/ PRIVATE BOX NUMBER/ IT EXPEDITES LETTERS. The cover was addressed to Messrs. The Government Printing Office, Hobart, Tasmania. The reverse was not seen (Figure 1).
More Information ...
---
TASMANIA to the COSMOPOLITAN CORRESPONDENCE CLUB, MILWAUKEE
The cover had a purple 2½d 'Sideface' stamp of Tasmania cancelled with a roller HOBART postmark of the early 1900s and it was addressed to W. Schulz Jnr, General Manager, The Cosmopolitan Correspondence Club, Milwaukee, Wis., U.S.A. and there was a 'medallion' at the top left corner. The reverse was not seen (Figure 1).
More Information ...
---
TELEGRAMS to GEORGE MACKANESS on HIS ORDER of BRITISH EMPIRE
Several telegrams were sent to George Mackaness in 1938 on the occasion of King George VI bestowing the Order of the British Empire on him for his services to Australia in so many aspects of his teachings of the English language, his many literary and historical publications and his zeal in promoting Australiana. I have chosen 2 examples, the first from the Prime Minister of Australia at that time, Joseph Aloysius Lyons in a colourful Congratulatory Telegram, "Cordial Congratulations on bestowal by His Majesty of well merited honour, Lyons, Prime Minister" (Figure 1).
More Information ...
---
TELEGRAMS: EARLY COLONIAL COMMUNICATIONS ACROSS AUSTRALIA
This 'TELEGRAM, IMMEDIATE' cover was postmarked CUMNOCK/ AP 4/1878/ N.S.W. and was addressed to A.E. Anderson, C/o G(eorge) or his son S(age) Bruce, Loombah (N.S.W.) The CHARGES TO PAY 'Message' and 'Porterage' were not filled in. There was a ms. 'N.M.' at top left, the meaning of which is uncertain (Figure 1).
More Information ...
---
THE HAWKEYE PEARL BUTTON CO., MUSCATINE, IOWA
This unpretentious cover was sent by William Lewis, Sydney to the Hawkeye Pearl Button Co., Muscatine, Iowa, U.S.A., and it has quite a story behind it. The blue 2½ d Roo on map of Australia stamp is postmarked with a roller cancel, SYDNEY/ DE 19/ 1917/ NOON/ N.S.W. (Figure 1).
More Information ...
---
THE CHARITY STAMPS of NEW SOUTH WALES
The Post Office in New South Wales was responsible for several innovations in the philatelic area, and the two Charity Stamps of June 1897 influenced other countries to issue similar items. This included the two Charity stamps of Victoria which were issued in October 1897. The 1990 issue of the Australasian Stamp Catalogue (A.S.C.) gives the best historical information of these stamps which were designed by C. Turner and typographed by the Government Printing Office in Sydney.
More Information ...
---
THE MELBOURNE EXHIBITION of 1880 - 1881
The cover was addressed to Syracuse, New York, United States and the blue 6d Laureate stamp of Victoria was canceled with the barred numeral MC/97 (Type 11A which was in use from 20.8.1880 until 30.6.1881) and the cover was also postmarked with an unframed EXHIBITION/ MY 17/ 81/ VICTORIA (Figure 1).
More Information ...
---
THE SIMPLIFIED SPELLING BOARD, NEW YORK & PROF. THOMAS G. TUCKER
This intriguing On His Majesty's Service cover has a blue-green 'Bantam' ½d and a pair of OS perfined pink 'ONE PENNY' stamps of Victoria canceled with a duplex CANTERBURY/ MY 5/ 12/ VICTORIA with the barred numeral '722'. The printed address at lower left identifies that it originated from the Education Department, Melbourne, 1. It was addressed to The Secretary, Simplified Spelling Board, No. 1. Madison Avenue, New York, U.S. America. The reverse had no postal markings (Figure 1).
More Information ...
---
THE STARR BOWKETT BUILDING SOCIETY IN AUSTRALIA
The cover has a roller cancel of NEWCASTLE/ JA 11/ 8 P.M./ 1933/ N.S.W. on the red 2d KGV head and was sent from Goble & Company, Hamilton (N.S.W.) to Mr. F.W. Lean, The Secretary, N & H.R.P.S. Starr Bowkett Society, P.O. Box 30, Hamilton N.S.W. The reverse was not seen (Figure 1).
More Information ...
---
TINY TOWN & ZEYNARD'S AMAZING MIDGET CIRCUS
The present postcard cannot be called postal history as my card has not been through the post. It shows a group of longitudinally challenged individuals in fine formal ware, five ladies and six gentlemen. The group are described as Zeynard's Amazing Midget Circus. Tiny-Town. The Big Show and the reverse simply has Post Card, without any identification as to the maker or country. (Figure 1).
More Information ...
---
VINCENT PATRICK TAYLOR a.k.a. CAPTAIN TAYLOR PENFOLD
A postcard was sent on July 2nd 1910 from Sydney to the Minister of Defence and the contents were as follows: "Dear Sir, Kindly advise me if final time has closed, for entering a machine for the Commonwealth Aerial Prize. To oblige, truly yours, Captain Penfold, The Australian Aeronaut, Box 1564, G.P.O." There is a blue double ringed DEFENCE ( )/PM-1 16 OC 10 mark applied top centre - the delay in reception cannot be explained (Figure 1).
More Information ...
---
VISIONS OF EARLY AUSTRALIA: POSTCARDS, COVERS & MEMORABILIA
This paper provides me with the opportunity to highlight items, many of which have been already used in several other papers that have intrigued me. The aim is to make this a 'living' picture for it will provide me with an avenue to add individual scans which would not warrant the production of a separate paper. This paper will be a veritable melange of items, which fits the category of Miscellaneous. Let's start at the beginning, Tuesday January 1, 1901 when Lord Hopetoun was sworn in as the first Governor-General of the Australian Commonwealth. This auspicious event occurred at Centennial Park, Sydney (Figure 1).
More Information ...
---
WALLAROO & MOONTA MINING & SMELTING COY LTD, YORKE PENINSULA, S.A.
This cover was addressed to The Secretary, American Electrochemical Society. South Bethlehem, PENN, U.S.A. and the green3d 'Roo on the Map of Australia' stamp was postmarked with WALLAROO/ 7-A 13 MAY 18/ STH AUSTRALIA. There was a purple oval PASSED BY / 4 TH MD/ CENSOR handstamp (Figure 1).
More Information ...
---
WARREN & ROWN: MELACHRINO'S EGYPTIAN CIGARETTES
This 1d advertising postcard has a SYDNEY/ AP 20/ 7 A.M/ 91 / 26 postmark with the three ring oval N.S.W. duplex obliterator, and it is addressed to Mr. Max Rown. Box 325, G.P.O. (Figure 1).
More Information ...
---
WILLIAM STRAWBRIDGE, 7TH SURVEYOR-GENERAL of SOUTH AUSTRALIA
Two partial fronts only were found for the same Surveyor-General for South Australia. The first front was addressed to The Surveyor General, Adelaide and it was postmarked with a fine squared circle of MALLALA/ 1/ JY 22/ 03/ S.A (Figure 1).
More Information ...
---
WOMEN'S WORK EXHIBITION, MELBOURNE 1907
The 'Empire' Post Card has the pink 1d 'POSTAGE' stamp of Victoria which is cancelled with the duplex EXHIBITION/ OC 28/ 07/ MELBOURNE postmark with the barred numeral '1197'. It is addressed to Launceston, Tasmania and the message starts off "I am writing this from the Exhibition...... (Figure 1).
More Information ...
---